Collaborative Innovation
Collaborative Innovation Tools
CHART OF THE DAY: Remember Google Wave? Blogging Innovation » The Nine Innovation Roles. I'm seeing an increasing number of articles about innovation personalities and the like, and I'm a firm believer that it's not personalities that matter so much when it comes to innovation, it's the roles that we play in making innovation happen (or not).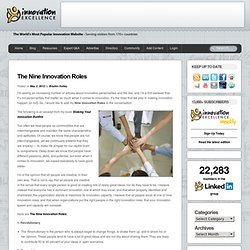 So, I would like to add my Nine Innovation Roles to the conversation. The following is an excerpt from my book Stoking Your Innovation Bonfire: Too often we treat people as commodities that are interchangeable and maintain the same characteristics and aptitudes. The New Arithmetic of Collaboration - Navi Radjou, Jaideep Prabhu, Prasad Kaipa, Simone Ahuja - The Conversation. By Navi Radjou, Jaideep Prabhu, Prasad Kaipa, Simone Ahuja | 9:18 AM November 4, 2010 Pharma giant Pfizer recently announced a $350 million partnership with Biocon, one of Asia's leading biotechnology companies. The deal gives Pfizer the exclusive rights to commercialize Biocon's biosimilar versions of insulin. (For full disclosure: Dr. Prasad Kaipa, one of the authors, headed up the Biocon Cell for Innovation Management at the Indian School of Business till April 2010) Pfizer is racing against time. Roles on a Team and How They Apply to the Enterprise. Some people like leading the charge.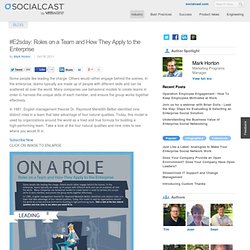 Others would rather engage behind the scenes. In the enterprise, teams typically are made up of people with different skills and can be scattered all over the world. Many companies use behavioral models to create teams in order to harness the unique skills of each member, and ensure the group works together effectively. What Giving Gets You at the Office - Shawn Achor. By Shawn Achor | 3:00 PM July 27, 2011 The greatest metric for predicting job satisfaction and engagement is the social support perceived by the employee.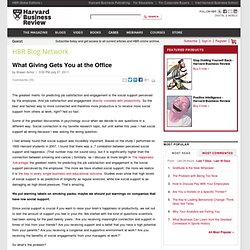 And job satisfaction and engagement directly correlate with productivity. So the best and fastest way to more connected and therefore more productive is to receive more social support from others at work, right? Not so fast. Some of the greatest discoveries in psychology occur when we decide to ask questions in a different way. Google Apps Marketplace: 6 Great Apps to Try Now. Last night at its Campfire One event, Google officially launched the Google Apps Marketplace.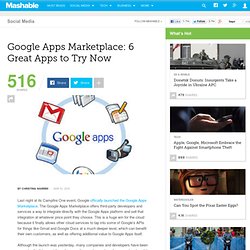 The Google Apps Marketplace offers third-party developers and services a way to integrate directly with the Google Apps platform and sell that integration at whatever price point they choose. This is a huge win for the cloud because it finally allows other cloud services to tap into some of Google's APIs for things like Gmail and Google Docs at a much deeper level, which can benefit their own customers, as well as offering additional value to Google Apps itself. Although the launch was yesterday, many companies and developers have been preparing for this event for quite some time and a number of very cool and useful apps are already available in the Marketplace. Here are just a few that stand out to us. 1. How to Calculate the ROI of Enterprise 2.0. With enterprise social software platforms starting to gain widespread traction, ROI measurements are now becoming possible with early adopter communities.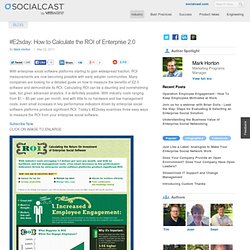 Many companies are looking for a detailed guide on how to measure the benefits of E2.0 software and demonstrate its ROI. Calculating ROI can be a daunting and overwhelming task, but given advanced analytics, it is definitely possible. With industry costs ranging from $1 – $5 per user per month, and with little to no hardware and low management costs, even small increases in key performance indicators driven by enterprise social software platforms produce significant ROI. Today's #E2sday examines three easy ways to measure the ROI from your enterprise social software.
What the Enterprise Can Learn From Sports Teams. Untitled.
---