TRANSMEDIA
Storytelling has always been at the heart of the best media, be it a TV show, a documentary or a game, and there is no doubt that with the expanding choice of technology – from smart mobile phones and tablets to TV sets that have internet connections – we are seeing an ever–increasing convergence of storytelling on different platforms. But as this convergence develops, one of the key questions now confronting the media industry is this: who's in control of this explosion in creativity? The answer might seem obvious. Surely, it's the commissioners who grant producers the chance to broadcast on their channels. Or maybe it's the producers and directors themselves with the ideas for the programmes or films that have the whip hand?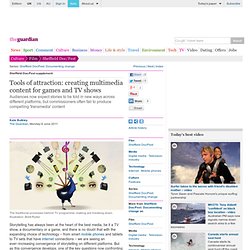 Tools of attraction: creating multimedia content for games and TV shows | Film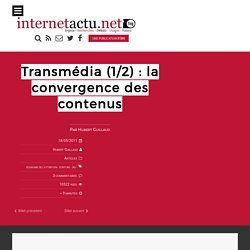 On a longtemps pensé la convergence numérique comme la "fusion" d'appareils jusque-là très différents : le téléphone, la télévision, l'ordinateur et la chaîne hi-fi ne faisant plus qu'un, fédérés par l'internet.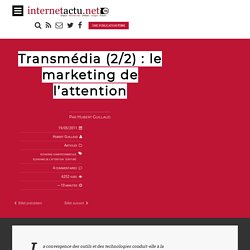 La convergence des outils et des technologies conduit-elle à la convergence des contenus ou à leur divergence ?
What is it about stories, anyway? Anthropologists tell us that storytelling is central to human existence. That it's common to every known culture. That it involves a symbiotic exchange between teller and listener — an exchange we learn to negotiate in infancy. Just as the brain detects patterns in the visual forms of nature — a face, a figure, a flower — and in sound, so too it detects patterns in information.
The Art of Immersion: Why Do We Tell Stories? | Epicenter 
Cautionary Tales in Transmedia Storytelling | Magazine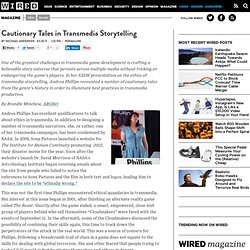 One of the greatest challenges in transmedia game development is crafting a believable story universe that persists across multiple media without tricking or endangering the game's players.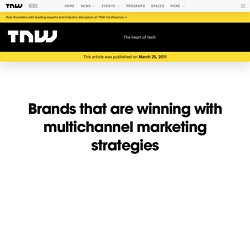 Brands that are winning with multichannel marketing strategies
As consumers are increasingly using smartphones, tablets, and other connected devices as a primary gateway to the Internet, it is important for businesses to think "multichannel" in order to provide an optimal customer experience and increase sales. In addition to smartphone sales surpassing PC sales last year, 78% of mobile web users utilize their handsets while shopping. If 2010 was the year of mobile commerce, consider 2011 the year social shopping truly takes off. So, what's next for digital retailers? Usablenet is a B2B, global technology company that allows brands to create a seamless and efficient multichannel experience for modern day, social media savvy customers.
Your Life Is A Transmedia Experience
A contributing editor at Wired, Frank Rose is the author of a new book, The Art of Immersion: How the Digital Generation Is Remaking Hollywood, Madison Avenue, and the Way We Tell Stories. Rose explores how the Internet is transforming storytelling and talks to creative minds who are "rethinking the ancient art of narrative for a two-way world." He calls their efforts "deep media," defined as "stories that are not just entertaining but immersive, that take you deeper than an hour-long TV drama or a two-hour movie or a 30-second spot will permit."
Q&A with Frank Rose, author of 'The Art of Immersion'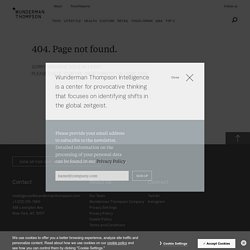 Promouvoir le contenu Transmedia janvier 14, 2011
Promouvoir le contenu Transmedia | Blogomadaire
Jeff Gomez on Creating Transmedia Experiences
What is Transmedia? | Transmythology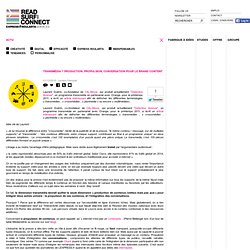 Brand content et transmédia : l'industrie de la presse comme fil rouge ?
Laurent Guérin, co-fondateur de City-Moviz, qui produit actuellement "Detective Avenue", un programme transmédia en partenariat avec Orange, pour le printemps 2011, a écrit un article intéressant afin de défricher les différentes terminologies « transmédia« , « crossmédia« , « plurimédia » ou encore « mutlimédias« . Idée clé de Laurent :
A l'occasion de la grande conférence Tools of Change for Publishing organisée par O'Reilly et qui vient de s'achever à New York, il y a eu une intervention très intéressante de Jeff Gomez, qui est, avec Henry Jenkins, un des grands pontes du transmedia storytelling aux USA. Sauf qu'à la différence de ce dernier, enseignant-chercheur au MIT, Jeff Gomez en a fait un réel business avec sa compagnie Starlight Runner Entertainment qui créé des « univers narratifs » pour, entre autres, Avatar, Halo, Dexter, et Pirates des Caraïbes. Mais, au juste, le transmedia storytelling, à part être un vilain terme jargonneux, c'est quoi, et surtout, comment ça fonctionne ?