VSFTPD
mercredi 13 juillet 2005.
Installer un serveur FTP : vsftpd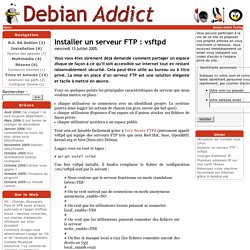 bonjour, voila, je soujaite utiliser vsftpd avec pam_mysql, le soucis c'est que je ne parvient pas a lire les utilisateurs présents dans une base de données mysql (bdd ftp table vsftpd champs usr et pass). les deux deamon vsftpd et mysql se lancent correctement. le fichier de conf de vsftpd est celui par default (mode autonome listen=yes) a part que les utilisateurs anonymes sont interdits. le fichier pam de vsftpd est le suivant:
Vsftpd et pam_mysql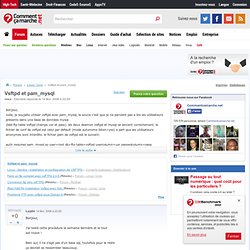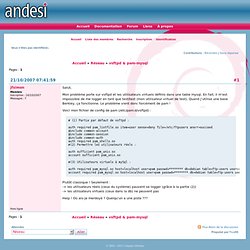 ANDESI / vsftpd & pam-mysql
Salut, Mon problème porte sur vsftpd et les utilisateurs virtuels définis dans une table mysql.
Manpage of VSFTPD.CONF
It is important to note that it is an error to put any space between the option, = and value.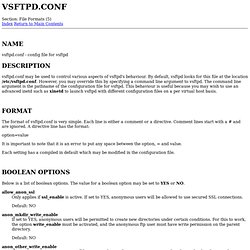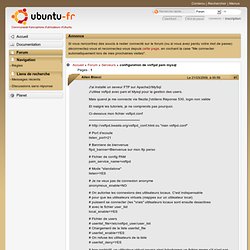 J'ai installé un seveur FTP sur Apache2/MySqlJ'utilise vsftpd avec pam et Mysql pour la gestion des users. Mais quand je me connecte via filezila j'obtiens Réponse 530, login non valide
Forum Ubuntu-fr.org / configuration de vsftpd pam mysql
Version 1.0 Author: Falko Timme <ft [at] falkotimme [dot] com> Last edited 06/23/2007 Vsftpd is one of the most secure and fastest FTP servers for Linux. Usually vsftpd is configured to work with system users.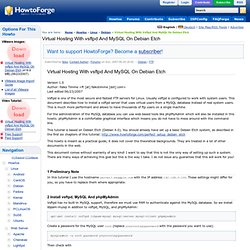 Virtual Hosting With vsftpd And MySQL On Debian Etch | HowtoForg
Virtual Hosting With vsftpd And MySQL On Debian Etch - Page 2 |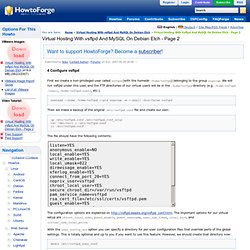 4 Configure vsftpd
vsFTPd est un serveur FTP conçu dans l'optique de la sécurité et de la rapidité.
Installer le serveur FTP vsFTPd sur Debian 4.0 Etch — Lone-Wolf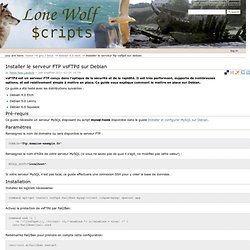 Vsftpd et pam_mysql