Windows Scripting
Get flash to fully experience Pearltrees
Netsh, the Network Services Shell A suite of command line networking tools called Netsh that comes with its own shell or interface is contained in a number of Windows operating systems and is discussed here.
Do you ever have a need to print the contents of a folder or entire directory tree in Windows XP or Vista? If you do, Microsoft has a knowledge base article that will add "Print Directory" to Windows Explorer right click menu which will print the folder contents (or directory tree) that you are currently viewing.
I've been working on this VBScript on and off for a few years now.
Published: November 14, 2006 | Updated: January 31, 2007 By Tony Northrup
Greg Stemp, Dean Tsaltas, and Bob Wells Microsoft Corporation
AutoIt v3 is a freeware BASIC-like scripting language designed for automating the Windows GUI and general scripting. It uses a combination of simulated keystrokes, mouse movement and window/control manipulation in order to automate tasks in a way not possible or reliable with other languages (e.g. VBScript and SendKeys).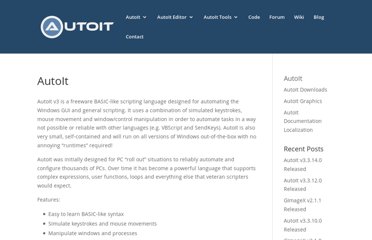 VBScript logon, logoff, startup, and shutdown scripts demonstrating how to log information to a shared log file.