Useful Software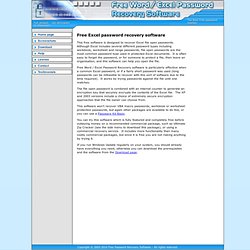 This free software is designed to recover Excel file open passwords. Although Excel includes several different password types including workbook, worksheet and range passwords, file open passwords are the most common password type used in protected Excel documents. It is often easy to forget the password, or for someone to protect a file, then leave an organisation, and this software can help you open the file.
Password recovery
virtuallyGhetto
SecurityXploded.com
Open Source Testing Tools, Network Management Tools, Automated Test Tools
Sysinternals Suite The entire set of Sysinternals Utilities rolled up into a single download. AccessChk v5.1 (August 2, 2012) AccessChk is a command-line tool for viewing the effective permissions on files, registry keys, services, processes, kernel objects, and more. AccessEnum v1.32 (November 1, 2006) This simple yet powerful security tool shows you who has what access to directories, files and Registry keys on your systems. Use it to find holes in your permissions. AdExplorer v1.44 (November 15, 2012) Active Directory Explorer is an advanced Active Directory (AD) viewer and editor. AdInsight v1.01 (November 20, 2007) An LDAP (Light-weight Directory Access Protocol) real-time monitoring tool aimed at troubleshooting Active Directory client applications.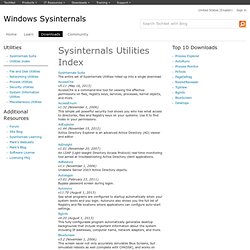 Forums
Copy | Backup | Migration | Rescue NEW: PartitionSelect & QuickCompress HDClone, the universal cloning tool
Software - HDClone - Hard disk copy, hard disk backup, hard disk rescue!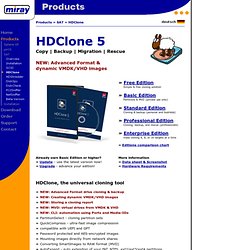 Magic DVD Ripper - rip DVD to hard drive
Rip your DVD movies to hard drive with ease!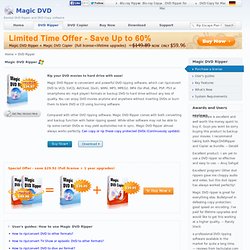 Windows Library
Enhance Your Online Conversations With Jing Jing gives you the basic tools to start sharing images and short videos of your computer screen. Capture What You See