Information Sources
UK Water Industry Research | Reports Archive
UK Water Industry Research | Home
United Kingdom Society for Trenchless Technology: UKSTT - Home
Water Research Foundation - Advancing the science of water.
WRc - Research & Consultancy in Water, Waste and the Environment
Water Environment Research Foundation |
WDR | Water Desalination Report
SWIG - Sensors for Water Interest Group
Celebrating 20 years of SWIG!
ESR Technology > Centres > Pump Centre
The Pump Centre is a membership organisation that provides its members with a range of services associated with pumps, pumping systems and related plant and equipment.
PI - PROFIBUS & PROFINET International: Home
Exova - The World's Leading Independent Materials Testing Group
Operating from within the National Archives, the Office of Public Sector Information (OPSI) is at the heart of information policy, setting standards, delivering access and encouraging the re-use of public sector information. OPSI provides a wide range of services to the public, information industry, government and the wider public sector relating to finding, using, sharing and trading information.

The merger of OPSI with the National Archives in October 2006 enables the combined organisation to provide strong and coherent leadership for the development of information policy across government and the wider public sector.

Legislation on this website is available as enacted in its original format and as revised text. Legislation published within the last two weeks and details about Acts awaiting Royal Assent can be easily found on the New legislation pages. by ianaldc Mar 29
International Water Association - IWA
The International Water Association (IWA) is the global network of 10,000 water professionals spanning the continuum between research and practice and covering all facets of the water cycle. by ianaldc Mar 29
IAM - The Institute of Asset Management
UU is a patron of the Institute of Asset Management, and as such UU employees are entitled to become corporate nominees and have full access to the IAM website

The IAM is the professional body for those involved in acquisition, operation and care of physical assets, especially critical infrastructure - and particularly for professionals worldwide dedicated to furthering our knowledge and understanding of Asset Management. by ianaldc Mar 29
IHS Technical Indexes
HSE Books
The HSE publish a wide variety of publications offering advice and guidance including Approved Codes of Practice (ACOPs). The HSE Books website allows free online access to downloadable pdf copies of the publications. by ianaldc Mar 29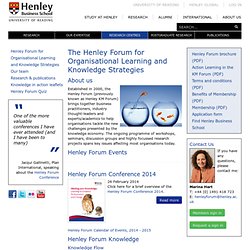 About us Established in 2000, the Henley Forum (previously known as Henley KM Forum) brings together business practitioners, industry thought-leaders and experts/academics to help organisations tackle the new challenges presented by the knowledge economy. The ongoing programme of workshops, seminars, discussion groups and highly focussed research projects spans key issues affecting most organisations today. Henley Forum Events Henley Forum Conference 2014
The Henley Knowledge Management Forum | Centres of Excellence | Henley Business School - University of Reading
FWR Home Page
Foundation for Water Research (FWR) is an independent, membership based charity dedicated to education and information exchange. It is based in Marlow, Buckinghamshire, UK.

It was founded in 1989 and its mission is to advance the education of the public in science, engineering and management of water through specialist forums, reviews of current knowledge, publishing and information support.

The FWR is, in particular, an excellent source of information relating to Water Framework Directive issues.

The FWR website is open access with some very worthwhile reading material to be found there. by ianaldc Mar 29
EngineeringUK - promoting engineering and engineers
Engineering UK are an independent, not-for-profit organisation whose purpose is to promote the vital contribution that engineers, and engineering and technology, make to our society. Engineering UK also aim to inspire people at all levels to pursue careers in engineering and technology.

Benefits of Corporate Membership include:

• Membership of our high profile Business & Industry Panel which provides guidance on the various programmes we are engaged with. The Panel is chaired by Iain Gray, Chief Executive of the Technology Strategy Board (TSB)
• Attendance at House of Commons events during which business leaders are able to make a direct contribution to policy makers on various aspects of the STEM skills agenda
• Sponsorship opportunities at a number of major programmes, in particular, The Big Bang: UK Young Scientists & Engineers Fair. The 2010 Big Bang took place at Manchester Central and was a huge success with over 22,500 people attending over three days. The next Fair will be by ianaldc Mar 29
Environment, carbon and sustainability | Home | The ENDS Report
Centre for Water Science
BSOL Login Page
BHR Group The Fluid Engineering Centre
BHR Group used to be known as BHRA (British Hydromechanics Research Association). With over 60 years experience, BHR Group is a fluid engineering centre providing a range of expertise in the fields of process technology, fluid systems, and services for the water, environment and power industries. BHR Group pioneered abrasive waterjet cutting technology, and it's subsidiary DIAJET manufactures and sells cutting equipment for hazardous environments.

BHR Conferences (the Group's conference and training unit) manages some of the oldest established international engineering conferences. by ianaldc Mar 29
CSA
The Aqualine Database comprises indexed abstracts of technical papers on the science and engineering of water and wastewater from all the principal international journals. It was started by WRc in the 1970s and now holds over 330000 records covering the period 1960 to date. It is used by United Utilities staff, mainly scientists and engineers, to do literature searches.
If more information is needed than contained in the abstracts, then copies of the original publications can be ordered through UU's separate subscription with the British Library by ianaldc Mar 29