Records Management (RM)
ARCS/ORCS - Records Classification and Scheduling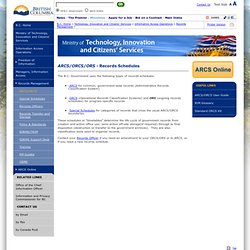 The Document Disposal Act governs the final disposition of government records and provides for the establishment and approval of records schedules. These schedules or "timetables" determine the life cycle of a record from its creation and active office use, off-site storage (if required), and final disposition of either destruction or transfer to the government archives. Records are scheduled by function, rather than by media or format. The British Columbia Government uses three types of records schedules:
Vital records Any record identified as essential for the continuation or survival of the university if disaster strikes, is called a vital record. Such records are necessary to re-create the university's legal and financial status and to determine the rights and obligations of employees and students. These records generally make up only a small percentage of the recorded data created by an organization. Vital records are:
Vital and Nonvital Records | University Archives | Michigan State University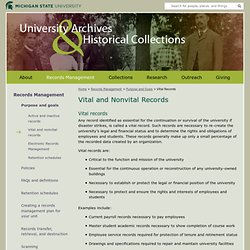 fileCSpartAv2_2003.pdf (application/pdf Object)
The Records Management unit of the Division of Administration & Public Safety provides information to campus departments regarding the proper procedures for retaining and discarding University records. The program assists departments with developing a "Records Retention and Disposal Schedule," which would be in compliance with Federal and State regulations. Every office and department on campus is faced with the challenge of storage space, as well as decisions about which records to keep and which to discard.
Records Management: Records Management Program Definitions (Special Collections and University Archives)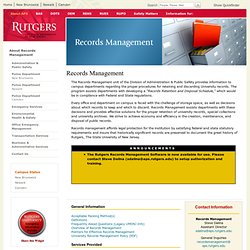 A_RecordsManagement_GlossaryOfTerms.pdf (application/pdf Object)
Links of Interest A number of organizations are interested in Information Management in Canada. Using these links you can extend your research, contact these organizations, and make new discoveries. If you would like to add a link to our list, please contact centre.liaison.centre@bac-lac.gc.ca.
Links of Interest - Government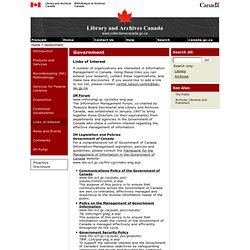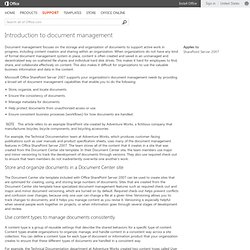 Introduction to document management - SharePoint Server
Document management focuses on the storage and organization of documents to support active work in progress, including content creation and sharing within an organization. When organizations do not have any kind of formal document management system in place, content is often created and saved in an unmanaged and decentralized way on scattered file shares and individual hard disk drives. This makes it hard for employees to find, share, and collaborate effectively on content. This also makes it difficult for organizations to use the valuable business information and data in the content. Microsoft Office SharePoint Server 2007 supports your organization's document management needs by providing a broad set of document management capabilities that enable you to do the following:
E1_ SFD_Handouts.pdf (application/pdf Object)
database_project_briefing_note.pdf (application/pdf Object)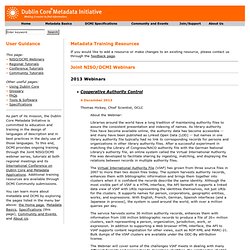 If you would like to add a resource or make changes to an existing resource, please contact us through the feedback page. 2013 Webinars Cooperative Authority Control4 December 2013Thomas Hickey, Chief Scientist, OCLC About the Webinar:Libraries around the world have a long tradition of maintaining authority files to assure the consistent presentation and indexing of names. As library authority files have become available online, the authority data has become accessible -- and many have been published as Linked Open Data (LOD) -- but names in one library authority file typically had no link to corresponding records for persons and organizations in other library authority files.
Metadata Training Resources
US EPA-Information Resources Management (IRM) Policy Manual
Training - Records management courses
ISEB certificate in data protection and freedom of information courses delivered by solicitors - Morgan Cole LLP
MIT - Lessons Learned Implementing Document Management
Univ. Washington - Filing System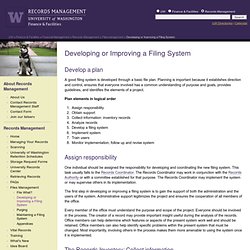 Develop a plan
Records Management in a digital world
United Nations - Archive & Records Management Section
enterprise software solutions
Introduction The Dublin Core Metadata Element Set is a vocabulary of fifteen properties for use in resource description. The name "Dublin" is due to its origin at a 1995 invitational workshop in Dublin, Ohio; "core" because its elements are broad and generic, usable for describing a wide range of resources.
Dublin Core Metadata Element Set, Version 1.1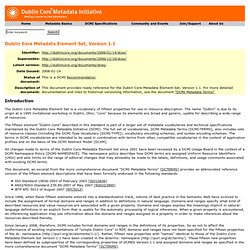 record management sharepoint form
The Document Life Cycle
service bureaus is presented.
Indexing Digital (Electronic) Documents -- It's Not an Option; Pay Now or Pay (More) Later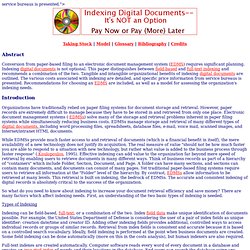 www.irmt.org/documents/educ_training/term modules/IRMT TERM Additional Resources.pdf
Education and Training Materials | International Records Management Trust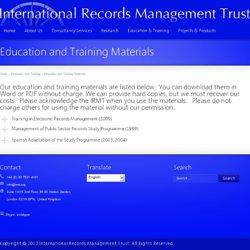 The MPSR Programme covers all phases of the records lifecycle, or continuum of records management, as well as the application of these principles and practices to financial, human resource and hospital and court records. The programme comprises about 4000 pages of training material, including 18 teaching/study training modules, case studies, good practice manuals and associated educational materials.
International Records Management Trust - Glossary of Terms
Information and documentation -- Work process analysis for records
AIDA - Associazione Italiana per la Documentazione Avanzata
EBSCO Publishing - CINAHL document types
International Council on Archives
University of Tech. Sydney - File Classification system
retention policy
Managing documents - Canada
electronic document and records management training site:.edu
document types and naming conventions
Canada revenue agency - list docs taxation
Utah State - General Records Retention Schedule
Document Types
UNBISnet
Identify and manage records anywhere - Introduction to Records Management and Compliance
BCS all in one Jan 2010.pdf (application/pdf Object)
lgcs2.03.pdf (application/pdf Object)
Information Guides - Information and Records Management Society
src-standard2_0.pdf (application/pdf Object)
hoflroar0203.pdf (application/pdf Object)