Information Literacy Games
Alternate Reality Games and Information Literacy · Hidden Peanuts
Research article How Serious Do We Need to Be?
How Serious Do We Need to Be? Improving Information Literacy Skills through Gaming and Interactive Elements | van Meegen | LIBER Quarterly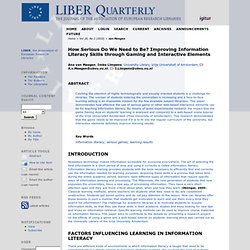 Students' Behaviour Playing an Online Information Literacy Game | Markey | Journal of Information Literacy
Get in the Game: Developing an Information Literacy Classroom Game | Smale | Journal of Library Innovation
index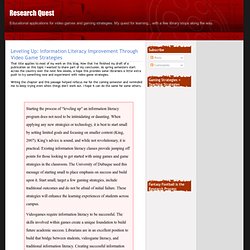 That title applies to most of my work on this blog. Now that I've finished my draft of a publication on this topic I wanted to share part of my conclusion. As spring semesters start across the country over the next few weeks, a hope this provides some librarians a little extra push to try something new and experiment with video game strategies.
Leveling Up: Information Literacy Improvement Through Video Game Strategies
How Gaming Could Improve Information Literacy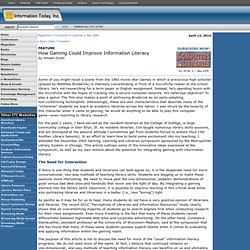 FEATURE How Gaming Could Improve Information Literacy by Ameet Doshi Some of you might recall a scene from the 1983 movie War Games in which a precocious high schooler (played by Matthew Broderick) is intensely concentrating in front of a microfiche reader at the school library. He's not researching for a term paper or English assignment. Instead, he's spending hours with the microfiche with the hopes of cracking into a secure computer network. His nefarious objective? To play a game!
url?sa=t&rct=j&q=information%20literacy%20game&source=web&cd=12&ved=0CEgQFjABOAo&url=http%3A%2F%2Fwww.accessola2.com%2Fsuperconference2007%2Ffri%2F1319%2Fbranston
Primary and Secondary Sources
unnamed pearl
The Benefits of Integrating an Information Literacy Skills Game into Academic Coursework: A Preliminary Evaluation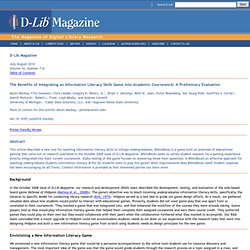 D-Lib Magazine July/August 2010 Volume 16, Number 7/8Table of Contents The Benefits of Integrating an Information Literacy Skills Game into Academic Coursework: A Preliminary Evaluation
Game On!: Using Gaming to Promote Information Literacy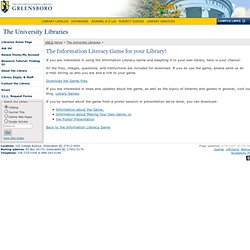 If you are interested in using the Information Literacy Game and adapting it to your own library, here is your chance! All the files, images, questions, and instructions are included for download.
The Information Literacy Game
UPDATE: Guess-the-google is temporarily offline for maintenance. Hopefully back online soon. About the game Guess-the-google is an addictive guessing game based on Google's image search. It turns the mental activity of searching into a fun, visual and engaging game where people can enjoy the challenge of being the fastest and most efficient at making that connection between search terms and their results.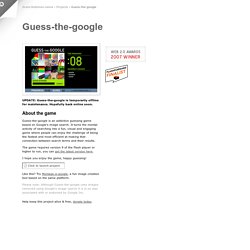 Tutorial--Final%20Version
Game > The University of North Carolina at Greensboro (UNCG)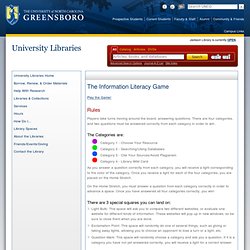 Players take turns moving around the board, answering questions. There are four categories, and two questions must be answered correctly from each category in order to win. The Categories are: Category 1 - Choose Your Resource Category 2 - Searching/Using Databases Category 3 - Cite Your Sources/Avoid Plagiarism
SEEK! A game for Information Literacy Instruction
I'm Andrew Walsh, an Academic Librarian and National Teaching Fellow. I want to get students excited about developing their information literacy, but let's face it - that's a losing battle...