Tutorials
Category:Tutorials - UDK Central. Tutorial video gratuit, formation vidéo, tutos pour apprendre l'infographie sur PNXDESIGN. UT 3 Tutorials : Odedge Level Design. PHILIPK.NET. Step by step tutorials for various materials Several step by step tutorials with tricks, tips and hints on howto create such materials ranging from sometimes involving sculpting in a program like Zbrush and sometimes just using Photoshop.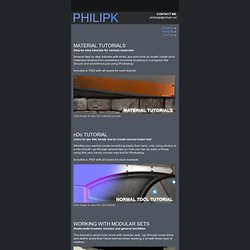 Includes a .PSD with all layers for each tutorial. Click image to view the material tutorials. Learn to use this handy tool to create normal maps fast Whether you want to create something totally free hand, only using photos or a mix of both I go through several tips on how you can do each of these using this very handy normal map tool for Photoshop. Tutorials by racer445, hard surface and weapon artist. - Tutorials. 3D Tutorials, video game tutorials, ut3 tutorials.
Game Artist - Hard Surface Texture Painting. TUTORIALS & SCRIPTS.
---