Some artists
Portfolio of Martin Teichmann. Jeremy Kohar Portfolio. Bram Eulaers - portfolio. 3D Portfolio | Lisa Fleck. CGBYLG.com. Www.Hourences.com. Patrick Loughman. Portfolio of Mikey Spano. Art of Gregory Callahan. The art of Kevin Johnstone. Work. Projects Nike Inneva Shoe Scan Read more » Derrick the Deathfin Dead Island Characters Tron Evolution.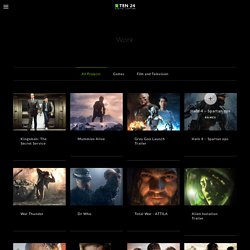 Nabil Zakher. Zack Fowler - Environment & Prop Artist. Portfolio of William J Kowach - Environment Artist. Meshcrafter- Portfolio of Nathanial Castronovo. Erwin Evegaars Portfolio. Stefan Morrell // DIGITAL ART & DESIGN. The Portfolio of Toren Lehrmann, 3D Artist. Hiten Mistry Environment Artist. Main : art + animation by Jen Morgan. P O R T F O L I O - Art of Marc-Antoine Hamelin, Environment Artist. Ichii3d.com (Richard Gardner, Environment Artist) Nabil Zakher. Mike Fudge. Art of Vitaly Bulgarov.
Tim Forbrook - 3D Artist. Chris Albeluhn - Home page. Welcome to my online portfolio.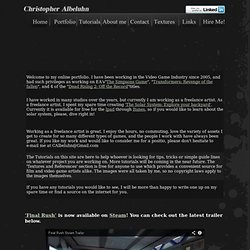 I have been working in the Video Game Industry since 2005, and had such privileges as working on EA's"The Simpsons Game", "Transformers: Revenge of the fallen", and 4 of the "Dead Rising 2: Off the Record"titles. I have worked in many studios over the years, but currently I am working as a freelance artist.
---