E-commerce
[Infographie] Les comparateurs de prix en chiffres clefs. 10 mind-blowing mobile infographics. I've gathered together ten great infographics on m-commerce, QR codes, apps vs web, coupons, payments, mobile marketing and more.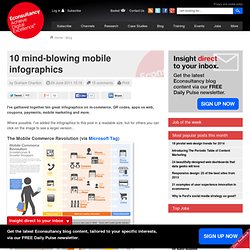 Where possible, I've added the infographics to this post in a readable size, but for others you can click on the image to see a larger version... The Mobile Commerce Revolution (via Microsoft Tag) Crowdfunding: Where it has been and where the new bill is taking it (infographic) When marketing executives Michael Migliozzi II and Brian Flatow decided they wanted to buy Pabst Blue Ribbon, a private beer company, they created BuyaBeerCompany.com to ask the public for financial help.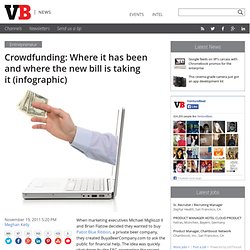 The idea was quickly shot down by the SEC, prompting the recent discussion on where "crowdfunding" fits into the scheme of private businesses. Crowdfunding, the practice of private companies soliciting the public for investments, has been made popular by websites such as Kickstarter, IndieGoGo, ProFounder and others. These are great for individuals and small groups looking for a leg up, but when it comes to private businesses using these as an investment tactic in exchange for shares in the company, the SEC wants everything to be nice and documented. Achieving 3X Better Fundraising Results. Are you ready to learn the secret to a successful fundraising campaign?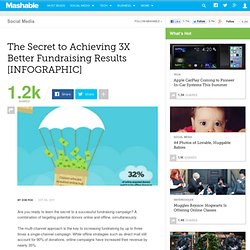 A combination of targeting potential donors online and offline, simultaneously. The multi-channel approach is the key to increasing fundraising by up to three times a single-channel campaign. While offline strategies such as direct mail still account for 90% of donations, online campaigns have increased their revenue by nearly 35%. Take a look at this infographic, which reveals the nuances to successful fundraising campaigns. The Future of Mobile Payments [INFOGRAPHIC] We know that mobile payments are redefining commerce, but will our phones soon replace our wallets?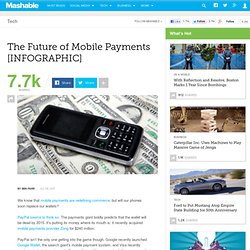 PayPal seems to think so. The payments giant boldly predicts that the wallet will be dead by 2015. It's putting its money where its mouth is: It recently acquired mobile payments provider Zong for $240 million. PayPal isn't the only one getting into the game though. Google recently launched Google Wallet, the search giant's mobile payment system, and Visa recently made a strategic investment in Square, the mobile payments platform now worth more than $1.4 billion. PC Magazine. How to Choose a Web Shopping Cart Software. Filed under: Business Infographics, Internet Infographics | Comments Off Picking a shopping cart for your online business is one of the most important decisions you will have to make when you launch your website.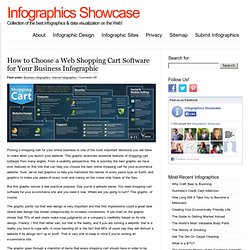 This graphic examines essential features of shopping cart software from many angles. From a usability perspective, this is possibly the best graphic we have ever featured on this site that can help you choose the best online shopping cart for your ecommerce website. Sure, we've had graphics to help you memorize the names of every pasta type on Earth, and graphics to make you aware of every nook and cranny on the cruise ship Oasis of the Sea. But this graphic serves a real practical purpose. Mobile Payments Are Going to Explode This Holiday Season, PayPal Says [Infographic] Payments company PayPal wants to make sure that it stays in the conversation when it comes to mobile payments.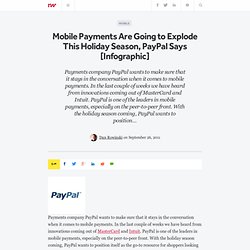 In the last couple of weeks we have heard from innovations coming out of MasterCard and Intuit. PayPal is one of the leaders in mobile payments, especially on the peer-to-peer front. With the holiday season coming, PayPal wants to position itself as the go-to resource for shoppers looking to beat the retail rush and congestion of digital deals. PayPal is predicting that mobile payments is going to boom come time for the holiday shopping spree. What Happens When you Charge a Credit Card. Filed under: All Infographics , Business Infographics , Technology Infographics | No Comments » What Happens When you Charge a Credit Card Graphic Reviewed by Infographics Guy on Oct 20 Rating: Rating: 0.0/ 10 (0 votes cast) Ever wondered about the nuts and bolts of the credit card charging process?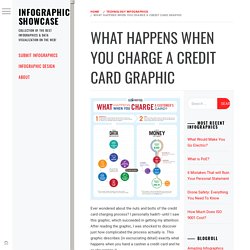 I personally hadn't–until I saw this graphic, which succeeded in getting my attention. 44 outils gratuits incontournables pour vendre sur le web. Voici une sélection d'outils gratuits ou à faible coût, pour développer vos ventes et votre présence sur le web.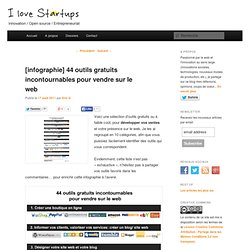 Je les ai regroupé en 10 catégories, afin que vous puissiez facilement identifier des outils qui vous correspondent. Evidemment, cette liste n'est pas « exhaustive », n'hésitez pas à partager vos outils favoris dans les commentaires… pour enrichir cette infographie à l'avenir. Vous trouverez ci-dessous plus de détails sur chacun des outils. 1. How Big is the Ecommerce Industry? [Infographic] 10 amazing e-commerce infographics. I've rounded up ten recent infographics on e-commerce and related issues, including delivery, social commerce, and how the use of colour affects purchase habits.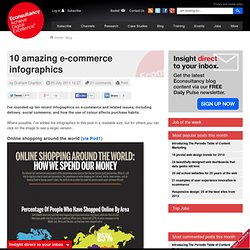 Where possible, I've added the infographics to this post in a readable size, but for others you can click on the image to see a larger version... Online shopping around the world (via Pod1) What are people really buying online? (via Buysight) Walmart-vs-amazon. Le comportement des cyberacheteurs à la loupe. Le comparateur de prix Shopping.com a décrypté le comportement des cyberacheteurs, après avoir réalisé un sondage (publié le 2 août dernier).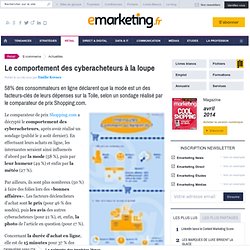 En effectuant leurs achats en ligne, les internautes seraient ainsi influencés d'abord par la mode (58 %), puis par leur humeur (49 %) et enfin par la météo (27 %). Par ailleurs, ils sont plus nombreux (50 %) à faire des folies lors des «bonnes affaires». Les facteurs déclencheurs d'achat sont le prix (pour 46 % des sondés), puis les avis des autres cyberacheteurs (pour 21 %), et, enfin, la photo de l'article en question (pour 17 %). Concernant la durée d'achat en ligne, elle est de 15 minutes pour 37 % des internautes, 1 heure pour 31 % et même un jour ou plus pour 32 %. Enfin, les cyberacheteurs dépensent entre 20 et 100 euros pour leurs achats personnels, et entre 20 et 50 euros pour les cadeaux faits à leurs proches. INFOGRAPHIC: Online Shopping Habits – Women vs Men « SOCIAL MEDIA ANGELS.
Great Infographic from DailyInfographic.com about the online shopping habits of men vs women. ——- Do you want to implement and integrate Social Media and Online Marketing into your business but are unsure where to start? Get in touch with Social Media Angels. We offer Social Media Management, Social Media Training and Marketing Consultancy for Irish businesses. Email: YourSocialMediaAngels@gmail.com Tel: 00353 1 525 3653. Online Shopping around the World : How we spend our money. How to Influence Purchasing Decisions On The Web [INFOGRAPHIC] When savvy consumers are in the market for something — a new pair of kicks, a sweet DSLR camera, hair pomade, a toaster — they turn to the web, knowing there's a wealth of knowledge and information to be had. But where on the vast Interwebs do they look? Well, that depends on what they want to buy.
According to data from M Booth and Beyond, different product categories compel people to seek information and reviews from different sources on the web. Consumers tend to go the company website for electronics, they rely on search for travel and they go to discussion forums to see what people think about different car models. Consequently, consumer electronics companies better have a pimped-out website, travel brands ought to put some dough into SEO and car companies better pay attention to what people are saying about their vehicles' performance.
Cyber Monday: 6 Years of Online Discounts. [Infographie] 1 acheteur mécontent le dit à 11 personnes, 1 acheteur satisfait à 3 personnes. Usage du web en fonction de l'age. Infographie e-commerce – Comparatif comportemental Hommes Femmes | Blog PriceMinister.
---