Infographics - brands
[Infographie] Top 100 des marques les plus valorisées au monde. Le cabinet d'études Millward Brown a publié hier son palmares annuel du top 100 des marques les plus valorisées à travers le monde.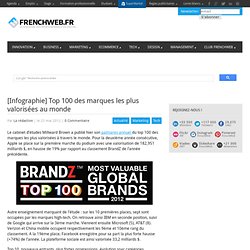 Pour la deuxième année consécutive, Apple se place sur la première marche du podium avec une valorisation de 182,951 milliards $, en hausse de 19% par rapport au classement BrandZ de l'année précédente. Autre enseignement marquant de l'étude : sur les 10 premières places, sept sont occupées par les marques high-tech. On retrouve ainsi IBM en seconde position, suivi de Google qui arrive sur la 3ème marche. The Most Powerful Colors in the World by COLOURlovers.
When we released our report on the colors of the social web, based on data analyzed by our Twitter theme tool, we were surprised that blue was such a dominant color in people's profile designs.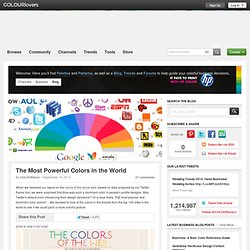 Was Twitter's default color influencing their design decisions? Or is blue really THE most popular and dominant color online? [Infographie] Anatomie des nouvelles startups. Ikea versus Apple. Ford et les réseaux sociaux. Honda et les réseaux sociaux. Honda est notre constructeur d'aujourd'hui.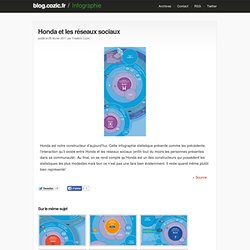 Cette infographie statistique présente comme les précédente, l'interaction qu'il existe entre Honda et les réseaux sociaux (enfin tout du moins les personnes présentes dans sa communauté). Au final, on se rend compte qu'Honda est un des constructeurs qui possèdent les statistiques les plus modestes mais bon ce n'est pas une tare bien évidemment. Il reste quand même plutôt bien représenté! Charting The Life And Death Of Our Greatest Companies. I've said it many times and I'll say it forever: A great data visualization has the power to illuminate the world in ways that would otherwise be impossible.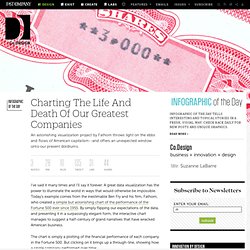 Today's example comes from the inestimable Ben Fry and his firm, Fathom, who created a simple but astonishing chart of the performance of the Fortune 500 ever since 1955. By simply flipping our expectations of the data, and presenting it in a surpassingly elegant form, the interactive chart manages to suggest a half-century of grand narratives that have wracked American business. The chart is simply a plotting of the financial performance of each company in the Fortune 500. But clicking on it brings up a through-line, showing how a single company performed over time: Thus, amidst all the wash of data, you can pick out individual stories, and you can choose to view them through the lens of ranking, revenues, and profits.
---