Twitter - Infographics
[Infographie] L'histoire de Twitter. Mashable vient de publier ce week-end, une infographie sur l'histoire de Twitter.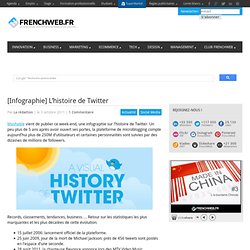 Un peu plus de 5 ans après avoir ouvert ses portes, la plateforme de microblogging compte aujourd'hui plus de 250M d'utilisateurs et certaines personnalités sont suivies par des dizaines de millions de followers. Records, classements, tendances, business…. Retour sur les statistiques les plus marquantes et les plus décalées de cette évolution: The History of Advertising on Twitter [INFOGRAPHIC] The Social Ad Series is supported by LoopFuse, which provides forever-free marketing automation software that closes the loop between sales and marketing with smarter lead capture, scoring, and nurturing — plus Salesforce.com integration.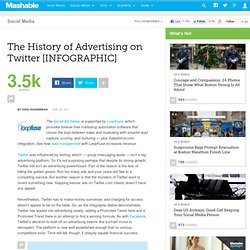 See how lead management with LoopFuse increases revenue. Twitter was influenced by texting, which — group messaging aside — isn't a big advertising platform. So it's not surprising perhaps that despite its strong growth, Twitter still isn't an advertising powerhouse. Part of the reason is the fear of killing the golden goose: Run too many ads and your users will flee to a competing service. But another reason is that the founders of Twitter want to invent something new.
[Infographie] Twitter comme outil majeur de questions-réponses. Alors que sous l'impulsion de Quora, les services de Q&A font l'objet de toutes les attentions et prennent de nouvelles dimensions localisées avec des plateformes toutes fraiches comme Gootip par exemple, une infographie qualifie la place non négligeable qu'occupe naturellement Twitter sur ce secteur.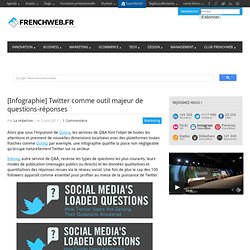 Inboxq, autre service de Q&A, recense les types de questions les plus courants, leurs modes de publication (messages publics ou directs) et les données qualitatives et quantitatives des réponses recues via le réseau social. Une fois de plus le cap des 100 followers apparaît comme essentiel pour profiter au mieux de la puissance de Twitter. Meet_the_tweeters_infographic.gif (GIF Image, 939x3908 pixels) - Scaled (16%) HootSuite Hits 2 Million Users [INFOGRAPHIC]
HootSuite , the social media dashboard and analytics tool, has reached a new milestone: 2 million users.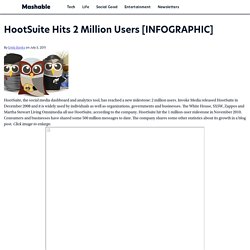 Invoke Media released HootSuite in December 2008 and it is widely used by individuals as well as organizations, governments and businesses. The White House, SXSW, Zappos and Martha Stewart Living Omnimedia all use HootSuite, according to the company. Too Lazy for Google? Try Asking Twitter's Lazyweb [INFOGRAPHIC] Have you ever turned to Twitter with a question — whether the answer was already available online —that you just wanted your Twitter friends to answer?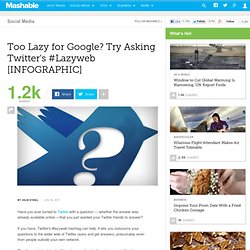 If you have, Twitter's #lazyweb hashtag can help. It lets you outsource your questions to the wider web of Twitter users and get answers, presumably even from people outside your own network. [Infographie] L'utilisation de Twitter sur iPhone : quelle est la meilleure application ? Twitter tweets related to: Infographie, Contenu, Ressant, Humour and more. [Infographie] La présence des grandes entreprises françaises sur Twitter. Cette infographie, réalisée à partir d'une récente étude de l'agence TBWA Corporate, dresse un état des lieux de l'activité des grandes entreprises françaises, (CAC 40 et sociétés classées dans le dernier Global 500 publié par Fortune), sur la plateforme de micro-blogging.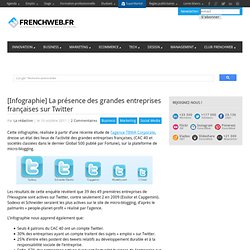 Les résultats de cette enquête révèlent que 39 des 49 premières entreprises de l'Hexagone sont actives sur Twitter, contre seulement 2 en 2009 (Essilor et Capgemini). Sodexo et Schneider seraient les plus actives sur le site de micro-blogging, d'après le palmarès « people-planet-profit » réalisé par l'agence. L'infographie nous apprend également que: [Infographie] Pourquoi les réseaux sociaux ne sont pas un effet de mode. The who, why, and how of Twitter [Infographic] - Twitter. Journey-of-a-tweet. A World Without Twitter. Just a few years ago, Twitter never existed.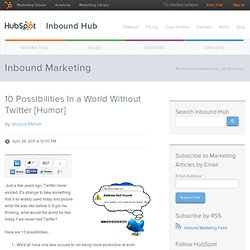 It's strange to take something that's so widely used today and picture what life was like before it. It got me thinking, what would the world be like today if we never had Twitter? [Infographie] Twitter : de 0 à 200 millions d'utilisateurs en 5 ans. Infographie – Facebook vs Twitter en 2010 | LE MARKETING SUR LE WEB. Le blog de Camille Jourdain "Du marketing sur le web… et sur les médias sociaux.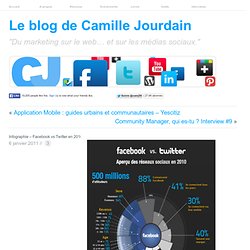 " « Application Mobile : guides urbains et communautaires – Yescitiz. L'infographie des 5 ans de Twitter. Twitter Statistics - 5 year milestone. Twitter just celebrated its fifth year as a technology this week.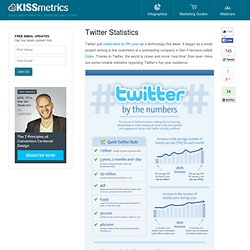 It began as a small project among a few coworkers at a podcasting company in San Francisco called Odeo. Thanks to Twitter, the world is closer and more "real-time" than ever. What do Twitter users Love (And Hate) the Most? [Infographic] Profile-of-a-twitter-user. 5 Scientifically Proven Ways to Get More Followers. For more mythbusting and social media science, don't forget to buy my book: Zarrella's Hierarchy of Contagiousness.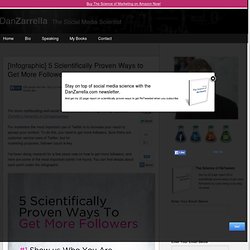 For marketers the most important use of Twitter is to increase your reach to spread your content. To do this, you need to get more followers. Sure there are customer service uses of Twitter, but for marketing purposes, follower count is key. I've been doing research for a few years now on how to get more followers, and here are some of the most important points I've found. Twitter 101 in French. [Infographie] 5,5 bonnes pratiques pour être performant sur Twitter. Twitter Users Are Way Bolder Than Facebook Users [INFOGRAPHIC] Have you ever noticed that the phrase "Follow me on Twitter" seems a lot more common than "Friend me on Facebook"?
Alterian and Sevans Strategy decided to look into this phenomenon. The two tracked 3.3 million such "asks" in March by running keyword searches on various platforms including Flickr, Blogger, YouTube, Facebook, LinkedIn, Tumblr and Twitter.
---