Infographics - technology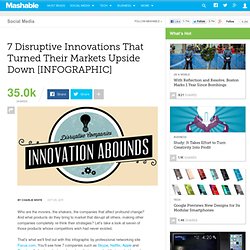 Who are the movers, the shakers, the companies that affect profound change? And what products do they bring to market that disrupt all others, making other companies completely re-think their strategies? Let's take a look at seven of those products whose competitors wish had never existed. That's what we'll find out with this infographic by professional networking site Focus.com. You'll see how 7 companies such as Skype, Netflix, Apple and Google rolled out products and services that approached their market in such a unique way that they changed everything. Besides those usual suspects, there are a few surprises in the group, too — products that lowered prices, approached their markets in unheard-of ways, even created new markets — and changed the world.
7 Disruptive Innovations That Turned Their Markets Upside Down [INFOGRAPHIC]
Over the last few years we have seen eBooks and eBook Readers rise as one of the fastest growing segments of the book publishing industry. Let's examine this infographic by RetailMeNot comparing eBooks, eBook readers and print books to get a better understanding of why that is. Each year the publishing industry in the United States produces over 2 billion books, 350 million magazines and 24 billion newspapers.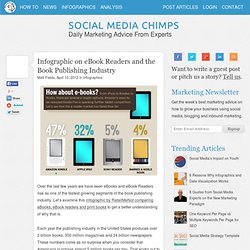 Infographic on eBook Readers and the Book Publishing Industry
The History Of Radio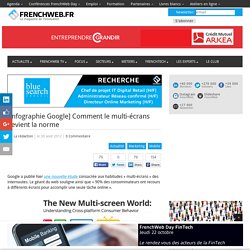 [Infographie Google] Comment le multi-écrans devient la norme
Google a publié hier une nouvelle étude consacrée aux habitudes « multi-écrans » des internautes. Le géant du web souligne ainsi que « 90% des consommateurs ont recours à différents écrans pour accomplir une seule tâche online ». Dans les détails, 81% des internautes utilisent différents supports pour réaliser une recherche online, tandis que 67% ont recours au multi-screen lorsqu'ils effectuent leurs achats en ligne. Enfin, 43% d'entre eux switchent sur différents écrans pour réserver leurs voyages sur internet.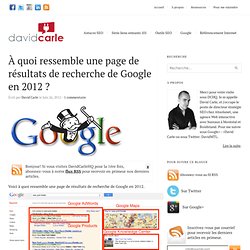 À quoi ressemble une page de résultats de recherche de Google en 2012 ? | Blogue SEO, PPC et Marketing Internet | DavidCarleHQ
Voici à quoi ressemble une page de résultats de recherche de Google en 2012. Tout comme moi, vous avez probablement remarqué que les résultats de recherche sont de plus en plus obstrués de résultats en provenance des différents services de Google. En effet, pour une recherche sous un mot-clé d'une concurrence moyenne/élevée, on peut facilement être présenté à : Entre 10 et 13 annonces Google AdWords, soit 3 au sommet des résultats, 8 dans la colonne de droite et 2 dans le bas de page.Des liens vers des pages de « Google Shopping/Products », un genre de marché aux puces de Google pour sites e-commerces.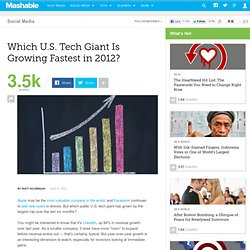 Apple may be the most valuable company in the world, and Facebook continues to add new users in droves. But which public U.S. tech giant has grown by the largest clip over the last six months? You might be interested to know that it's LinkedIn, up 94% in revenue growth over last year.
Which U.S. Tech Giant Is Growing Fastest in 2012?
history-publishing-printing-press-infographic-.jpg (1008×1024)
How technology is changing business
The increasing number of tablet owners in the U.S. is changing the way people shop from in-store to online — 20% of all mobile ecommerce sales now come from tablets and 60% of tablet owners have purchased goods using a tablet. Tablet users spend an average of one hour and 35 minutes on their devices and typically spend 10-20% more on purchases than shoppers without tablets. By 2016, mobile commerce is expected to increase to $31 billion in the U.S. - a tremendous jump from only $3 billion in 2010. Since tapping away on a tablet in the comfort of your home helps beat long lines and crowded department stores, it's no surprise that tablet owners are willing to spend more time and money shopping online. Check out the infographic below to see how tablets are directly affecting ecommerce in the U.S., a trend that is expected to continue for the next five years.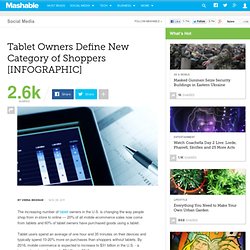 Tablet Owners Spend More Time and Money Shopping Online [INFOGRAPHIC]
The end of computers !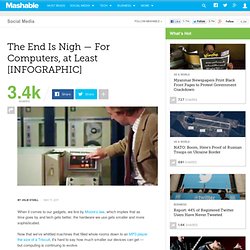 When it comes to our gadgets, we live by Moore's law, which implies that as time goes by and tech gets better, the hardware we use gets smaller and more sophisticated. Now that we've whittled machines that filled whole rooms down to an MP3 player the size of a Triscuit, it's hard to say how much smaller our devices can get — but computing is continuing to evolve. In ten or twenty years, what we now call "computers" and how we do our computing are both guaranteed to be radically different and almost unrecognizable. In this REM-flavored infographic (which will surely get that song solidly stuck in your head for the rest of the day) we take a look at the progression of hardware from its beginnings in research to its future in quantum theory and even our own DNA.
Tablet Adoption at Work
The State of Tablet Adoption at Work is a new infographic from VentureBeat.com. It's interesting that the infographic itself was sponsored by Lenovo and Qualcomm, but included as part of a VentureBeat article. You can find the original version here at TabletsAtWork.com Since the debut of Apple's iPad in Jan. 2010, the integration of tablet devices into our lives and work has progressed rapidly — so fast that it's sometimes hard to put in perspective how quickly got here.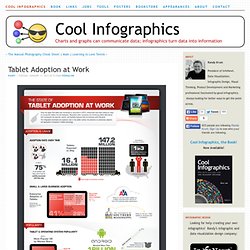 We have long been advocates of moving business operations into the cloud. The remote access, cost-savings and organizational benefits alone make it a no-brainer. Now that we've been floating around in the digital ether for a few years, what have we learned? How has cloud computing affected company bottom lines? Has it really made operations "greener?"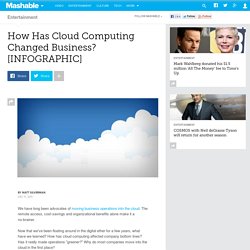 L'Inria (Institut national de recherche en informatique et en automatique) a réalisé une infographie barométrique très complète sur les usages et pratiques des Français à l'égard du monde numérique en posant la question suivante : "Quelle compréhension les Français ont-ils de l'influence du numérique sur le monde ?". En chiffres, on apprend que 39% des Français se déclarent "passionnés par les nouvelles technologies", qui concerne – sans surprise – 66% des 14-17 ans et 54% des 18-24 ans. Mais le numérique, c'est quoi ? 46% des Français pensent tout d'abord à leur équipement technologique pour l'audiovisuel et 33% seulement à l'informatique. Peut-être l'influence de la télévision numérique terrestre… A cet usage sans cesse croissant du numérique, plusieurs conséquences – positives et négatives – : 71% dénotent un gain certain dans leur capacité à entreprendre et mener des projets, mais déplorent aussi un manque certain de respect de la vie privée (65%).
Les Français et le numérique : l'infographie des usages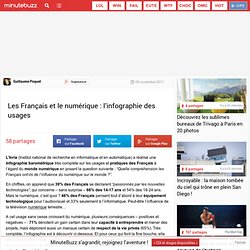 Typical Android User is Anything But Typical [INFOGRAPHIC]
The History of Digital Storage [INFOGRAPHIC]
The whirring hard drives that once occupied entire university labs held but a fraction of the data we carry in our pockets every day — and that's only 50 years of progress. Today, as we move further into the cloud, and witness the latest and greatest pocket media devices, we thought it fitting to take a look back at how far we've come on our quest to store as much information in as little space as possible. Infographic research and design by Mike Vasilev.
14 Epic Tech Fails That Will Live In Infamy [INFOGRAPHIC]
Sometimes a stroll down memory lane is more interesting because of the garbage. We've collected a list of 14 tech train wrecks you may remember from back in the day — and even if you used some of them, we won't judge. Most of these products fizzled due to market competition, lack of consumer demand or just plan clunkiness. Others were cool for a time (especially if Leonard Nimoy said so), but were quickly surpassed by other groundbreaking technology. The list below is by no means exhaustive, so please share other tech flops you've witnessed over the years — that is, if you're willing to admit you used them.
Dix ans de télévisions
La télévision s'est depuis longtemps imposée à notre vie et a beaucoup changé, notamment ces dernières années. Une infographie du site VoucherCodes nous montre à quel point, en illustrant et commentant les lourdes évolutions technologiques de la boîte à images. Le plus intéressant reste les prévisions de l'évolution de la télé pour les trois prochaines années. En 2015, les écrans pourraient mesurer 60 pouces, soit une diagonale de plus d'1,5 mètre. Source : Mashable
Guerre des brevets : qui poursuit qui ? Une infographie
The Dark Side of Google [Infographic] Proves That The Dark Side Is Winning | Cool Gizmo Toys
What Happens When Your Phone Is Lost Or Stolen [INFOGRAPHIC]
Mac People vs. PC People [Infographic] | TechInfo Blog
How to Decide Whether Your Business Needs an App [INFOGRAPHIC]
Apps Market
YouTube
Skype > From conception to acquisition
The Development of the Camera: From Ancient to Instant
Canon & Nikon Cameras Square Off [INFOGRAPHIC]
Online Television/Videos
L'évolution des manettes de jeu de 1970 à nos jours