Infographics - Marketing
|Retargeting| RTB Tracking : une infographie pour comprendre le mécanisme des cookies | Prestataires Internet. Designing the perfect email call to action: infographic. Email marketing is a tricky process – done right and it can be a valuable tool for driving extra traffic to your site, but get it wrong and all your hard work will be sent to the recycling bin after a brief skim read.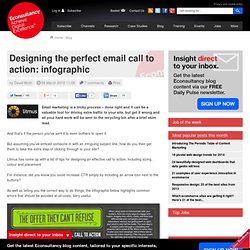 And that's if the person you've sent it to even bothers to open it. But assuming you've enticed someone in with an intriguing subject line, how do you then get them to take the extra step of clicking through to your site? Litmus has come up with a list of tips for designing an effective call to action, including sizing, colour and placement. For instance, did you know you could increase CTR simply by including an arrow icon next to the buttons? As well as telling you the correct way to do things, the infographic below highlights common errors that should be avoided at all costs. Want People to Return Your Emails? Avoid These Words [INFOGRAPHIC] Next time you write an email subject line, think twice about the words you're using.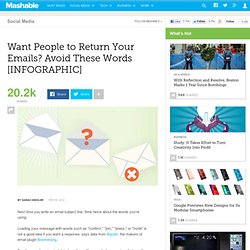 Loading your message with words such as "confirm," "join," "press," or "invite" is not a good idea if you want a response, says data from Baydin, the makers of email plugin Boomerang. Baydin recently extracted data from five million emails its users handled — either using the company's "email game" or scheduled for later via Boomerang. It found that some subject-line words, such as "apply" and "opportunity," got more responses than words from the aforementioned list.
Its data also suggests the best time to send emails is before work. Users who scheduled messages to read later, using Boomerang, most often wanted to deal with them around 6 a.m. Going Viral Visualized. The baby who laughs at ripping paper.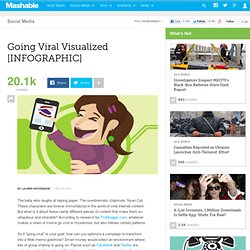 The overdramatic chipmunk. Nyan Cat. These characters are forever immortalized in the world of viral Internet content. But what is it about these vastly different pieces of content that make them so ubiquitous and sharable? Ultimate Guide to Business Cards. Start the New Year off right with a new business card design!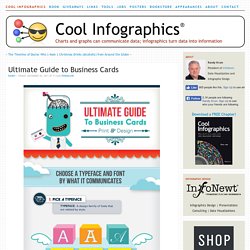 The Ultimate Guide to Business Cards is a very well designed infographic from BusinessCards.com Business owners can find themselves easily overwhelmed when it comes to working with a graphic designer on creating branded business cards. Often enough business owners underestimate the quantity and importance of design decisions (selecting typeface, font, card shape, size and material) that must be made in addition to organizing basic contact information. Ultimate-guide-business-cards-print-design3.png (700×5769) Inbound Marketing vs. Outbound Marketing [INFOGRAPHIC] Thanks to the Internet, marketing has evolved over the years.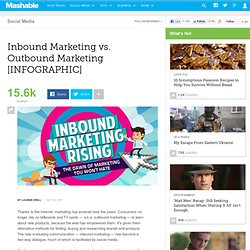 Consumers no longer rely on billboards and TV spots — a.k.a. outbound marketing — to learn about new products, because the web has empowered them. It's given them alternative methods for finding, buying and researching brands and products. The new marketing communication — inbound marketing — has become a two-way dialogue, much of which is facilitated by social media. The Power of Color!! How do Colors Affect Purchases?[Infographic] | DesignBeep. Today i found a great infographic about color usage in marketing,sales etc.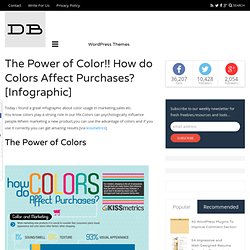 You know colors play a strong role in our life.Colors can psychologically influence people.Whem marketing a new product,you can use the advantage of colors and if you use it correctly you can get amazing results. [via kissmetrics] Designbeep is a design blog dedicated to web developers,bloggers,designers and freelancers.Our aim is to share everything about web design,graphic design,tutorials and inspirational articles and more. Répartition des dépenses pub. Technology role in advertising in the future ++ How Online Marketing Drives Offline Success.
Social Media is key for businesses small and large when using the Internet to drive success to their brick and mortar businesses.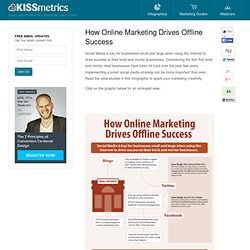 Considering the fact that brick and mortar retail businesses have been hit hard over the past few years, implementing a smart social media strategy can be more important than ever. Read the case studies in this infographic to spark your marketing creativity. Click on the graphic below for an enlarged view: View an enlarged version of this Infographic » Le M-marketing à travers le monde | Marketing. Cet article a été posté par Savinien le 25 mars 2011 à 10:25 Les analystes l'avaient prévu, le web 2.0 laissera place au 3.0 ou l'Internet mobile !
Après les smartphones (représentant 27% du marché du mobile), les tablettes tactiles ont fait leur arrivée avec l'iPad. Une infographie de Microsoft Tag vient consolider la donne… En effet, nous y apprenons entre autre que, d'ici 2014, l'utilisation d'Internet sur mobile devrait passer au dessus de celle sur ordinateurs. Saviez-vous également qu'un américain passe en moyenne 2,7h sur son téléphone par jour ?
---