Infographics - Blogoshere
Get flash to fully experience Pearltrees
When I opened my virtual doors to blog consulting in 2007, only 16% of businesses were blogging. In 2009, when I quit my job to be a blog consultant full time, that number jumped to 29%. Jump to 2011 and we have 39% of businesses now using blogs for marketing. For the full story and an awesome infographic full of data visualizations on the future of business marketing with blogs & social media, join me after the jump. Click on the picture to see it full size. In this infographic you'll find some pretty interesting numbers:
Not too long ago, we showcased the best infographics about social media that we could find on the net. This time round, we're going to show you how infographics can enhance your knowledge of the interconnecting world of blogs which we call 'blogosphere'. As the popularity of blogs increases, bloggers wish to know how they can draw more crowds to their posts or the entire site.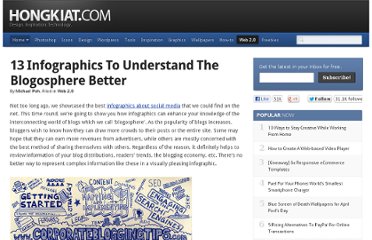 Have you ever wondered who and what the blogosphere consisted of? Well, luckily a recent study was undertaken by Technorati, in order to help put things in perspective. Consisting largely of a survey, asking bloggers about their demographic information,blogging activity, and profitability, the data yielded some rather interesting findings. Below, is a graphic based on these findings, in an easy-to-follow format. Share this post
I use blogs on a daily basis to research, keep up to date with the latest developments in interactive design and networking, to entertain myself, to promote and educate. My students all blog and I pull the rss feeds into the google reader on my phone to keep up to date with their progress as they reflect on and promote their work, showcasing their designs and photography, recording their experiences at exhibitions, networking events, work placements and so on. It is so easy for me to follow their blogs and add comments, hit like buttons and share good posts to give them some positive feedback. Blogging comes naturally to them. They have something worth saying and no qualms about sharing it with the world. Some of my students run the Bath based online magazine, www.bladud.co.uk using blogging software to reach their audience.
When starting a blog, this question comes to the mind of every blogger. Which blogging platform is the best? Which one should they use? If you are on WPBeginner, you will see us recommending everyone to use Self Hosted WordPress.org platform . But many users think that our views are biased, therefore we asked Darren Rowse from Problogger for his permission to use the data from the poll he ran on his site. We took the results from Darren's Poll about What Blog Platform Do You Use?