Facebook
QuitFacebookDay.com. Facebook's Gone Rogue; It's Time for an Open Alternative | Epicenter  Facebook has gone rogue, drunk on founder Mark Zuckerberg's dreams of world domination.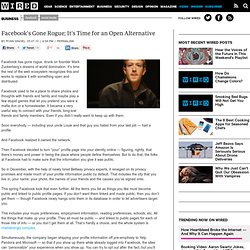 It's time the rest of the web ecosystem recognizes this and works to replace it with something open and distributed. Facebook used to be a place to share photos and thoughts with friends and family and maybe play a few stupid games that let you pretend you were a mafia don or a homesteader. It became a very useful way to connect with your friends, long-lost friends and family members. Even if you didn't really want to keep up with them. Facebook is Dying - Social is Not. There is one question that I hear all the time.
Is Facebook going to last, or is it just a fad? My answer is always the same. Facebook's Instant Personalization Is the Real Privacy Hairball: Tech News « Facebook at its f8 conference yesterday launched tools for websites to add a social layer by bringing over Facebook friend connections.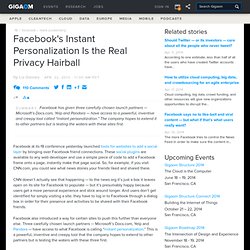 These social plugins are available to any web developer and use a simple piece of code to add a Facebook frame onto a page, instantly make that page social. So, for example, if you visit CNN.com, you could see what news stories your friends liked and shared there. Facebook's Zuckerberg Says The Age of Privacy is Over. Facebook founder Mark Zuckerberg told a live audience yesterday that if he were to create Facebook again today, user information would by default be public, not private as it was for years until the company changed dramatically in December.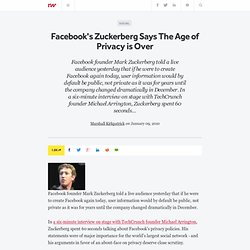 In a six-minute interview on stage with TechCrunch founder Michael Arrington, Zuckerberg spent 60 seconds talking about Facebook's privacy policies. His statements were of major importance for the world's largest social network - and his arguments in favor of an about-face on privacy deserve close scrutiny. Zuckerberg offered roughly 8 sentences in response to Arrington's question about where privacy was going on Facebook and around the web.
---