Individual Apps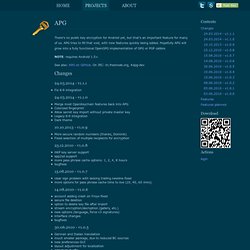 There's no public key encryption for Android yet, but that's an important feature for many of us. APG tries to fill that void, with new features quickly being added. Hopefully APG will grow into a fully functional OpenGPG implementation of GPG or PGP calibre. NOTE: requires Android 1.5+ See also: APG on Google Code.
Android Privacy Guard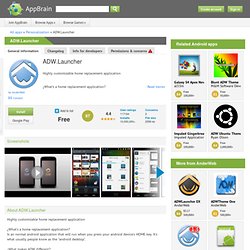 Highly customizable home replacement application ¿What's a home replacement application?Is an normal android application that will run when you press your android device's HOME key. It's what usually people know as the "android desktop".
ADW.Launcher
File Expert for Android – WIFI File Sharing, Management and More
The password manager that autofills logins, syncs across devices and keeps your secure notes, PINs, bank account numbers, credit card info, contacts, tasks, journals and bookmarks safe like in a vault....without any cloud services. Totally secure your data All your data is fully encrypted with a strong, password-based, government-grade 256-bit AES cipher. This way your information is protected from unauthorized access by thieves, hackers and malware. Easily sync all your devices
B-Folders - Sync & Secure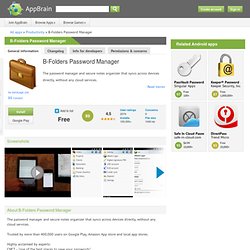 FREE App Today CamScanner FREE iPhone App Review