Les MARches
#Road to Dignity. Manifeste de mouvements Occupy et Indignés pour le 12 mai 2012 #12M#15M. L'Accord des Muses - Notre musique. Musique Trad : Nouveau !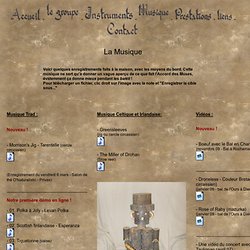 - Morrison's Jig - Tarentelle (cercle circassien) International Comission Barcelona | Français. DATE: 27th June Thursday / Perşembe / 5a feira / Jueves / Jeudi Find this text in 1) ENGLISH 2) TURKÇE 3) PORTUGUÊS 4) ESPAÑOL 5) FRANÇAIS 6) ITALIANO 7) ARABIC UTC (GMT) 18:00 / London: 19:00 / Madrid: 20:00 / Istanbul: 21:00 /Rio de Janeiro: 15:00 / New York: 14:00 WHERE?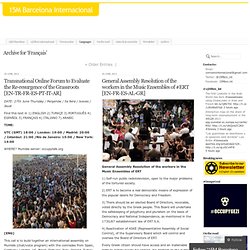 Mumble server: occupytalk.org. Lo que cada país europeo le debe a otros países, en un gráfico interactivo especialmente brillante. Excelente gráfico interactivo de BBC News con el que se puede jugar en su web: ¿Quién debe cuánto a quién?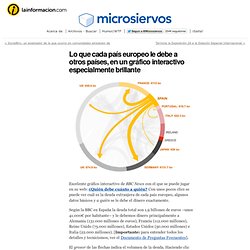 Con unos pocos clics se puede ver cuál es la deuda extranjera de cada país europeo, algunos datos básicos y a quién se le debe el dinero exactamente. Según la BBC en España la deuda total son 1,9 billones de euros –unos 41.000€ por habitante– y le debemos dinero principalmente a Alemania (131.000 millones de euros), Francia (112.000 millones), Reino Unido (75.000 millones), Estados Unidos (50.000 millones) e Italia (22.000 millones). [Importante: para entender todos los detalles y tecnicismos, ver el Documento de Preguntas Frecuentes]. March to Athens Nice-Roma-Athens 2011-2012. MARCHES. Le sens de la marche. Les Marches des Indignés vers Paris ==> Bruxelles. Arrivée des Marches Indignées à Paris - Dossier de Presse. [ Télécharger ] Dossier de Presse Ce dossier est diffusé sous licence Creative Commons By, attribuée à Marches à Bruxelles .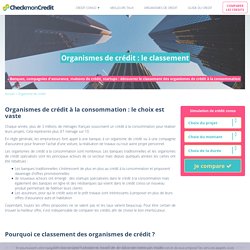 L'information qu'il contient sera actualisée jusqu'à l'arrivée des Marches à Bruxelles. MONDE : La marche des indignés européens fait halte à Paris. Bien le bonjour, Voila de nouvelles activité Bien le bonjour, Voila de nouvelles activités pour l'agenda, Rendez-vous demain le 12 septembre à l'Aquilone (25 Boulevard Saucy) à 20 h pour un rendez-vous organiser par le Comité d'action contre la dette du Tiers-Monde intitulé « Retour sur les résistances en Europe.
Quelles sont les grandes mobilisations à venir, quels en sont les enjeux? Pluriversités en devenir ... La difficile marche à contre-courant des Indignés #marchabruselas #walktobrussels | The Marches to Brussels. Les Marches Bretonnes des Indigné-e-s ! « Les Indignés de Vannes. Bonjour à tous, vous retrouverez le tract en fin de cet article.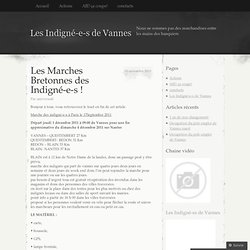 Marche des indigné-e-s à Paris le 17Septembre 2011 Départ jeudi 1 décembre 2011 à 09:00 de Vannes pour une fin approximative du dimanche 4 décembre 2011 sur Nantes VANNES – QUESTEMBERT 27 Km QUESTEMBERT- REDON 32 Km REDON – BLAIN 33 Km BLAIN- NANTES 37 Km. Départ de Vannes Jeudi 1er décembre 2011 du Peuple indigné ! 15M Marche Bruxeles en France Tours / 15M Marcha Bruselas Tours. The Marches to Brussels. Le mouvement des Indignés prend de l'ampleur #marchabruselas #walktobrussels | The Marches to Brussels. Bruxelles - Manif anti-MES - 23 Octobre.
---