Les MARches
#Road to Dignity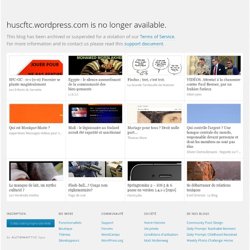 12 mai 2012 indignés / Anonymous / occupy (on prend la rue) (R)évolution…
huscftc.wordpress.com is no longer available. This site has been archived or suspended for a violation of our Terms of Service . For more information and to contact us please read this support document . Inscription
Manifeste de mouvements Occupy et Indignés pour le 12 mai 2012 #12M#15M
Musique Trad : Nouveau ! - Morrison's Jig - Tarentelle (cercle circassien)
L'Accord des Muses - Notre musique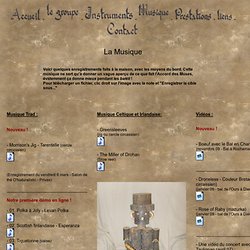 21 enero, 2013 [EN-FR-ES] Thirty housing rights activists were arrested in Budapest, IAI solidarity (EN) Dear friends of A Város Mindenkié, First of all, I would like to express full solidarity of the International Alliance of Inhabitants with your struggles, which we also consider our own, and firmly demand that all activists be freed right now! The squatting of vacant housing is not a crime, but it is a legitimate action because of the failure of states to respect their legal obligation, assumed by the ratification of the International Covenant on Economic, Social and Cultural Rights, to protect the right to housing by appropriate policies.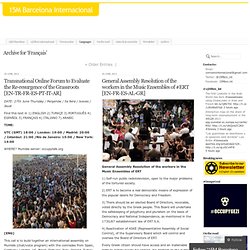 International Comission Barcelona | Français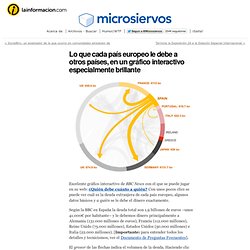 Lo que cada país europeo le debe a otros países, en un gráfico interactivo especialmente brillante | Microsiervos (MundoReal™)
Excelente gráfico interactivo de BBC News con el que se puede jugar en su web: ¿Quién debe cuánto a quién? Con unos pocos clics se puede ver cuál es la deuda extranjera de cada país europeo, algunos datos básicos y a quién se le debe el dinero exactamente. Según la BBC en España la deuda total son 1,9 billones de euros –unos 41.000€ por habitante– y le debemos dinero principalmente a Alemania (131.000 millones de euros), Francia (112.000 millones), Reino Unido (75.000 millones), Estados Unidos (50.000 millones) e Italia (22.000 millones). [ Importante: para entender todos los detalles y tecnicismos, ver el Documento de Preguntas Frecuentes ]. El grosor de las flechas indica el volumen de la deuda.
March to Athens Nice-Roma-Athens 2011-2012
le sens de la marche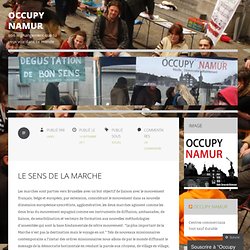 Les marches sont parties vers Bruxelles avec un but objectif de liaison avec le mouvement français, belge et européen, par extension, considérant le mouvement dans sa nouvelle dimension européenne syncrétiste, agglomérative, les deux marches agissent comme les deux bras du mouvement espagnol comme ses instruments de diffusion, ambassades, de liaison, de sensibilisation et vecteurs de formation aux nouvelles méthodologies d'assemblée qui sont la base fondamentale de nôtre mouvement. "Le plus important de la Marche n'est pas la destination mais le voyage en soi." Tels de nouveaux missionnaires contemporains a l'instar des ordres missionnaires nous allons de par le monde diffusant le message de la démocratie horizontale en rendant la parole aux citoyens, de village en village, de ville en ville, d'assemblée en assemblée ralliant les mécontents et autres sceptique des dérives de la politique actuelle.
Les Marches des Indignés vers Paris ==> Bruxelles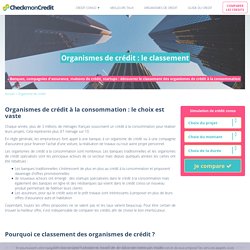 Arrivée des Marches Indignées à Paris - Dossier de Presse
[ Télécharger ] Dossier de Presse Ce dossier est diffusé sous licence Creative Commons By, attribuée à Marches à Bruxelles . L'information qu'il contient sera actualisée jusqu'à l'arrivée des Marches à Bruxelles.
MONDE : La marche des indignés européens fait halte à Paris
Bien le bonjour, Voila de nouvelles activités pour l'agenda, Rendez-vous demain le 12 septembre à l'Aquilone (25 Boulevard Saucy) à 20 h pour un rendez-vous organiser par le Comité d'action contre la dette du Tiers-Monde intitulé « Retour sur les résistances en Europe. Quelles sont les grandes mobilisations à venir, quels en sont les enjeux?
Bien le bonjour, Voila de nouvelles activité
Pluriversités en devenir ...
La difficile marche à contre-courant des Indignés #marchabruselas #walktobrussels | The Marches to Brussels
Bonjour à tous, vous retrouverez le tract en fin de cet article. Marche des indigné-e-s à Paris le 17Septembre 2011 Départ jeudi 1 décembre 2011 à 09:00 de Vannes pour une fin approximative du dimanche 4 décembre 2011 sur Nantes VANNES – QUESTEMBERT 27 Km QUESTEMBERT- REDON 32 Km REDON – BLAIN 33 Km BLAIN- NANTES 37 Km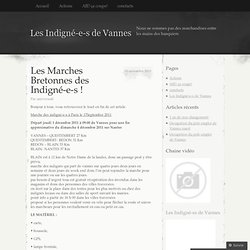 Les Marches Bretonnes des Indigné-e-s ! « Les Indignés de Vannes
départ de Vannes Jeudi 1er décembre 2011 du Peuple indigné !
15M Marche Bruxeles en France Tours / 15M Marcha Bruselas Tours
The Marches to Brussels
Le mouvement des Indignés prend de l'ampleur #marchabruselas #walktobrussels | The Marches to Brussels
Bruxelles - Manif anti-MES - 23 Octobre on Vimeo