Web
Web ohne Barrieren - Lösungen und Hinweise
Was ist Barrierefreiheit im Web Barrierefreiheit im Web bedeutet, dass Menschen mit Behinderungen das Web nutzen können . Um genauer zu sein, bedeutet Barrierefreiheit im Web, dass Menschen mit Behinderungen das Web wahrnehmen, verstehen, darin navigieren und damit interagieren können und dass sie zum Web beitragen können. Barrierefreiheit im Web kommt auch anderen zugute, darunter auch ältere Menschen mit sich altersbedingt ändernden Fähigkeiten. Barrierefreiheit im Web umfasst alle Behinderungen, die den Zugang zum Web beeinträchtigen, einschließlich visueller, auditiver, motorischer, sprachlicher, kognitiver und neurologischer Behinderungen.
Einführung in die Barrierefreiheit im Web (Deutsche Übersetzung) : Einfach für Alle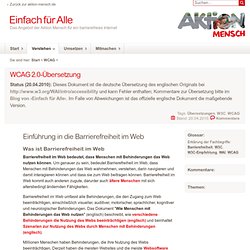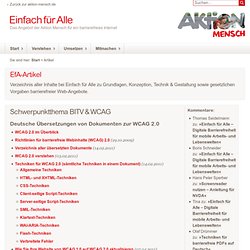 Artikel zur Konzeption barrierefreier Websites : Einführung in Barrierefreiheit (08.09.2011) Warum Websites für ein breitestmögliches Spektrum an Menschen mit unterschiedlichsten Fähigkeiten zugänglich sein sollten. Wege durch die Website (29.08.2011) Barrierefreie Navigationskonzepte und ihre Vor- und Nachteile.
Inhaltsverzeichnis der Artikel bei Einfach für Alle - eine Initiative der Aktion Mensch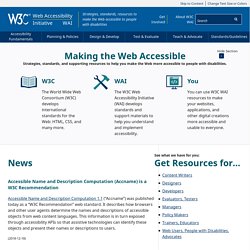 W3C Workshop: Referencing and Applying WCAG 2.0 in Different Contexts The W3C Web Accessibility Initiative ( WAI ) today announced the Workshop on Referencing and Applying WCAG 2.0 in Different Contexts on 23 May 2013 in Brussels, Belgium. Participants will explore approaches for using Web Content Accessibility Guidelines (WCAG) 2.0 and its supporting resources in different policy settings and contexts. The Workshop is open to policy-makers, users, developers, accessibility experts, researchers, and others interested in adopting, referencing, and applying WCAG 2.0.
AbI-Projekt - Startseite
Barrierefreies Webdesign - ein zugängliches und nutzbares Intern
Das BIK-Projekt unterstützt die Umsetzung der Barrierefreiheit am Arbeitsplatz in Unternehmen und Verwaltungen und entwickelt Testverfahren zur Prüfung der Barrierefreiheit von Internet- und Intranetangeboten. Die BIK-Projekt-Homepage mit allen Regionalen Beratungsstellen finden Sie auf www.bik-online.info . Prüfstelle im BITV-Test Prüfverbund
Barrierefreies Internet und Intranet - DVBS-online.de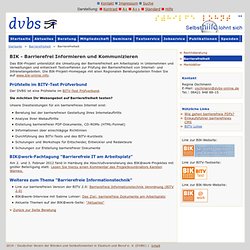 Today, I attended the presentation, "Making Your Information Available to People with ID by Building Accessible Websites" by Lynne Tamor, Ph.D., of The ArcLink Incorporated . Dr. Tamor's work mirrors that of my own and of others who specialize in cognitive Web accessibility.
The ArcLink: Features of a Cognitively Accessible Web Site « Cle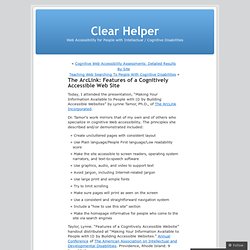 'Building Accessible Websites' serialization
Updated 2007.04.15 A note on corrections When you buy the book, you get the entire text (but no graphics) on the included CD-ROM, along with a few extras, like fonts and utilities. The following files provide the original copy (with almost no graphics, save for Chapter 13), corrected as of August 2005. In autumn 2005, I made every known correction to these texts. The corrections were limited to copy-errors and mistakes in code samples.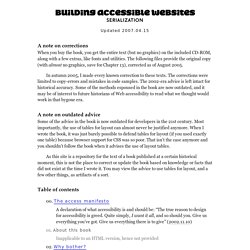 Zugänglichkeitsrichtlinien für Web-Inhalte 1.0
Summary: Teens are (over)confident in their web abilities, but they perform worse than adults. Lower reading levels, impatience, and undeveloped research skills reduce teens' task success and require simple, relatable sites. Teens are wired.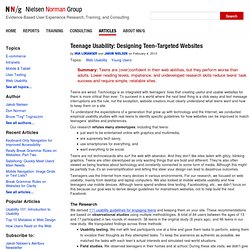 Usability of Websites for Teenagers
HTML Techniques for Web Content Accessibility Guidelines 1.0
W3C Note 6 November 2000 This version: http://www.w3.org/TR/2000/NOTE-WCAG10-HTML-TECHS-20001106/ ( plain text , PostScript , PDF , gzip tar file of HTML , zip archive of HTML ) Latest version: