Inclassables
How to Properly Use Sunscreen. How-to topics are popular infographic designs, and How To Properly Use Sunscreen is a great topic to cover.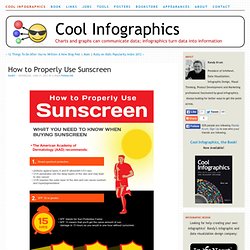 From STACK.com. It's over 100°F (over 37°C) here in Texas this week, so this is a very appropriate topic to share. How Mobile Technology is Changing World Travel. Do you use your smartphone to help make traveling easier?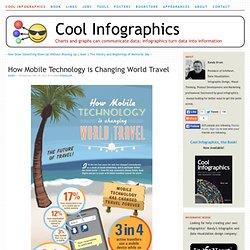 If you do, then your part of a huge growing trend. The How Mobile Technology is Changing World Travel infographic from MyDestination.com shares some interesting statistics when it comes to traveling. Back in 1903 when the Wright Brothers first took flight in their first fixed winged aircraft, little could anyone have imagined what travel would become. Fast forward to 2012 and the internet has revolutionised travel – along with communication – with the birth of the smartphone. From Parchment to Data Lockers: History of the Password [INFOGRAPHIC] Trying to protect sensitive personal information from prying eyes is not something particular to the digital age — it's just human nature.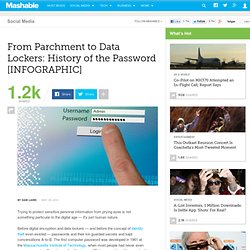 Before digital encryption and data lockers — and before the concept of identity theft even existed — passwords and their kin guarded secrets and kept conversations A-to-B. The first computer password was developed in 1961 at the Massachusetts Institute of Technology, when most people had never even seen a computer. Decades earlier, Nazis used "Enigma machines" to guard evil secrets. Typographical Infographics That'll Make You Go "Wow!" Apr 11 2012 Words are a really powerful tool to express what you think, but an even more powerful weapon to visualize your main thoughts and concept are graphics.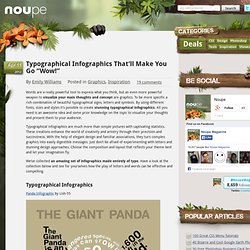 To be more specific a rich combination of beautiful typographical signs, letters and symbols. By using different fonts, sizes and styles it's possible to create stunning typographical infographics. All you need is an awesome idea and some prior knowledge on the topic to visualize your thoughts and present them to your audience. Typographical infographics are much more than simple pictures with captivating statistics. Australian Tourism Infographic. Who doesn't dream about going to the land down under?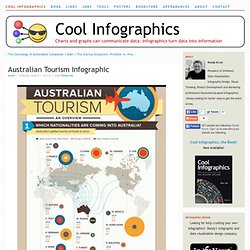 So if your curious about who is coming or going in Australia, planning a mini-vacation, or perhaps a permanent vacation, the Australian Tourism infographic from WeWish has the information for you! The only thing we like more than being on holiday is planning a holiday! Find out where everyone is heading this year. This infographic shows people moving in and out of Australia. It also shows the top destinations to visit when down under. [Infographie exclusive] Le baromètre digital des écoles de commerce. Depuis quelques années, les écoles de commerce se sont peu à peu appropriées le web et les réseaux sociaux comme véritables outils de communication.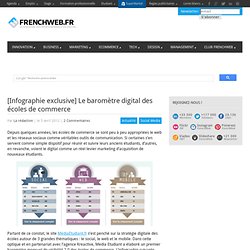 Si certaines s'en servent comme simple dispsitif pour réunir et suivre leurs anciens étudiants, d'autres, en revanche, voient le digital comme un réel levier marketing d'acquisition de nouveaux étudiants. Partant de ce constat, le site MédiaEtudiant.fr s'est penché sur la stratégie digitale des écoles autour de 3 grandes thématiques : le social, le web et le mobile. Dans cette optique et en partenariat avec l'agence Kreactive, Media Etudiant a élaboré un premier baromètre mensuel de visibilité 2.0 des écoles de commerce. L'infographie suivante récapitule les principaux enseignements de cette étude. 15 Grammar Goofs That Make You Look Silly. Everyone makes mistakes, but that notion seems to go out the window anytime syntax is misused.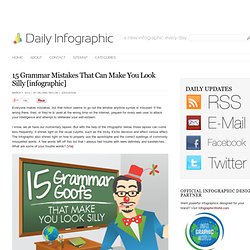 If the wrong there, their, or they're is used at the wrong time on the internet, prepare for every web user to attack your intelligence and attempt to obliterate your self-esteem. I know, we all have our momentary lapses. Amanda Cox Talks about Developing Infographics at the New York Times. We know that The New York Times graphics department produces some of the best visualizations in the world.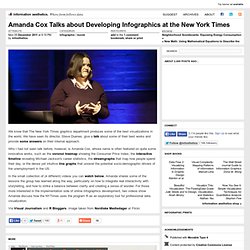 We have seen its director, Steve Duenes, give a talk about some of their best works and provide some answers on their internal approach. Who I had not seen talk before, however, is Amanda Cox, whose name is often featured on quite some innovative works, such as the voronoi treemap showing the Consumer Price Index, the interactive timeline revealing Michael Jackson's career statistics, the streamgraphs that map how people spend their day, or the dense yet intuitive line graphs that unravel the potential socio-demographic drivers of the unemployment in the US.
In the small collection of (4 different) videos you can watch below, Amanda shares some of the lessons the group has learned along the way, particularly on how to integrate real interactivity with storytelling, and how to strike a balance between clarity and creating a sense of wonder. Tech Creeps Into Top Toy Trends of Last 30 Years. When it comes to the most-wanted toys of the holiday season over the past 30 years, one thing is clear: The toy market has become way more tech-centric.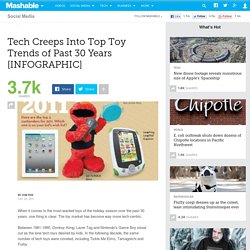 Between 1981-1990, Donkey Kong, Lazer Tag and Nintendo's Game Boy stood out as the lone tech toys desired by kids. In the following decade, the same number of tech toys were coveted, including Tickle Me Elmo, Tamagotchi and Furby. The new millennium brought a change in kid's most-desired gifts. Since 2003, every one of the top toys was either robotic or a tech gadget: Robosapiens, Nintendo DS, Xbox 360, Playstation 3, iPod touch, Biscuit My Lovin' Pup, Zhu Zhu Pets and the iPad. Of course, calling an iPod or iPad a toy overlooks the majority of its uses. L'histoire d'Anonymous et leurs faits d'armes dans une infographie.
« Nous sommes les Anonymous.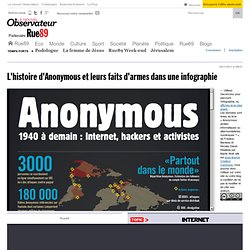 Nous sommes légion. Nous ne pardonnons pas. Nous n'oublions pas. [Infographie] En ligne, les enfants seraient majeurs dès 11 ans. La société AVG, spécialisée dans la sécurité online, vient de publier une étude baptisée « Digital Diaries ». L'objectif de cette enquête est d'analyser la manière dont les nouvelles technologies affectent l'enfance. Pour cette édition, AVG a réalisé un focus sur la « maturité digitale », c'est a dire l'âge auquel les enfants deviennent des « adultes » en ligne.
A chart of almost all the money. La mort en infographie. Le symbolisme de la mort et des lieux de recueillement est riche en signes, en messages et en imaginaire, du plus particulier aux symboles utilisés sur les pierres tombales dans le monde entier. Parce que quiconque nait, mourra un jour, c'est une condition qui rassemble tous les humains (et toute la vie en générale), et donc le centre de nombreuses traditions, de nombreuses cultures, coutumes, symboles… Voici donc une infographie qui regroupe un grand nombre de symboles et leur signification !
> En grand format. Quelques données sur les profondeurs marines. Si la Terre est surnommée la planète bleue, ce n'est pas pour rien. En effet, si on la regarde dans sa totalité, on se rend compte qu'elle est recouverte par bien plus d'eau que de terre. Pourtant, ce qui se cache sous ces océans et mers est encore un monde plutôt inconnu et qui possède, j'en suis sûr, de nombreux trésors. Cette infographie démystifie un peu tout cela et nous donne quelques informations textuelles et chiffrées très intéressantes sur les profondeurs marines. Addicted to Angry Birds? Here's Help [INFOGRAPHIC] As we continue to work through our Angry Birds addiction, this playful infographic offers some consolation. We're not alone in our attraction to flinging the flying fowl, but would like some answers, and this infographic is happy to oblige with lots of solid research. Why can't we stop playing this game that started on iPhone and now keeps spreading like wildfire on multiple platforms?
A Digital Day In the Life of a Student [Infographic] Connectivity is at an all time high, digitally and socially. So how much is it really impacting our lives? Here's a comic book style graphic to take a look at the day in the digital life of a student. The infographic has some hilarious scenarios about staying connected to social media. L'infographie des animaux domestiques. Pets on Pillows [INFOGRAPHIC] Animal facts weird. Kidfographics. How Do Architects Use Twitter? [INFOGRAPHIC] Italia-infographic-map. Bible-marriage. NFL. Infographic Of The Day: The Fantasy Sports Economy Is Rip-Roaring | Co. Design. 4thof July facts. How Dad's Music Indicates What You Listen To Today [INFOGRAPHIC] America According to Twitter: U.S. Cities Remixed [INFOGRAPHIC] Paradise or Peril Infographic.
Les réseaux terroristes islamistes dans le monde. Identity Theft Facts and Figures. Les Français et ... les files d'attente. Journey of a Successful blog post. Royal Wedding : the infographic.
---