Improv
Learn Improv. N Crowd. ComedySportz Philly. Activity Book. Amie and Kristen Show. Asteroid. Fletcher. King Friday. Mayor Karen. Improv Resource Center. Philadelphia Board. Zenprov. Zenprov- is the brainchild of Marshall Stern and represents a novel way of viewing Improv through the lens of Zen thought while also viewing Zen and Life in general through the unique lens of Improv.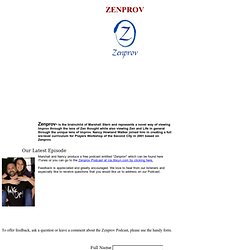 Nancy Howland Walker joined him in creating a full six-level curriculum for Players Workshop of the Second City in 2001 based on Zenprov. Marshall and Nancy produce a free podcast entitled "Zenprov" which can be found here iTunes or you can go to the Zenprov Podcast at cia.libsyn.com by clicking here. Feedback is appreciated and greatly encouraged. We love to hear from our listeners and especially like to receive questions that you would like us to address on our Podcast. Improv Wisdom. The so-called "old testament" The following are some guidelines compiled eons upon eons ago by Jonathan Pitts from numerous sources and edited by Eric Berg.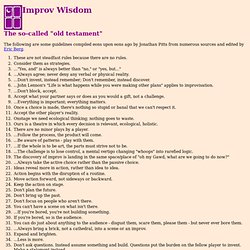 These are not steadfast rules because there are no rules. Improv Encyclopedia. The New Improv Page. 1986 Cable Access Interview of Del Close Brian Stack (most recently a writer for Conan) shot this interview with Del Close in 1986.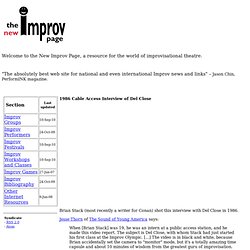 Jesse Thorn of The Sound of Young America says: When [Brian Stack] was 19, he was an intern at a public access station, and he made this video report. The subject is Del Close, with whom Stack had just started his first class at the Improv Olympic. [...] YESand.com | Adrift. Philadelphia Comedy Collective. The Philadelphia Joke Initiative. Ladies & Gentlemen. Philly Sketchfest. Philadelphia Comedy Collective. PHL ComedyCollective (phlcomedy) Philadelphia Improv Festival. PHIF. PHIF on Facebook. PhillyImprov.com. PhillyImprov. PhillyImprov (PhillyImprov) DSI Comedy Theater.
NC Comedy Arts Festival. HUGE Improv. Jill bernard. Jill Bernard. Jill Bernard's Small Cute Book of Improv. DRUM MACHINE. Impatient Theatre Co. UCB. Improv Everywhere. Annoyance Theatre. Second City. Magnet Theater - Improv Comedy Shows and Classes in New York City. Groundlings.
---