Improv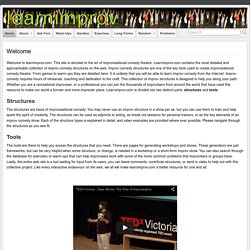 Welcome to learnimprov.com. This site is devoted to the art of improvisational comedy theatre. Learnimprov.com contains the most detailed and approachable collection of improv comedy structures on the web.
Learn Improv
N Crowd
ComedySportz Philly
Activity Book
Amie and Kristen Show
Asteroid
Fletcher
King Friday
Mayor Karen
Improv Resource Center
Philadelphia Board
Zenprov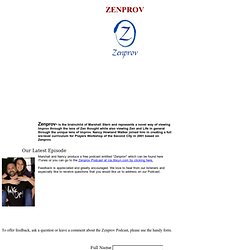 Zenprov- is the brainchild of Marshall Stern and represents a novel way of viewing Improv through the lens of Zen thought while also viewing Zen and Life in general through the unique lens of Improv. Nancy Howland Walker joined him in creating a full six-level curriculum for Players Workshop of the Second City in 2001 based on Zenprov. Marshall and Nancy produce a free podcast entitled "Zenprov" which can be found here iTunes or you can go to the Zenprov Podcast at cia.libsyn.com by clicking here. Feedback is appreciated and greatly encouraged. We love to hear from our listeners and especially like to receive questions that you would like us to address on our Podcast.
Improv Wisdom
The so-called "old testament" The following are some guidelines compiled eons upon eons ago by Jonathan Pitts from numerous sources and edited by Eric Berg. These are not steadfast rules because there are no rules.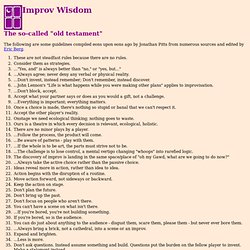 Improv Encyclopedia Improv Encyclopedia is the largest collection or resources for improvization theater on the web. Here you will find tons of stuff related to improvization theatre. For those not particularly looking for improv-related material we feature: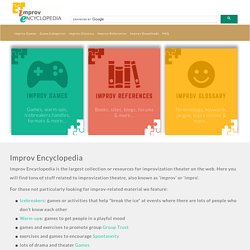 The New Improv Page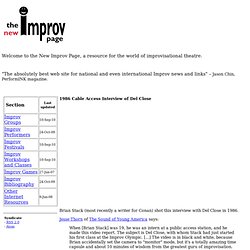 1986 Cable Access Interview of Del Close Brian Stack (most recently a writer for Conan) shot this interview with Del Close in 1986. Jesse Thorn of The Sound of Young America says: When [Brian Stack] was 19, he was an intern at a public access station, and he made this video report. The subject is Del Close, with whom Stack had just started his first class at the Improv Olympic. [...]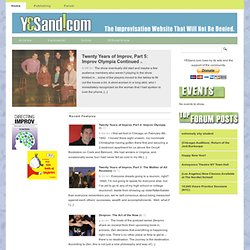 YESand.com |
Recent Features Twenty Years of Improv, Part 4: Improv Olympia I first set foot in Chicago on February 8th, 1992.
Adrift
Philadelphia Comedy Collective
Ladies & Gentlemen
Philly Sketchfest
Philadelphia Comedy Collective
PHL ComedyCollective (phlcomedy) on Twitter
Philadelphia Improv Festival
PHIF on Twitter
PHIF on Facebook
PhillyImprov.com
PhillyImprov
PhillyImprov (PhillyImprov) on Twitter
DSI Comedy Theater
NC Comedy Arts Festival
Our festival features acts from all over North America performing in local Chapel Hill, Carrboro and Durham venues during the month of February. NCCAF has featured the most amazing comedy in the country. In 2007 LOUIS CK saved comedy when he flew down to step in minute for Horatio Sanz. His performance was EPIC!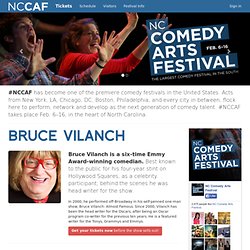 HUGE Improv
jill bernard
Jill Bernard on Vimeo
Jill Bernard's Small Cute Book of Improv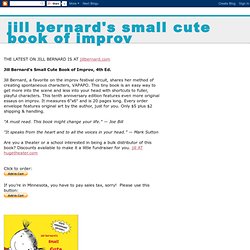 THE LATEST ON JILL BERNARD IS AT jillbernard.com Jill Bernard's Small Cute Book of Improv, 4th Ed. Jill Bernard, a favorite on the improv festival circuit, shares her method of creating spontaneous characters, VAPAPO. This tiny book is an easy way to get more into the scene and less into your head with shortcuts to fuller, playful characters. This tenth anniversary edition features even more original essays on improv.
DRUM MACHINE
Jill Bernard has been performing with ComedySportz-Twin Cities since 1993, and is the director of their workshop program. Her one-woman improv piece, Drum Machine, has been featured at the Chicago Improv Festival, the Toronto Improv Jamboree, the Miami Improv Festival, Philadelphia Improv Festival, and the ComedySportz National Tournament, among others. She has taught improv in over twenty states and two provinces, including the cities of Juneau, AK; Spokane and Seattle, WA; Washington DC; Portland, OR; Phoenix, AZ; at the Dirty South Improv Festival, the Funny Woman Fest, and on an episode of MTV "Made." She has studied at the Annoyance Theater, Improv Olympic, the Brave New Workshop and other organizations; and is the recipient of the 2005 Chicago Improv Festival Avery Schreiber Ambassador of Improv Award, and the 2007 Miami Improv Festival award for Best Solo Show. Click here for resume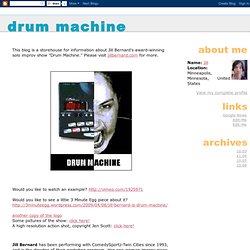 Impatient Theatre Co
UCB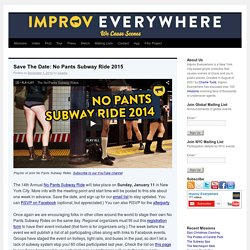 No Pants Subway Ride 2014 (View on YouTube) | Subscribe to us on YouTube Created and Directed by Charlie Todd / Produced by: Deverge / Music by Tyler Walker On Sunday, January 12th, 2014 tens of thousands of people took off their pants on subways in over 60 cities in over 25 countries around the world. In New York, our 13th Annual No Pants Subway Ride had over 4,000 participants, spread out over seven meeting points and eleven subway lines.
Annoyance Theatre
Second City
Magnet Theater - Improv Comedy Shows and Classes in New York City
Groundlings