Mobile learning schools & contacts
Lauren Boucher (BoucherLauren) on Twitter
Brenda Knobloch (bkknobloch) on Twitter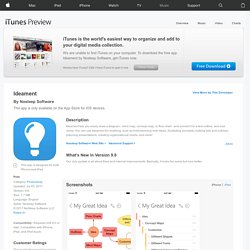 Description Idea Sketch lets you easily draw a diagram - mind map, concept map, or flow chart - and convert it to a text outline, and vice versa. You can use Idea Sketch for anything, such as brainstorming new ideas, illustrating concepts, making lists and outlines, planning presentations, creating organizational charts, and more!
Silvia Tolisano (langwitches) on Twitter
DeniseMcQueenOzdeniz (Denozden) on Twitter
Mr. Casal (Mr_Casal) on Twitter
PS10 iPads - home
iPad Tips Poster
iPads at Burley
Mohamed El-Ashiry (MoAsh245) sur Twitter
psdmobilelearning - home
Maggie Verster (maggiev) on Twitter
Shamblesguru (shamblesguru) on Twitter
JackieGerstein Ed.D. (jackiegerstein) on Twitter
Dr. Eric Wood (DrEricWood) on Twitter
SchoolTechnology.org | Tech Integration Ideas for Elementary Schools
mkurashige (mkurashige) on Twitter
Learning In Burlington: Looking Back At Year One of 1:1 (With iPads) Part Four
Lauren S. Enders, MA, CCC-SLP (lasenders) on Pinterest
With budgets tight, many schools are hoping to bring technology into the classroom without having to shell out for a device for each student. A solution for many has been to make classes BYOD (short for "bring your own device"), which allows students to bring laptops, tablets, and smartphones from home and to use them in the classroom and share them with other students. It's a promising idea, especially for schools that don't have big tech budgets, but it has met with some criticism from those who don't think that it's a viable long-term or truly budget-conscious decision.
Jennie Snyder, Ed.D. (POUSDSupt) on Twitter
juliancoultas (digitalroadtrip) on Twitter
Elinda Gjondedaj (elindagjondedaj) on Twitter
Terice T. Schneider (tericeschneider) on Twitter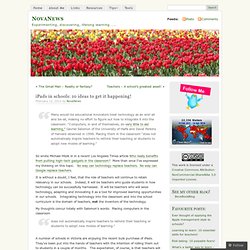 iPads in schools: 10 ideas to get it happening!
February 12, 2012 by NovaNews Many would-be educational innovators treat technology as an end-all and be-all, making no effort to figure out how to integrate it into the classroom. "Computers, in and of themselves, do very little to aid learning," Gavriel Salomon of the University of Haifa and David Perkins of Harvard observed in 1996. Placing them in the classroom "does not automatically inspire teachers to rethink their teaching or students to adopt new modes of learning." So wrote Michael Hilzik in in a recent Los Angeles Times article Who really benefits from putting high-tech gadgets in the classroom?
ktenkely (ktenkely) on Twitter
Kevin Biles (krbiles) on Twitter
Scott Meech (smeech) on Twitter
Tony Vincent (tonyvincent) on Twitter
Nicholas Provenzano (thenerdyteacher) on Twitter
Joe Dale (joedale) on Twitter
Aldous Michael (aldousmichael) on Twitter
If you're ever unsure about the working status of a well known website such as Twitter or Facebook, check out Down Right Now to see if it's up or having technical issues. It's a great resource to keep you in the know instead of sitting there refreshing or wondering if your network is having issues. What to do if Down Right Now itself goes down? Time for some R & R!
Wire the World
Scott Newcomb (snewco) on Twitter
johndavitt (johndavitt) on Twitter
JackieGerstein Ed.D. (jackiegerstein) on Twitter
Silvia Tolisano (langwitches) on Twitter
Ian Chia (ianchia) on Twitter
Kathy Schrock (kathyschrock) on Twitter
Dan Callahan (dancallahan) on Twitter
Rich Kiker (rkiker) on Twitter
John C. Carver (johnccarver) on Twitter
Ludlow Junior School Southampton
Mobile Learning Now a Reality for Ludlow Junior School
iSchool: a closer look at Manhattan Beach Unified's iPad pilot program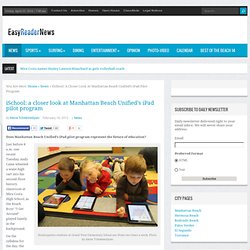 Does Manhattan Beach Unified's iPad pilot program represent the future of education? Kindergarten students at Grand View Elementary School use iPads two times a week. Photo by Alene Tchekmedyian Just before 8 a.m. one recent Tuesday, Andy Caine wheeled a waist-high cart into his second-floor history classroom at Mira Costa High School, as the Beach Boys' "I Get Around" played faintly in the background. On the syllabus for the day: the First Amendment. As the first period bell rang, Caine unlocked the cart.
Peggy Germain (pegzhere) on Twitter