Mobile Learning Implementation Resources
Mobile Learning: 50+ Resources & Tips. I believe mobile devices will transform education.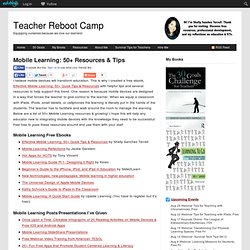 This is why I created a free ebook, Effective Mobile Learning: 50+ Quick Tips & Resources with helpful tips and several resources to help support this trend. One reason is because mobile devices are designed in a way that forces the teacher to give control to the learner. When we equip a classroom with iPads, iPods, small tablets, or cellphones the learning is literally put in the hands of the students.
Brainstorming apps. Mobile Learning Presentations. Mlearning in schools. Mobile Learning Blog Posts. Mobile learning publications. Mobile learning schools & contacts. Reading Mobile Learning. Literacy SPED.
---