Healthcare
Those breast exams women are supposed to regularly give themselves in the shower are no joke. With one in eight women facing breast cancer diagnosis at some point, early detection -- most often in the form of simple self exams -- can be a literal lifesaver. The bra's sensor monitors minute temperature changes to look for areas where blood vessels are growing and feeding tumors.
How a smart bra could one day outdo the mammogram | Crave - CNET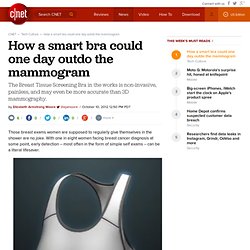 Hospital To Perform First Live-Tweeted/Instagrammed Hearing Restoration Surgery
The blind leading the seeing – no problem!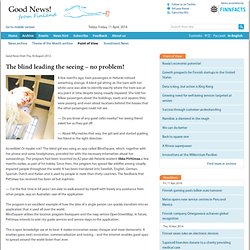 Good News from Thu, 30 August, 2012: A few months ago, tram passengers in Helsinki noticed something strange.
The National Football League may not be making all the right calls on the field, but an agreement with a Seattle company to improve on-the-field concussion response seems like a step in the right direction for another troublesome issue. X2IMPACT, a privately-funded tech company that develops services to help manage brain injuries in contact sports, entered into an agreement with the NFL on Tuesday to supply its Concussion Management System (CMS) software application for use by certain teams this season. The company also manufactures digital mouthpieces that can record forces of impact felt inside the head and send information to the sidelines, but this agreement solely involves the software itself.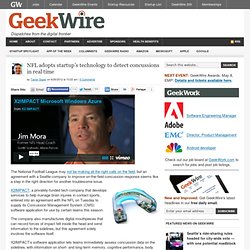 NFL adopts startup's technology to detect concussions in real time
911 is one of those crucial old-world telecommunications services that has adjusted to the mobile era but never embraced it. But if Location Labs has its way, calling 911 from a mobile phone will be a reliable and intelligent experience that is more useful for emergency workers and more reassuring for families.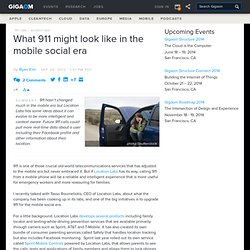 What 911 might look like in the mobile social era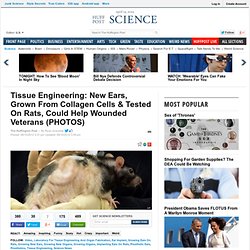 When William Shakespeare penned the line, "Friends, Romans, countrymen, lend me your ears," the famous playwright meant it in the most figurative sense.
Tissue Engineering: New Ears, Grown From Collagen Cells & Tested On Rats, Could Help Wounded Veterans (PHOTOS)
Trouble Sleeping? Your Tablet or Smartphone Could Be to Blame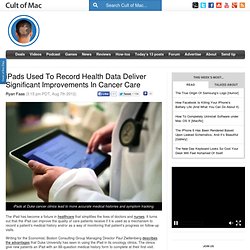 iPads at Duke cancer clinics lead to more accurate medical histories and symptom tracking. The iPad has become a fixture in healthcare that simplifies the lives of doctors and nurses.
iPads Used To Record Health Data Deliver Significant Improvements In Cancer Care
FDA Approves Robotic System To Open Your Arteries
PR-Month-End%20July%202012
Asimo technology helps build Honda's Stride Management Assist device | Digital Trends
FDA approves edible electronic pills that sense medication intake | Digital Trends
EMR Electronic Medical Records | Free Web-Based EMR Software
Investment in Digital Health Triples Over Past Year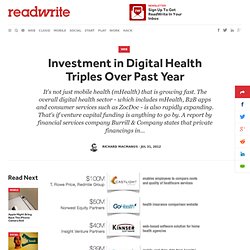 It's not just mobile health (mHealth) that is growing fast. The overall digital health sector - which includes mHealth, B2B apps and consumer services such as ZocDoc - is also rapidly expanding. That's if venture capital funding is anything to go by. A report by financial services company Burrill & Company states that private financings in digital health more than tripled in the first half of 2012. This follows a June report from nonprofit foundation Rock Health that showed "skyrocketing" VC funding in the sector.
Novel Hospital Toys | Hikaru Imamura
This is part of a series highlighting notable entries to our 2012 Innovation By Design Awards--Ed.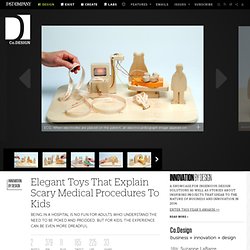 1 | Elegant Toys That Explain Scary Medical Procedures To Kids
Med Student Rescues Body Part From Airport Security : Krulwich Wonders...
No, said airline security, you can't take this bottle onboard. It exceeds the 100 milliliter limit; it's forbidden. But wait, said professor Martin Birchall of Bristol University.
Airport security and medical science: Is that a trachea in your pocket, sir?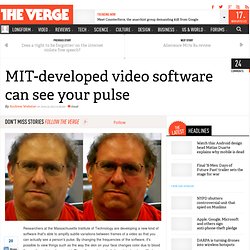 MIT-developed video software can see your pulse
Researchers at the Massachusetts Institute of Technology are developing a new kind of software that's able to amplify subtle variations between frames of a video so that you can actually see a person's pulse.
In the increasingly connected world of 2012, WiFi-enabled household gadgetry is becoming more and more common. We have televisions with Internet browsers, refrigerators that offer built-in computers and thermostats you can control remotely.
Can a Wi-Fi-Enabled Bathroom Scale Help You Lose Weight? [REVIEW]
How the FDA is Stifling Innovation for HealthCare Apps
Just less than a year ago, the Food and Drug Administration released a document that unsettled members of both the healthcare and app development communities: Draft Guidance for Industry and Food and Drug Administration Staff – Mobile Healthcare Apps. In short, it set the stage for federal regulation of healthcare apps, suggesting that some apps — particularly those that diagnose and treat medical conditions — should be subject to rules and regulation akin to those that preface the release of medical devices.
Can These Video Games Help You Make Better Life Choices?
The World at Work is powered by GE.
With the aid of a chemical injection, electrical shock, and robotic harness, researchers are now able to help rats with spinal cord injuries walk again. The process has been in the works for five years, and today it can help rats with paralyzing lesions not only walk, but even run and traverse obstacles like a small flight of stairs.
Paralyzed rat walks with the help of a robotic harness and chemical injection
MIT scientists are developing a needle-less injection technology that could see doctors administering drugs using a tiny high-pressured jet in future.
MIT researchers develop a way to inject drugs at near speed of sound without needles
Virtual reality tops standard therapy in treatment of PTSD | Digital Trends
Can a game console help diagnose autism? Microsoft's Kinect in a promising study
Embrace is a life-saving sleeping bag for infants without access to incubators
Scientists Use LEGO Robots To Grow Bones It's
Robot uses AI and camera tracking to rehabilitate stroke victims
Meet Permoveh, the new single-person vehicle that reinvents the wheel
Scientists develop robotic mobilization device that gives paraplegics unprecedented freedom
T-Haler digital inhaler turns battling asthma into an instructional game
Georgia Tech developing Braille-like texting application for visually impaired
Paralysed woman to walk London Marathon using robotic exoskeleton
Retinal Implant Brings Eyesight To The Blind
European Space Agency developing head-mounted computer assisted surgery
How Digital Tools Help Companies Offer Better Health Care
Pantech Element Tablet Launches with HD Haptics from Immersion
Burn Victim Sam Brown Treated With Virtual-Reality Video Game SnowWorld: Newsmakers
Soft electronics could attach directly to internal organs
Researcher brings modified Touchpad into the MRI room, breakthrough ensues
Introducing Memo Touch, a tablet designed for elders with short-term memory loss