Healthcare
How a smart bra could one day outdo the mammogram | Crave. Those breast exams women are supposed to regularly give themselves in the shower are no joke.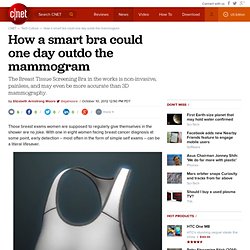 With one in eight women facing breast cancer diagnosis at some point, early detection -- most often in the form of simple self exams -- can be a literal lifesaver. So First Warning Systems, a company founded in Reno, Nev., in 2008, is designing and testing a smart bra that is essentially a continuous exam, and that thus far appears to be more accurate that the somewhat controversial mammography . The Breast Tissue Screening Bra incorporates a sensor that measures tiny temperature changes that occur as blood vessels grow and feed tumors, which the company says grow for an average of 12 years (to 4 centimeters in diameter) before being surgically removed. That sensor, meanwhile, communicates with pattern recognition software to help spot possible tumors long before a hand or mammogram likely would. Hospital To Perform First Live-Tweeted/Instagrammed Hearing Restoration Surgery. The blind leading the seeing – no problem!
Good News from Thu, 30 August, 2012: A few months ago, tram passengers in Helsinki noticed something strange.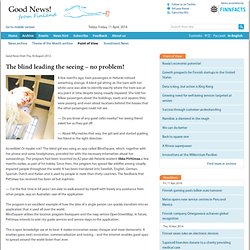 A blind girl sitting on the tram with her white cane was able to identify exactly where the tram was at any point in time despite being visually impaired. She told her fellow passengers about the buildings, roads and squares they were passing, and even about locations behind the houses that the other passengers could not see. — Do you know of any good cafés nearby? Her seeing friend asked her as they got off. NFL adopts startup's technology to detect concussions in real time. The National Football League may not be making all the right calls on the field, but an agreement with a Seattle company to improve on-the-field concussion response seems like a step in the right direction for another troublesome issue.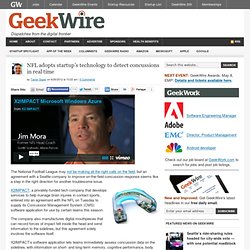 X2IMPACT, a privately-funded tech company that develops services to help manage brain injuries in contact sports, entered into an agreement with the NFL on Tuesday to supply its Concussion Management System (CMS) software application for use by certain teams this season. The company also manufactures digital mouthpieces that can record forces of impact felt inside the head and send information to the sidelines, but this agreement solely involves the software itself. What 911 might look like in the mobile social era. 911 is one of those crucial old-world telecommunications services that has adjusted to the mobile era but never embraced it.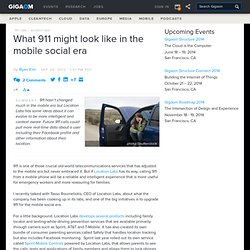 But if Location Labs has its way, calling 911 from a mobile phone will be a reliable and intelligent experience that is more useful for emergency workers and more reassuring for families. I recently talked with Tasso Roumeliotis, CEO of Location Labs, about what the company has been cooking up in its labs, and one of the big initiatives is to upgrade 911 for the mobile social era. For a little background, Location Labs develops several products including family locator and texting-while-driving prevention services that are available primarily through carriers such as Sprint, AT&T and T-Mobile. It has also created its own bundle of consumer parenting services called Safely that handles location tracking but also includes Facebook monitoring.
Tissue Engineering: New Ears, Grown From Collagen Cells & Tested On Rats, Could Help Wounded Veterans (PHOTOS) When William Shakespeare penned the line, "Friends, Romans, countrymen, lend me your ears," the famous playwright meant it in the most figurative sense.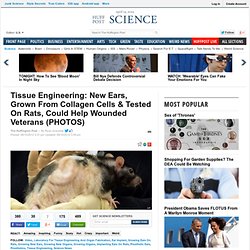 But it seems researchers at Massachusetts General Hospital have taken it quite literally. Scientists at the Laboratory for Tissue Engineering and Organ Fabrication there, working to develop reconstructive plastic surgery techniques for wounded veterans, have learned how to successfully grow new sets of ears. "People have been working on this for 20 years," said Cathryn Sundback, director of the tissue engineering lab at the hospital, to the Associated Press.
Trouble Sleeping? Your Tablet or Smartphone Could Be to Blame. Are you having more trouble sleeping since you got your iPad or Samsung Galaxy S II?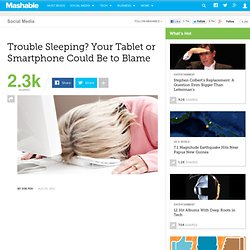 That comes as no surprise to researchers at the Lighting Research Center at Rensselaer Polytechnic Institute, who've found that two or more hours of exposure to backlit devices suppresses melatonin. This suppression, especially in teenagers, can lead to trouble sleeping at night, according to researchers led by Mariana Figueiro, director of the LRC's Light and Health Program. "Our study shows that a two-hour exposure to light from self-luminous electronic displays can suppress melatonin by about 22%," Figueiro says in a statement. "Stimulating the human circadian system to this level may affect sleep in those using the devices prior to bedtime. " SEE ALSO: 10 iPhone Apps for a Better Night's Sleep. iPads Used To Record Health Data Deliver Significant Improvements In Cancer Care. iPads at Duke cancer clinics lead to more accurate medical histories and symptom tracking.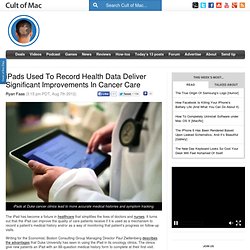 The iPad has become a fixture in healthcare that simplifies the lives of doctors and nurses. It turns out that the iPad can improve the quality of care patients receive if it is used as a mechanism to record a patient's medical history and/or as a way of monitoring that patient's progress on follow-up visits. Writing for the Economist, Boston Consulting Group Managing Director Paul Zwillenberg describes the advantages that Duke University has seen in using the iPad in its oncology clinics. The clinics give new patients an iPad with an 88-question medical history form to complete at their first visit. Patients also track their progress between visits using a secure web-based system that enters data into the same records system. FDA Approves Robotic System To Open Your Arteries. PR-Month-End%20July%202012. Asimo technology helps build Honda's Stride Management Assist device.
Asimo.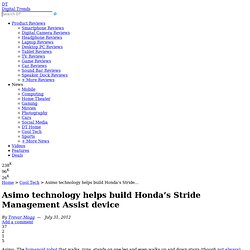 The humanoid robot that walks, runs, stands on one leg and even walks up and down stairs (though not always). The purpose of Honda's creation, which was first unveiled to the public back in 2000, is to inspire youngsters to get involved in math and science, as well as to utilize its technology to assist people in real-world environments. It appears its efforts are paying off, with the Japanese company this week announcing plans to test out the latest version of its Stride Management Assist device (SMAd), a lightweight, comfortable-looking piece of kit designed to help those with reduced walking ability. Weighing just 2.4 kg (5.2 lb) and consisting of a small contraption that fits around the wearer's waist with two braces that attach to their thighs, the SMAd certainly looks like a convenient solution for those in need of walking assistance.
The device operates using a motor powered by a Lithium-ion battery. FDA approves edible electronic pills that sense medication intake. EMR Electronic Medical Records | Free Web-Based EMR Software. Investment in Digital Health Triples Over Past Year. It's not just mobile health (mHealth) that is growing fast.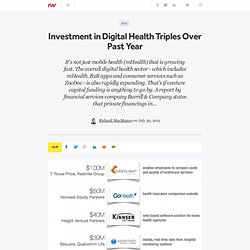 The overall digital health sector - which includes mHealth, B2B apps and consumer services such as ZocDoc - is also rapidly expanding. That's if venture capital funding is anything to go by. A report by financial services company Burrill & Company states that private financings in digital health more than tripled in the first half of 2012. Novel Hospital Toys | Hikaru Imamura. Elegant Toys That Explain Scary Medical Procedures To Kids. This is part of a series highlighting notable entries to our 2012 Innovation By Design Awards--Ed.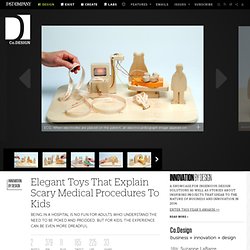 A trip through a CT scanner can be a harrowing experience: Lying on a narrow examination table, you're slid into a short tunnel, where you're expected to remain perfectly still for half an hour while an X-ray tube rotates around you. The exam is nerve-racking for those who understand the procedure, but it can be downright scary and bewildering for a child. In trying to demystify such procedures to kids, hospital personnel typically use dolls and real medical instruments like syringes and drips to kids, but those methods aren't effective at dispelling the understandable fear.
Med Student Rescues Body Part From Airport Security : Krulwich Wonders... No, said airline security, you can't take this bottle onboard. It exceeds the 100 milliliter limit; it's forbidden. But wait, said professor Martin Birchall of Bristol University. Airport security and medical science: Is that a trachea in your pocket, sir? MIT-developed video software can see your pulse.
Researchers at the Massachusetts Institute of Technology are developing a new kind of software that's able to amplify subtle variations between frames of a video so that you can actually see a person's pulse. By changing the frequencies of the software, it's possible to view things such as the way the skin on your face changes color due to blood flow, or the pulsing of your wrist. The software shows both the original and amplified versions side-by-side, making it easy to pick out the differences. "We started from amplifying color, and we noticed that we'd get this nice effect, that motion is also amplified," researcher Michael Rubinstein explains. Can a Wi-Fi-Enabled Bathroom Scale Help You Lose Weight? [REVIEW] In the increasingly connected world of 2012, WiFi-enabled household gadgetry is becoming more and more common. We have televisions with Internet browsers, refrigerators that offer built-in computers and thermostats you can control remotely. So, how about bathroom scales that beam the results of your latest weigh-in to the cloud?
Fitbit's Aria Wi-Fi Smart Scale tracks weight, body fat percentage and BMI, and automatically uploads the data, via Wi-Fi, to a Fitbit online profile. SEE ALSO: Ace Your Workout With This Bluetooth Wristband [REVIEW] The Aria costs $129.95 (£99.99 in the UK), considerably more than a traditional set of scales, but many consider the price tag a worthy investment. How the FDA is Stifling Innovation for HealthCare Apps. Just less than a year ago, the Food and Drug Administration released a document that unsettled members of both the healthcare and app development communities: Draft Guidance for Industry and Food and Drug Administration Staff – Mobile Healthcare Apps. In short, it set the stage for federal regulation of healthcare apps, suggesting that some apps — particularly those that diagnose and treat medical conditions — should be subject to rules and regulation akin to those that preface the release of medical devices.
While those that treat wellness, such as eating habits and exercise regimens, would largely avoid restriction, their more technical counterparts would be subject to costly and extensive oversight. Unsurprisingly, this particular sector of the technology market is on an upward swing. According to Health IT Now, a coalition dedicated to the spread of healthcare IT, the App Store saw a 250% increase in available healthcare apps between 2010 and 2011.
Can These Video Games Help You Make Better Life Choices? The World at Work is powered by GE. This new series highlights the people, projects and startups that are driving innovation and making the world a better place. Name: WILL Interactive Big Idea: WILL Interactive develops Virtual Experience Immersive Learning Simulations (VEILS), which are interactive movies that force users to make serious decisions as a learning experience. Paralyzed rat walks with the help of a robotic harness and chemical injection. MIT researchers develop a way to inject drugs at near speed of sound without needles. Virtual reality tops standard therapy in treatment of PTSD. Can a game console help diagnose autism? Microsoft's Kinect in a promising study. Embrace is a life-saving sleeping bag for infants without access to incubators.
Scientists Use LEGO Robots To Grow Bones It's. Robot uses AI and camera tracking to rehabilitate stroke victims. Meet Permoveh, the new single-person vehicle that reinvents the wheel. Scientists develop robotic mobilization device that gives paraplegics unprecedented freedom. T-Haler digital inhaler turns battling asthma into an instructional game.
Georgia Tech developing Braille-like texting application for visually impaired. Paralysed woman to walk London Marathon using robotic exoskeleton. Retinal Implant Brings Eyesight To The Blind. European Space Agency developing head-mounted computer assisted surgery. How Digital Tools Help Companies Offer Better Health Care. Pantech Element Tablet Launches with HD Haptics from Immersion. Burn Victim Sam Brown Treated With Virtual-Reality Video Game SnowWorld: Newsmakers. Soft electronics could attach directly to internal organs. Researcher brings modified Touchpad into the MRI room, breakthrough ensues. Introducing Memo Touch, a tablet designed for elders with short-term memory loss.
---