Illustration
Useful links for anyone interetsted in traditional illustration pearlt Aug 30
Folds in cloth scans from "The Famous Artists Course"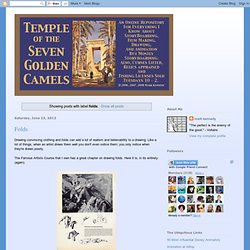 I've been meaning to scan and post this forever... Every good drawing book has a section on drawing folds.
Search the Collections | Victoria and Albert Museum
Morris's British Birds 1891
Eadweard Muybridge picture sets - U.Penn library
Animations GALLOPING HORSE AND RIDER MULTIPLE IMAGE PANEL ARTWORK , by Greg Eans. http://www.gregeans.com/greenvillesky/art/ 100 ANIMAL LOCOMOTION PLATES , animated for the web by UCR/California Museum of Photography. http://www.cmp.ucr.edu/collections/permanent/object_genres/photographers/muybridge/default.html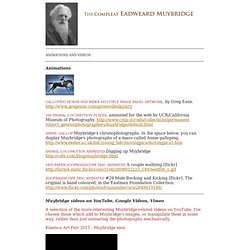 Eadweard Muybridge - animations of photosets
A rotatory gallop (right lead) is shown in the above cartoon. The step sequence of the rotatory gallop is shown at the right. The rotatory gallop (double suspension gallop; jumping gallop) is a four-beat, double suspension gait. It is exhibited by carnivores and by rodents, swine, and small ungulates. The pattern of limb impact rotates, e.g., right hind, left hind, extended suspension, left fore, right fore, and collected suspension (as illustrated above). This rotatory pattern of limb impact and the double suspension per stride characterizes the rotatory gallop, in contrast to the transverse gallop .
Animal footfall patterns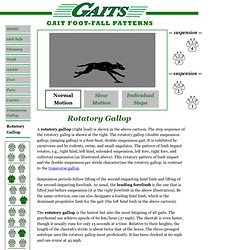 Fantastic animals
Fucking Art, How Does It Work?
Ever found anything good that would help with drawing perspective in photoshop? Sullivan 's fur tutorials, brush packs, and texture resources. See the original devART post here: LINK Download custom Photoshop brushes here: LINK Sullivan's Fur/Feathers/Scales wildlife texture brushes: LINK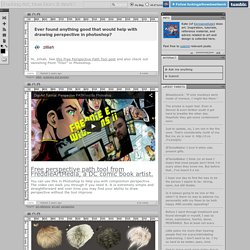 2 Point Perspective Tutorial: Creating a Perspective Grid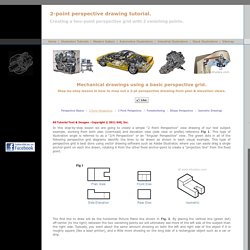 Perspective Basics | 2 Point Perspective | 3 Point Perspective | Foreshortening | Ellipse Perspective | Isometric Drawings All Tutorial Text & Images - Copyright © 2011 KHI, Inc. In this step-by-step lesson we are going to create a simple "2 Point Perspective" view drawing of our test subject example, working from both plan (overhead) and elevation view (side view or profile) reference Fig 1 . This type of illustration angle is referred to as a "3/4 Perspective" or an "Angular Perspective" view. The green dots in all of the following perspective grid diagrams identify the lines to be drawn as shown in each visual example. This type of perspective grid is best done using vector drawing software such as Adobe Illustrator, where you can easily drag a single anchor-point on each line drawn, rotating it from the other fixed anchor-point to create a "projection line" from the fixed point.
fast isometric grid how-to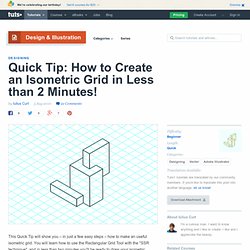 This Quick Tip will show you – in just a few easy steps – how to make an useful isometric grid. You will learn how to use the Rectangular Grid Tool with the "SSR technique", and in less than two minutes you'll be ready to draw your isometric designs. Step 1 Open a new document. The dimensions will depend on what you will create on the grid we'll make, and also the color mode. We'll start now by selecting the Rectangular Grid Tool.
<a href="http://idg.grapeshot.co.uk/redirect.cgi?target=http://ad.uk.doubleclick.net/jump/digitalartsonline.co.uk/ros1;gs_cat=GS_CHANNELS;kw=tutorials,null,null,null;sz=250x250,300x250,336x280;ord=1364231020780?"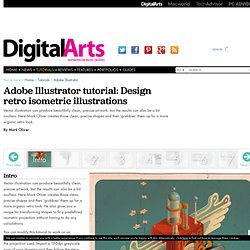 Illustrator Tutorial | Design retro isometric illustrations
Perspective grids for cityscapes
The text appears to have been created by an email spambot but the graphics are very good by pearlt Jul 21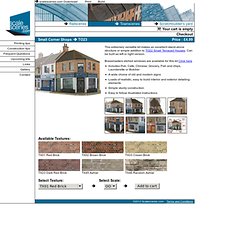 scalescenes.com Download Print Build Railscenes
TO23 Small Corner Shops
Diagrams - SkyscraperPage.com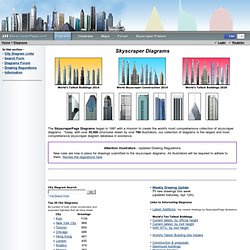 The SkyscraperPage Diagrams began in 1997 with a mission to create the world's most comprehensive collection of skyscraper diagrams. Today, with over 32,000 structures drawn by over 740 illustrators, our collection of diagrams is the largest and most comprehensive skyscraper diagram database in existence. Timeline Diagrams - Buildings are ordered by year built, giving a historical view of a city's development. Diagram Search Form
<a href="http://idg.grapeshot.co.uk/redirect.cgi?
Illustrator Tutorial | Create a textured vector cityscape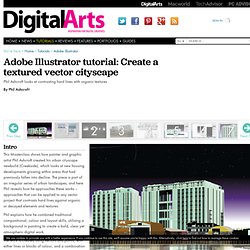 SKIN: a tutorial - Part 1 by ~navate on deviantART
Color Palette Generator URL of image: Make color schemes. Enter the URL of an image to get a color palette that matches the image. This is useful for coming up with a website color scheme that matches a stock photo a client wants to work with.
Adjusting your photographs to get the color 'just right' can be a chore. Think about this: The Old Masters of painting spent years of their lives learning about color. Why let all their effort go to waste on the walls of some museum when it could be used to give you a hand with color correction?
Leif Peng's collections on Flickr
An amazing resource for commercial Illustration, great for finding inspiration, or nailing a particular style. His reason for starting the site was to continue the trade tradition of the clipping file, where nagazines and publishers would keep copies of all the art they ever used. He also runs a mailing list that sends daily images linked to post on the artists on his blog. by pearlt Jul 23
Vintage Illustration on Flickr
Russian Business Calendar - English Russia
Cool Illustrations For a Children's Magazine - English Russia
Flight Theory illustrated
While paying a visit to the studio of San Francisco artist Alanna Spence recently, Telstar Logistics was introduced to a lost gem of a book called "Flight thru Instruments." Published as a pilot-training manual by the US Navy in 1945, "Flight thru Instruments" teaches proper aeronautical navigation techniques through the use of elaborate illustrations -- the kind of stuff that today might be called "info-graphics." But oh, what info-graphics these are! Produced entirely by hand, the illustrations in "Flight thru Instruments" possess a richness and accuracy of detail that -- if we may say so -- puts the majority of today's graphic artists to shame. In fairness, however, "Flight thru Instruments" wasn't produced by an average group of 1945 artists, either. Not at all.
The Visual Telling of Stories
'Make yourself an Indian Headdress'
Drawing emotions