Hubpages Authors
Learner365 on HubPages. Marye Audet on HubPages. SarahBodo on HubPages. Simone Smith on HubPages.
Great Writers
Professional BS Writers on FB. CloudExplorer on HubPages. Thyroid And Dogs Hypothyroidism Hyperthyroidism. Hypothyroidism Just as us humans dogs can develop thyroid problems known as canine hypothyroidism (under active thyroid) that means there is a thyroid hormone deficiency.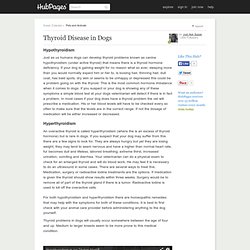 If your dog is gaining weight for no reason what so ever, sleeping more than you would normally expect him or her to, is loosing hair, thinning hair, dull coat, has bald spots, dry skin or seems to be unhappy or depressed this could be a problem going on with the thyroid. This is the most common hormone imbalance when it comes to dogs. If you suspect or your dog is showing any of these symptoms a simple blood test at your dogs veterinarian will detect if there is in fact a problem. NiaLee on HubPages. Mark Knowles on HubPages. PDXKaraokeGuy on HubPages. John J Gulley on HubPages.
Wesleycox on HubPages. Cardelean on HubPages. Laceylinks on HubPages. Prairieprincess on HubPages.
Hubpages Team
Kelleyward on HubPages. Hub Contest & Winning articles. Gypsy Willow on HubPages. Craan on HubPages. Dream Incubation: An Effective Problem Solving Technique. © Copyright 2010 Patrice Walker All rights reserved Your dreams represent an incredible source of information that you have direct access to.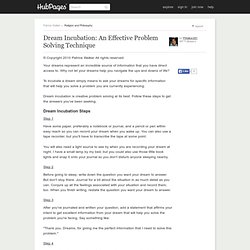 Why not let your dreams help you navigate the ups and downs of life? ThoughtSandwiches on HubPages. Jeyaramd on HubPages. Free Photo Websites for Blogs and Hubs - Creative Commons Photographs. Need to dress up your website, Blog or hub?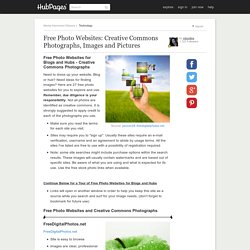 Need ideas for finding images? Here are 27 free photo websites for you to explore and use. Remember, due diligence is your responsibility. Not all photos are identified as creative commons. It is strongly suggested to apply credit to each of the photographs you use.
---
susanjill Sep 14 2012

I'm going to check it out mark .. :)

markmcclean2 Aug 3 2012

How cow! nice Pearltree! I'm trying out my hand on Hubpages as well.

susanjill Jul 10 2012

Today I have started my own Pearltree. I learned about this from you. I'm following right behind you CloudExplorer. I think this page will be so helpful. Thank you for letting me know about it. SusanJill (aka Mekenzie on Hubpages)
---