http://livingtherecoveryprogramme.blogspot.com
Get flash to fully experience Pearltrees
Version G 11/15/96 USE BY COMMERCIAL ORGANIZATIONS OR SALE ARE PROHIBITED © All rights reserved by the Big Book Bunch, webmaster@sober.org Editor's note: The origins of Alcoholics Anonymous transcend the meeting of Bill W. and Dr. Bob S. in Akron, Ohio. There is also much more to our beginnings than the Oxford Groups.
email this | print this Translation by Microsoft Translator *Silkworth.net is not responsible for any translation errors. Dr. Harry Tiebout Papers Reprinted from: 1953 QUARTERLY JOURNAL OF STUDIES ON ALCOHOL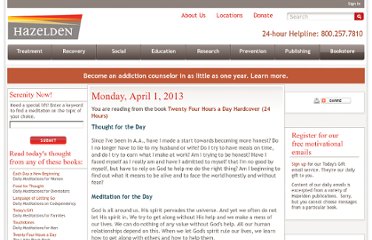 Serenity Now! Need a special lift? Enter a keyword to find a meditation on the topic of your choice.
Dr. Carl Jung's Letter To Bill Wilson, Jan 30, 1961 I found a similar phrase about 15 years ago in the latin writings of Marcus Aurelius Antoninus (121-180 A.D.) -- a great general, philosopher, and Caesar of Rome (161-180 A.D.) -- Espiritum vinci espiritus -- Higher Power overcomes alcoholism. It has been a long known fact ... and something we each now know, as we witness our Higher Power that we have found "deep down within" working in our lives as Sober Alcoholics. -- Page 55, Bigbook..
A.A./Carl Jung/Rowland Hazard/Ebby Thacher Myths or subjects of Hindsight Quarterbacking Dick B. ©2005 The Core of Early A.A.