Macramé
Wrapping stones in hemp tutorial. I figured why not share, excue the state of some of the pics, this is the knotting technique I used on that last necklace I posted, and a few mamas asked, so here it is!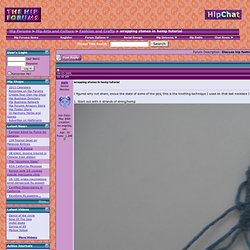 1. Start out with 6 strands of string/hemp (disregard the already formed knots and loops at the top) MAS Y MAS !!! PATRONES. (5) COMO HACER PULSERAS DE HILO O MACRAME. Tutoriales macramé. Hilos café oscuro: 1 hilo de 1m. y medio 2 hilos de 35 cm. 4 hilos de 26cm. 2 hilos de 20cm.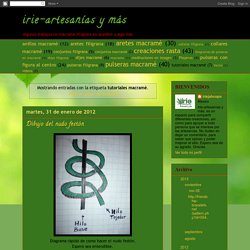 Hilos café: How to Macrame Cabochons. Macrame | News. For years I carefully looked at the online pictures of Marion Hunziker-Larsen's jewelry.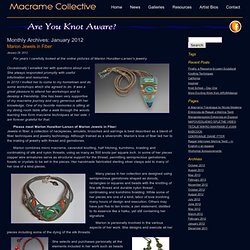 Occasionally I emailed her with questions about cord. She always responded promptly with useful information and resources. Wire Wrapped and Macrame Jewelry by Hyppiechic. Welcome!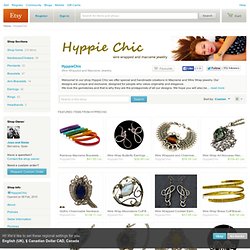 In our shop Hyppie Chic we offer special and handmade creations in Macrame and Wire Wrap jewelry. Our designs are unique and exclusive, designed for people who value originality and elegance. We love the gemstones and that is why they are the protagonists of all our designs. Fazendo flor de macramé. Archives. Hilo Haven-Waxed Polyester Thread. Hilos 100% poliéster encerados. Search results for macrame. DIY Friendship Bracelet. For several months now, we've been receiving emails requesting a friendship bracelet DIY.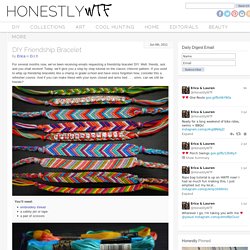 Well, friends, ask and you shall receive! Today, we'll give you a step by step tutorial on the classic chevron pattern. If you used to whip up friendship bracelets like a champ in grade school and have since forgotten how, consider this a refresher course. Macrame - friendship-bracelets.net/macrame. Search results for macrame. Wrapped Knot. Description: The Wrapped Knot is sometimes called the Gathering Wrap, in vintage Macrame patterns.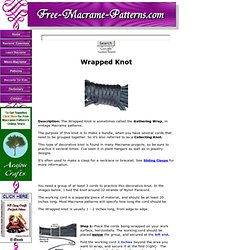 The purpose of this knot is to make a bundle, when you have several cords that need to be grouped together. So it's also referred to as a Collecting Knot. This type of decorative knot is found in many Macrame projects, so be sure to practice it several times. I've seen it in plant hangers as well as in jewelry designs. It's often used to make a clasp for a necklace or bracelet.
---