KIDS
Geometric Garland: Beautifully Folded Paper Decor. Mini Eco is an UK mommy blog with a penchant for featuring colorful DIY tutorials, and one of the recent projects on there cleverly used platonic solids to make a decorative garland.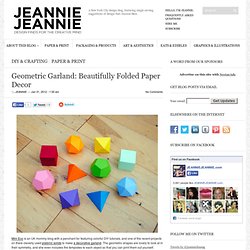 The geometric shapes are lovely to look at in their symmetry, and she even includes the templates to each object so that you can print them out yourself. I was particularly drawn to this DIY because so many paper/garland tutorials out there err on the side of frilliness (rather than good design); this one, however is modern and clean and simple, with a emphasis on craftsmanship instead of just craftines.
From the Mini Eco blog: There seems to be a bit of a Polyhedra craze going on at the moment. It seems to me that mathematics has never been so cool. Anastassia Elias Creates Charming Miniature Worlds Inside Recycled Toilet Paper Rolls Toilet Paper Art-Anastassia Elias – Inhabitat - Green Design Will Save the World. Anastassia Elias is a painter, illustrator and a collage artist and her Rouleaux dioramas are just one of her many talents.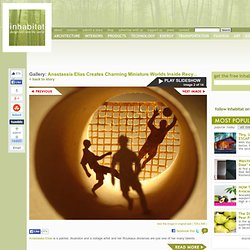 Anastassia Elias is a painter, illustrator and collage artist and her Rouleaux dioramas showcase just one of her many talents. She creates tiny scenes inside the tubes by attaching paper cutouts to the side walls with glue and tweezers. The placement of her characters and objects creates a 3D scene and light travels through the tubes to create motion and shadow. "I cut the small paper shapes that I stick inside the toilet paper rolls," explains Elias. "I use tweezers to manipulate the paper shapes. Airplane Birthday Party Inspiration.
Airplanes make quite a fun birthday theme for little ones!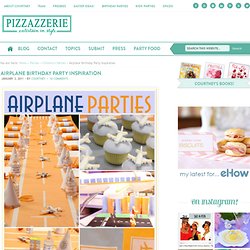 It is also a theme I get asked about on a regular basis so I thought I'd share some of the "best of the best" when it comes to airplane birthdays to give you a bit of inspiration if you are planning on hosting a "high flying" party this coming year. This first party above was designed by the well known sweets designer Amy Atlas for her son's birthday. A bright orange and blue color scheme and paperie details by Melangerie made for a party any boy would love! See more images on Amy's post here. The talented Australian designer behind Polkadot Prints designed this airplane birthday party for her son's second birthday. Airplane Cake for Dash. Ladies and gentlemen, fasten your seatbelts.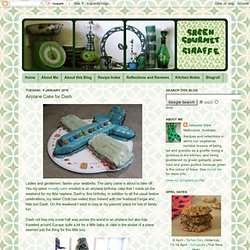 The party plane is about to take off. Yes my latest novelty cake creation is an airplane birthday cake that I made on the weekend for my little nephew, Dash's, first birthday. In addition to all the usual festive celebrations, my sister Chris has visited from Ireland with her husband Fergal and little son Dash. Airplane Birthday Cake « Andrea Meyers. In November we made a Lightening McQueen cake for Bob the Builder's birthday, and at the time Top Gun repeated over and over how he wanted a Mater cake for his birthday.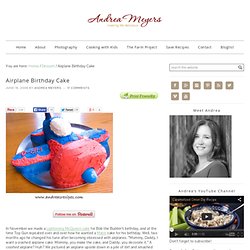 Well, two months ago he changed his tune after becoming obsessed with airplanes. "Mommy, Daddy, I want a crashed airplane cake. Mommy, you make the cake, and Daddy, you decorate it." A crashed airplane? Huh? Parking Garage from a Box. In case you didn't know, we love cardboard boxes around here.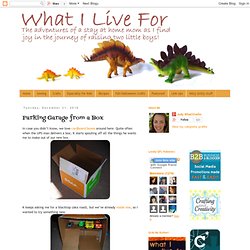 Quite often when the UPS man delivers a box, K starts spouting off all the things he wants me to make out of our new box. K keeps asking me for a blacktop (aka road), but we've already made one, so I wanted to try something new. In the two days we've had this, K has spent several hours driving his cars up and down the ramp and parking them on the upper level. Crafts are always more rewarding when the one you make it for enjoys it :) School Bus from a Box. Shopping for car seats stresses me out beyond reason.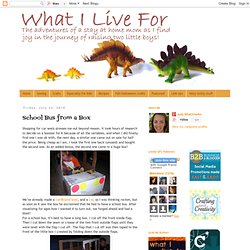 It took hours of research to decide on a booster for K because of all the variables, and when I did finally find one I was ok with, the next day, a similar one came out on sale for half the price. Being cheap as I am, I took the first one back (unused) and bought the second one. As an added bonus, the second one came in a huge box!
We've already made a cardboard boat, and a car, so I was thinking rocket, but as soon as K saw the box he exclaimed that he had to have a school bus. How To Make Colored Rice - Dose of Happy. Over the weekend we made colored rice.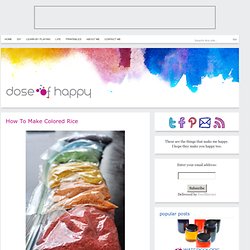 It's provided endless amount of fun around here so I thought you might like to know how to make it. It's really, really easy. Ingredients: -Rice -Food coloring -Rubbing alcohol -Ziploc bags 1. Dump 2 cups of uncooked rice into ziploc bag2. Simple Play: Pipe Cleaner Game - Dose of Happy. Porter is 15 months and has enjoyed this game for a little while now.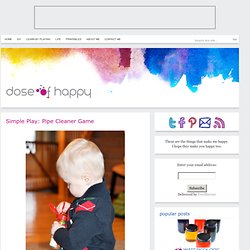 It's perfect when I need him focused and quiet for a little bit— think church or waiting in the doctor's office. Pipe cleaners (I cut a few pipe cleaners into three to fit into the bottle).Bottle that has a lid with holes (large spice jar, parmesan cheese bottle). And there you have a fun little toy for your tike to play with. So simple, right?! Leaf Painted Turkey - Dose of Happy. Hair Gel Bag for Toddlers - Dose of Happy.
Another great activity for toddlers!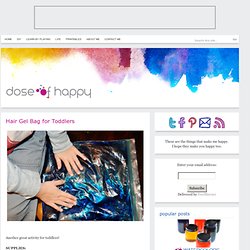 Hair Gel (I found mine at the Dollar Store)Food ColoringZiploc Bag (Gallon size) Pour entire bottle of hair gel into Ziploc Bag.Add 10 drops (more or less depending on the color you want) of food coloring.Mix and zip up the bag Caden helped me mix the hair gel and food coloring and starting playing with it on the table. He loved squishing the bag and "moving the bubbles around." DIY Magnetic Advent Calendar - Dose of Happy. Before Thanksgiving, Caden was asking me when Santa would be here.
I kept telling him, "After Thanksgiving." Now that it's after Thanksgiving, he's asking me no less than bazillion times a day. I'm hoping this little advent calendar will come in handy with our count down until Christmas. I've sure had fun thinking of different ideas to put in each day. DIY Ice Skates - Dose of Happy. Caden has been begging me to take him ice skating. I have no idea where he got this idea, but it got me thinking. We can bring the ice skating inside! Bunny Finger Puppets! - Knitting Crochet Sewing Crafts Patterns and Ideas!
Besides being adorable, these little puppets are a snap to make. You could make the whole set of five (or more) in one evening with time to spare. I think little handmade touches like these really make something like an Easter basket all the more special. --Molly Materials To make a set of five (or more!) Birthday Crafts. וואו! באיזו מהירות חלפה עוד שנה! בלי שהרגשתי, הפעוט הפך לבן 3. ממש לא שמתי לב. Simple Pop-Ups You Can Make! Crafts.
---