CHRISTMAS
Easy Holiday Decorations - Ideas for Easy to Make Christmas Decorations. Dress up a sideboard with a tower of pretty presents.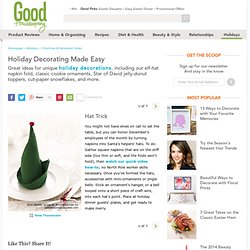 Simply stack boxes in graduated sizes, wrapped in two coordinating papers — like the metallic styles here — alternating patterns as shown. To give the arrangement even more eye-catching height, display it on a footed cake plate (we lined the top of ours with jewel-toned paper so presents would visually pop). Then, to cheat a bow, loop one length of ribbon over the boxes' center, neatly adhering ribbon ends underneath the plate with double-stick tape.
Christmas Party Tablescape. I'm cheating again, I'm reposting this from July.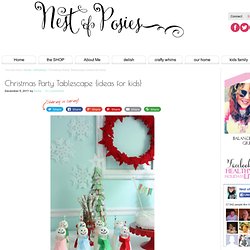 We did a Christmas in July birthday party for the twins, if you weren't around back then or you happened to miss it. So just call me cheater cheater – peppermint eater. Bottlecap holly and rubber bands. 3D Paper Snowflake. Edit Article Edited by Flickety, Andy Zhang, Sondra C, Jack Herrick and 157 others 3-Dimensional paper snowflakes look beautiful hanging in a window or on a wall.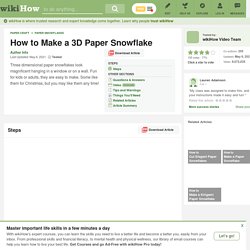 Fun for kids or adults, they are easy to make. Some like them for Christmas, but you may like them any time! Ad. Snowflake templates. Paper Snowflakes 101. POST EDIT: Thanks to Rebecca of LilSugar.com for contacting me about the incredible project for Sand Hook Elementary...turning their new facility into a winter wonderland full of paper snowflakes!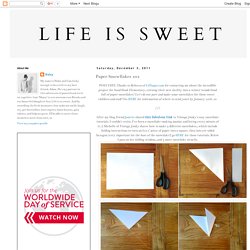 Let's do our part and make some snowflakes for those sweet children and staff! Go HERE for information of where to send yours by January 12th. xo After my blog friend Janette shared this fabulous link to Vintage Junky's easy snowflake tutorials, I couldn't resist. Giant craft stick snowflakes. I could hardly wait to show you this Popsicle stick craft!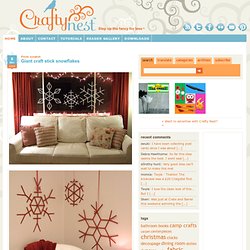 These snowflakes are fun, easy, and so inexpensive to make. The smallest snowflake is 12 inches across; the largest is 24 inches. I had some rhinestones left over from my Christmas tree advent calendar, so I glued some at the tips of each white snowflake. Twig & Ornament Door Hanging. I, like many others, receive the Pottery Barn catalog and regularly drool on the pictures of beautiful things that I can not have.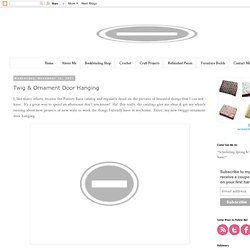 It's a great way to spend an afternoon don't you know? Ha! But really, the catalogs give me ideas & get my wheels turning about new projects or new ways to work the things I already have in my home. Enter, my new twiggy ornament door hanging. Sheet music Christmas tree ornaments. Homemade ornaments are so much more fun, rewarding, and cheaper than buying them.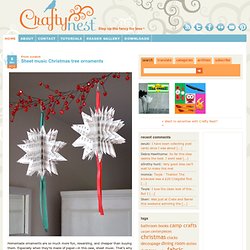 Especially when they're made of paper—in this case, sheet music. That's why I included so many paper ornaments in my handmade holiday gift list. For this project, I made stars, but you can use nearly any symmetrical shape to make these ornaments (tree, wreath, heart, bell, angel, ball, snowflake, etc.). I made four patterns for you to download to make your own ornaments: star, bell, angel, and ball. Click here to download the patterns. Popup Greeting Cards. We've been talking recently about how great free printables are for cheap crafting on the fly.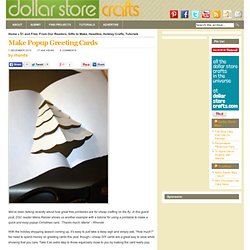 In this guest post, DSC reader Maria Rainier shows us another example with a tutorial for using a printable to make a quick and easy popup Christmas card. Thanks much, Maria! Glittering Snowflake Ornament. Styrofoam Christmas Lights. Hi guys!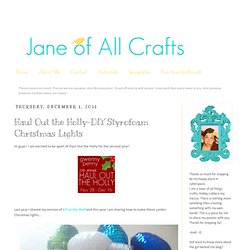 I am excited to be apart of Haul Out the Holly for the second year! Last year I shared my version of Elf on the Shelfand this year I am sharing how to make these jumbo Christmas lights... Now I know some of you have already seen these and I am sorry for that but I am still dealing with some stuff right now and Gwen has been gracious to let me off the hook so to speak. :) And I kinda think they rock so I like showing them off :) Ready to make some of your own? CD Christmas Tree Ornament Craft. Flip the CD over so that the reflective side is facing up.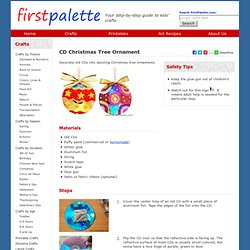 The reflective surface of most CDs is usually silver-colored, but some have a nice tinge of purple, green or blue. Use puffy paint or 3D paint to draw lines and shapes on the CD. Metallic-colored puffy paint goes well with the CD's reflective surface. You may also try making your own puffy paint by mixing 1 part acrylic paint with 2 parts white glue. Find the instructions here. How to make 25 paper Christmas ornaments. Here's a roundup of ornaments you can make from paper.Above left: I made with these instructionsAbove right: I made with these instructions (Update: this is now an old post; some of the links no longer work.) More: Printable snowflake 1 Printable snowflake 2 Paper snowflakes stapled together into something 3-D Not 3-D, but nice snowflake cutting templates. 3D paper ball ornaments. I love 3D paper things. Love. And when I saw a little picture of what appeared to be paper balls in a CB2 catalog, I thought, "I am going to make those.
" Hand-Printed Fleece Scarves. Christmas This easy no-sew, no-knit hand-printed scarf project makes a perfect and perfectly easy gift for everyone on your list. And since they cost under $2.00 to make, you can create one to match every coat and outfit in their closet. Easy Fringe Fleece Scarf. This fleece scarf is as fun to make as it is to wear. It's a great first-time-sewing project and perfect for the upcoming winter season. I made these with Halloween colors to help keep us warm as we trick-or-treat! Supplies for Fringe Fleece Scarf: 1/4 yard of fleece (any color)scissorssewing machine or needle & thread First, cut your fleece into long strips.
---