Bijoux
Tutos - Les bijoux d'Edith. How To Make Wire Cages For Round Beads « This Year's Dozen. Silly me!!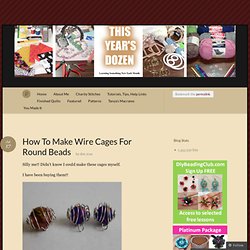 Didn't know I could make these cages myself. I have been buying them!! Making these wire cages is quite easy. I found the directions in one of my wire making craft books. Creating Wire and Beaded Jewelry by Linda Jones. How to Make a Fork Bracelet. I've always loved taking everyday items and making them into something interesting.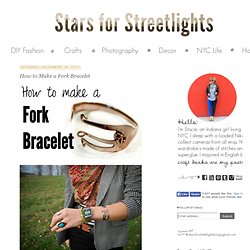 Ever since I was a little crafty kid I loved devouring books that taught me how to make little dolls from clothespins, beads from rolled up magazines, and little fairy ornaments from wire and fake flower petals. The first time I saw my friend wearing a bracelet made from a fork a few years ago, I knew I had to try it (*ahem Carly ;)). I wrote up a tutorial a while back, but I've had some questions about the directions I gave so I decided to make a proper tutorial with a video! :) (Please excuse my intro, if you can't hustle your website on your Youtube channel, where else are you supposed to do it? Dream Catcher Necklace DIY. Here is simple DIY on how to make a dream catcher necklace.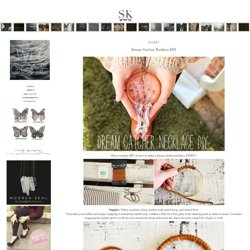 ENJOY! : Fabric, necklace chain, leather cord, metal hoop, and dental floss. First, take your leather and begin wrapping it around the metal hoop. I added a little bit of hot glue at the starting point to make it secure. Continue wrapping the leather until it is all the way around the hoop and secure the other end with a small dot of glue as well. Lovely Wire Knot Ring Tutorial. You can make this lovely ring (or a version of this design) yourself, using just some basic tools, wire and a lip balm!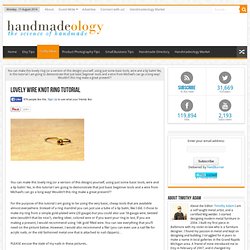 Yes, in this tutorial I am going to demonstrate that just basic beginner tools and a wire from Michael's can go a long way! Wouldn't this ring make a great present?? How to Make a Toothbrush Bracelet. It seems that I'm into things made of household items-- from fork bracelets to pushpin shoes, there's a trend there. ;) What you need to make a toothbrush bracelet: ♥Toothbrush ♥Pliers ♥Pot and stove The first thing you need to do is put the toothbrush in boiling water.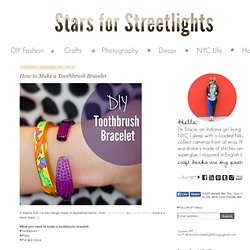 ---