How politics hack us
Fear mongering. Fear mongering (or scaremongering or scare tactics) is the use of fear to influence the opinions and actions of others towards some specific end.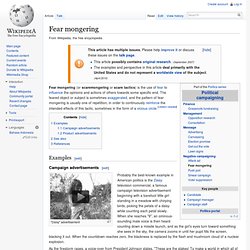 The feared object or subject is sometimes exaggerated, and the pattern of fear mongering is usually one of repetition, in order to continuously reinforce the intended effects of this tactic, sometimes in the form of a vicious circle. [citation needed] Examples[edit] Media manipulation. Media manipulation is a series of related techniques in which partisans create an image or argument that favours their particular interests.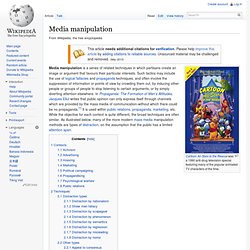 Such tactics may include the use of logical fallacies and propaganda techniques, and often involve the suppression of information or points of view by crowding them out, by inducing other people or groups of people to stop listening to certain arguments, or by simply diverting attention elsewhere. In Propaganda: The Formation of Men's Attitudes, Jacques Ellul writes that public opinion can only express itself through channels which are provided by the mass media of communication-without which there could be no propaganda.[1] It is used within public relations, propaganda, marketing, etc. While the objective for each context is quite different, the broad techniques are often similar. As illustrated below, many of the more modern mass media manipulation methods are types of distraction, on the assumption that the public has a limited attention span.
Political consulting. Political consulting, beyond the self-evident definition of consulting in political matters, refers to a specific management consulting industry which has grown up around advising and assisting political campaigns.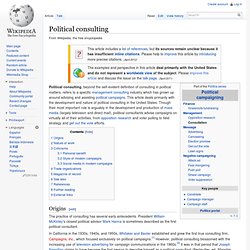 This article deals primarily with the development and nature of political consulting in the United States. Though their most important role is arguably in the development and production of mass media (largely television and direct mail), political consultants advise campaigns on virtually all of their activities, from opposition research and voter polling to field strategy and get out the vote efforts. Wikileaks' Julian Assange and Conspiracy Theories. By Michael Collins "I'm constantly annoyed that people are distracted by false conspiracies such as 9/11, when all around we provide evidence of real conspiracies, for war or mass financial fraud.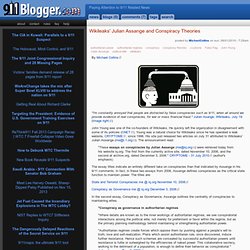 " Julian Asange, Wikileaks, July 19 (Image right) John Young was one of the co-founders of Wikileaks. He quickly left the organization in disagreement with some of its policies (CNET). Rhetoric. Painting depicting a lecture in a knight academy, painted by Pieter Isaacsz or Reinhold Timm for Rosenborg Castle as part of a series of seven paintings depicting the seven independent arts.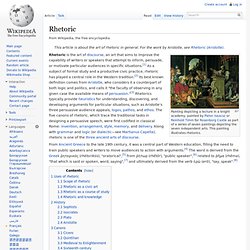 This painting illustrates rhetorics. From Ancient Greece to the late 19th century, it was a central part of Western education, filling the need to train public speakers and writers to move audiences to action with arguments.[4] The word is derived from the Greek ῥητορικός (rhētorikós), "oratorical",[5] from ῥήτωρ (rhḗtōr), "public speaker",[6] related to ῥῆμα (rhêma), "that which is said or spoken, word, saying",[7] and ultimately derived from the verb ἐρῶ (erō), "say, speak".[8] The Art of Always Being Right.
The Art of Being Right: 38 Ways to Win an Argument (1831) (Eristische Dialektik: Die Kunst, Recht zu Behalten) is an acidulous and sarcastic treatise written by the German philosopher Arthur Schopenhauer in sarcastic deadpan.[1] In it, Schopenhauer examines a total of thirty-eight methods of showing up one's opponent in a debate.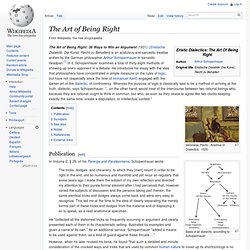 He introduces his essay with the idea that philosophers have concentrated in ample measure on the rules of logic, but have not (especially since the time of Immanuel Kant) engaged with the darker art of the dialectic, of controversy. Whereas the purpose of logic is classically said to be a method of arriving at the truth, dialectic, says Schopenhauer, "...on the other hand, would treat of the intercourse between two rational beings who, because they are rational, ought to think in common, but who, as soon as they cease to agree like two clocks keeping exactly the same time, create a disputation, or intellectual contest.
" Propaganda.
---