How to disappear
OPDS-Membres. L. L. ANONYMOUS UK. Snellexperts. Marginal Revolution: How to disappear. Tips from a teacher (markets in everything): There are three key steps to disappearing.
First, destroy old information about yourself. Call your video store or electricity company and replace your old, correct phone number with a new, invented one. Introduce spelling mistakes into your utility bills. Create a PO Box for your mail. How to Disappear. There are many reasons you might want to disappear, some honorable some not so honorable.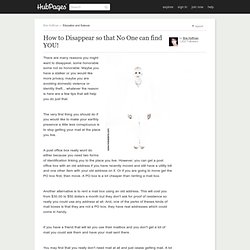 Maybe you have a stalker or you would like more privacy, maybe you are avoiding domestic violence or identity theft... whatever the reason is here are a few tips that will help you do just that. The very first thing you should do if you would like to make your earthly presence a little less conspicuous is to stop getting your mail at the place you live. A post office box really wont do either because you need two forms of identification linking you to the place you live. However, you can get a post office box with an old address if you have recently moved and still have a utility bill and one other item with your old address on it. Or if you are going to move get the PO box first, then move. Frank M. Ahearn - How To Disappear.
Fake Name Generator. UK National Insurance Number (NINO) Vanishing Point: How to disappear in America without a trace. Where there's water, life is possible.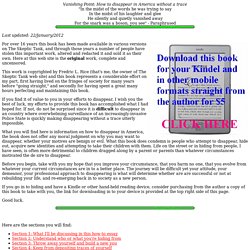 True, it may be very difficult and very hard to live, depending, but anyone who's driven, hiked, or camped in the American South West will have noticed that cities and ranches crop up where there's surface water or where there's been a well dug. Within the state of California, Nevada, Arizona, Utah, New Mexico, and Colorado, there are deserts, mesas, mountains, and forests where normally people never or rarely visit; not-so-secret places where there's water, access to a road within a day's hike, and where a fairly rugged individual may hide while remaining basically healthy, marginally well fed, and reasonably sane. In this section I'll look at two such environments, neither of which I would recommend, but one of which I'd suggest is a reasonable way to live in basic health while either on the run, hiding out from the law, old girl friends, the draft for an illegal war, putative wives and such.
How to Get Rid of Things. Anonymous. How to be "Stealth" Homeless. "There, but for the grace of God, go I" goes the old canard, usually in reference to a disheveled homeless person, dressed in rags sitting on a street corner begging for change and smelling of b.o.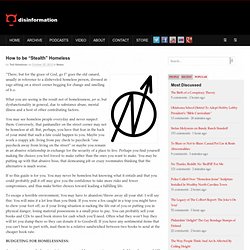 What you are seeing is the result not of homelessness, per se, but dysfunctionality in general, due to substance abuse, mental illness and a host of other contributing factors. You may see homeless people everyday and never suspect them. Frank M. Ahearn - How To Disappear. How to Ditch Big Brother and Disappear Forever. You can disappear and still communicate. it's hard to do but you need to cultivate a online persona that is nothing like you.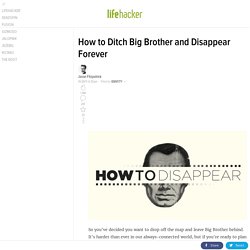 Problem is that any Link to your past is a flashing "LOOK HERE" beacon. Used prepaid cellphones are great, they are usually registered to someone you do not know, buy a card and keep it running, in fact get several and be ready to ditch a phone if you think it's getting connected to you. Internet is easy, Open AP's are abundant. for the first few years use only open ap's and route all your traffic through a onion router.
---