Hôtels
Des hôtels design, contemporain, des coups de coeurs...

Ne concernent pas les grandes chaines stéréotypés... hotelquejaime Jul 28
Pierre Farel, destins méditerranéens - Corsica
Par Gilles Millet Pierre Farel, destins méditerranéens Le vernissage de l'expo Farel 2012 s'est déroulé à la Rotonde (espace restaurant du casino municipal d'Ajaccio), lieu fétiche du peintre.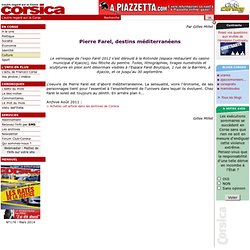 Hotels We Love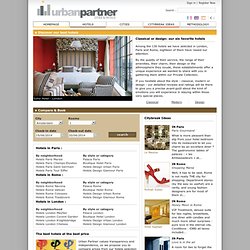 The urban guide for luxury, charming and design hotels - Urban Partner
Among the 130 hotels we have selected in London, Paris and Rome, eighteen of them have raised our attention. By the quality of their service, the range of their amenities, their charm, their design or the athmosphere they exude, these establishments offer a unique experience we wanted to share with you in gathering them within our Private Collection. If you hesitate about the style - classical, modern or design - our detailled reviews and ratings will be there to give you a precise avant-goût about the kind of emotions you will experience in staying within those very special places.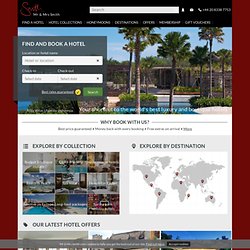 Mr & Mrs Smith guarantees that, unless we specify otherwise, all rates given are the best available at the hotel for your dates, inclusive of tax. We don't add booking fees, and if you find a cheaper rate for the same room on the same dates anywhere else, we'll match it, and give you a £50 voucher too – just let us know. Currency conversions are based on xe.com exchange rates.
Avantgarde Hotels - Inspiring Boutique Hotels Vous choisissez Avantgarde Hotels parce que vous préférez rester dans un lieu dernier cris, fashion avec beaucoup de style et surtout design et en utilisant tout l'espace repartie avec le plus d'élégance possible. Nos hôtels sont branchés et luxueux, et satisferont tous vos besoins d'évasion .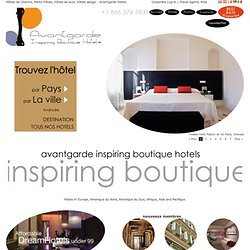 Petits hôtels de Charme, hôtels de luxe & design en Europe, Amérique, Afrique et Asia
Hotel Luxe - Chambre d'hôtes - Location de vacances - Hôtelquejaime.com