Hôtels
Des hôtels design, contemporain, des coups de coeurs...

Ne concernent pas les grandes chaines stéréotypés...
Pierre Farel, destins méditerranéens - Corsica. Par Gilles Millet Pierre Farel, destins méditerranéens Le vernissage de l'expo Farel 2012 s'est déroulé à la Rotonde (espace restaurant du casino municipal d'Ajaccio), lieu fétiche du peintre.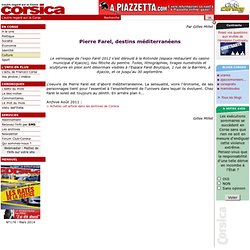 Hotels We Love. The urban guide for luxury, charming and design hotels - Urban Partner. Mr & Mrs Smith - Boutique Hotels - Luxury Romantic Hotel Collection. Petits hôtels de Charme, hôtels de luxe & design en Europe, Amérique, Afrique et Asia. Hotel Luxe - Chambre d'hôtes - Location de vacances - Hôtelquejaime.com. Hôtels de Charme | Hôtels de luxe | Splendia Hôtels. Home : Unusual & Unique Hotels Of The World. Design Hotels (TM) - find your luxury design hotel online.
---