Mobility
Mobile application development. Platform development environment[edit] Each of the platforms for mobile applications also has an integrated development environment, which provides tools to allow a developer to write, test and deploy applications into the target platform environment.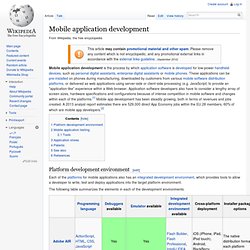 The following table summarizes the elements in each of the development environments. How to Effectively Track 3 Types Of Mobile Metrics. More and more people have begun to prefer their smart phones and tablets over desktop computers for accessing the Internet.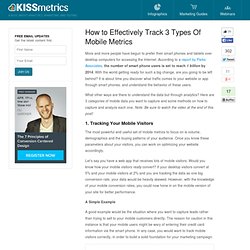 According to a report by Parks Associates, the number of smart phone users is set to reach 1 billion by 2014. With the world getting ready for such a big change, are you going to be left behind? The Six Key Mobile App Metrics you need to be tracking. As the number of consumers using mobile applications steadily rises, the need to collect accurate metrics from them is increasingly important.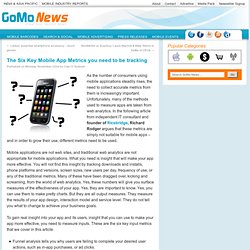 Unfortunately, many of the methods used to measure apps are taken from web analytics. In the following article from independent IT consultant and founder of Ricebridge, Richard Rodger argues that these metrics are simply not suitable for mobile apps – and in order to grow their use, different metrics need to be used. Mobile applications are not web sites, and traditional web analytics are not appropriate for mobile applications. What you need is insight that will make your app more effective. You will not find this insight by tracking downloads and installs, phone platforms and versions, screen sizes, new users per day, frequency of use, or any of the traditional metrics. Measuring Mobile App Effectiveness « The Lunch Pail. I hope everyone had a great holiday celebration Sunday, and I hope it spilled into today for many of you.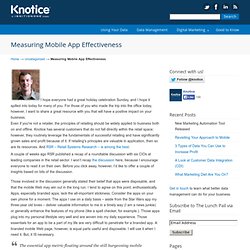 For those of you who made the trip into the office today, however, I want to share a great resource with you that will have a positive impact on your business. Even if you're not a retailer, the principles of retailing should be widely applied to business both on and offline. Knotice has several customers that do not fall directly within the retail space; however, they routinely leverage the fundamentals of successful retailing and have significantly grown sales and profit because of it. If retailing's principles are valuable in application, then so are its resources. 3 Ways to Test Your Mobile Content's Effectiveness. Mobile content is hot.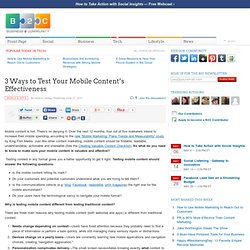 There's no denying it. Over the next 12 months, four out of five marketers intend to increase their mobile spending, according to the new "Mobile Marketing: Plans Trends and Measurability" study by King Fish Media. Apple's biggest innovation for 2008? The iPhone App Store. I know 2008 is far from over and we have many more Apple products to look forward to.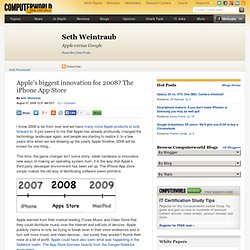 It just seems to me that Apple has already profoundly changed the technology landscape again, and people are starting to realize it. In a few years time when we are drawing up the yearly Apple timeline, 2008 will be known for one thing... Innovation!! Apple App Store For Enterprise Apps – Juniper Networks Puts Mobile IT Services in Apple App Store – Future of IT. At VMworld 2010 Just this past month Paul Maritz, CEO of VMware, gave a compelling keynote where he showed the future of IT as a service model where IT managers will be deploying services out of an app store like feature.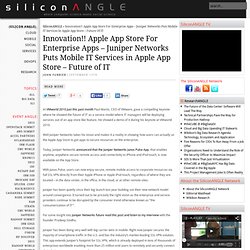 He showed a demo of it during his keynote at VMworld 2010. Well Juniper Networks takes his vision and makes it a reality in showing how users can actually us the Apple App Store to get apps to secure resources on the enterprise. Innovation Minute » Blog Archive » Innovative pricing model drives app store success. In the early days of the Apple App Store, there were free apps and there were paid apps.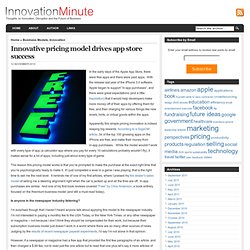 With the release last year of the iPhone 3.0 software, Apple began to support "in-app purchases", and there were great expectations (and a little trepidation) that it would help developers make more money off of their apps by offering them for free, and then charging for various things like new levels, hints, or virtual goods within the apps. Apparently this simple pricing innovation is indeed reaping big rewards. How to make a profitable, successful mobile app? Best Practices for Maximizing Mobile App Revenue. The mobile app ecosystem is thriving.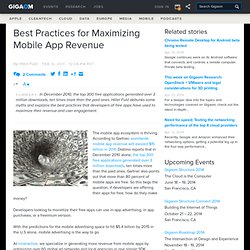 According to Gartner, worldwide mobile app revenue will exceed $15 billion in 2011. Distimo reports that in December 2010 alone, the top 300 free applications generated over 3 million downloads, ten times more than the paid ones. Gartner also points out that more than 80 percent of mobile apps are free. So this begs the question, if developers are offering their apps for free, how do they make money? Developers looking to monetize their free apps can use in-app advertising, in app purchases, or a freemium version. Mobile App Development - Cost Vs. Profits. Updated September 10, 2013 Mobile development and mobile marketing have become the current mantra for any industry's success.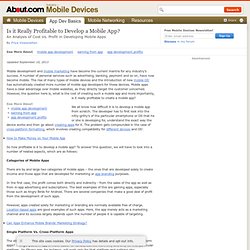 A number of personal services such as advertising, banking, payment and so on, have now become mobile. The rise of many types of mobile devices and the introduction of new mobile OS' has automatically created more number of mobile app developers for these devices. Figuring Apple's App Store gross profit | Apple. Apple's iTunes App Store may be the biggest mobile application around, but it's not much of a revenue generator for the company. The company claims it runs the App Store at "a bit over break-even" and, according to an analysis by Piper Jaffray analyst Gene Munster, that is indeed the case.
Extrapolating from metrics provided CEO Steve Jobs during his WWDC keynote earlier this month--$1 billion paid to developers for 5 billion free and paid app downloads--Munster figures the App Store has contributed only $189 million to Apple's total gross profit since it launched. That's about 1 percent of the company's $33.7 billion gross profit during the same period. App Store (iOS) The App Store is a digital distribution platform for mobile apps on iOS, developed and maintained by Apple Inc. The service allows users to browse and download applications that were developed with Apple's iOS SDK. The apps can be downloaded directly to an iOS device, or onto a personal computer via iTunes (also developed and maintained by Apple Inc.).
Applications in the App Store are targeted at iOS devices, including iPhones and iPads, and may make use of specific attributes of those devices, such as motion sensors for game controls and cameras for online video calling. Apps may be downloaded for free or for a set cost, and they may include in-app monetization through advertising or purchases. App Store generates 6 times more profit than Android Market. 1. SuperAndroidEvo (Posts: 3504; Member since: 15 Apr 2011) Because the Android Market has more free apps than the App Store. Now if the Android Market was like the App Store & sold 0.99 apps all the time then these numbers would not be such a huge deal.There are 2 different styles here. The Android Market makes money from ads & the App Store makes money on apps sold. Both have thriving markets. 2. atheisticemetic (Posts: 377; Member since: 18 Dec 2011) exactly. first rule of statistics is HOW you interpret the information that is given to you.Android has free apps (and makes its money on ads unfortunately for the most part).
App Store Not Profitable for Apple, Only 19% of Software is Paid. Apple's App Store may be a runaway success thanks to the quality of applications and incredible offerings we often take for granted, but Apple isn't exactly profiting off the massive sales. Wall Street analyst Gene Munster says that of all the downloaded App Store applications, 81% are free. Of those paid for, the average selling price is $1.49.
---