Natural Resources and Waste Management to June 2012
European Commission - Science for Environment Policy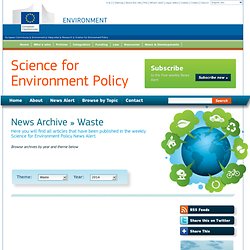 Remaking and revaluing ships sent for demolition
It sounds like an incredibly smelly--and disgusting--proposition, but some researchers think that a mix of cheese whey (a cheese-making byproduct) and liquid cow manure may come together to make a high-quality biogas. Cheese whey isn't a problem for most dairy farms, but for the 100 or so in the U.S. that produce massive amounts of cheese and millions of pounds of whey each year, it starts to add up. The stuff isn't usable in anaerobic digesters (which are commonly used to turn farm waste into biogas) because it acidifies quickly, and while many farmers put it on their fields for fertilizer, there is still often leftover whey.
Making Energy From Cheese Waste And Cow Poop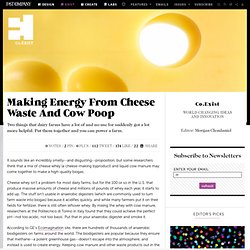 n-print
Catan: Oil Springs
Solve water problems or forget growth, India told
Use it while you have it: Water scarcity is an issue on the horizon - The Parthenon - Marshall University
Published: Monday, February 20, 2012 Updated: Monday, February 20, 2012 23:02 By nearly every standard of living, Americans have it better than any generation that has come before us. From education and healthcare to transportation and crime rates, we don't have it too bad at all. But, we should not become complacent and assume it will always be this way. Even in West Virginia, a rural state with high rates of poverty, we still have access to clean drinking water, if nothing else.
We might not be aware of how much water we use every day.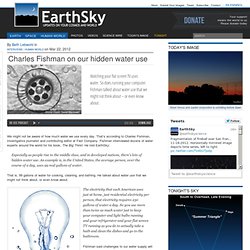 Charles Fishman on our hidden water use | Water
Eight radical solutions for the water shortage
4 April 2012Last updated at 07:50 ET By Vanessa Barford & Lauren Everitt BBC News Magazine
Personal N Footprint Calculator | N-Print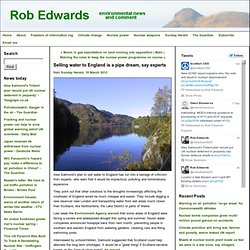 Selling water to England is a pipe dream, say experts - Rob Edwards
from Sunday Herald, 18 March 2012 Alex Salmond's plan to sell water to England has run into a barrage of criticism from experts, who warn that it would be impractical, polluting and horrendously expensive. They point out that other solutions to the droughts increasingly afflicting the southeast of England would be much cheaper and easier.
Illegal logging makes billions for gangs, report says
20 March 2012Last updated at 21:11 ET By Richard Black Environment correspondent Illegal logging has been blamed for a number of flooding incidents, notably in the Philippines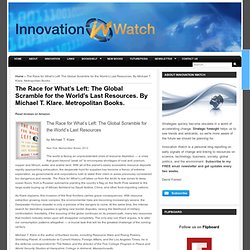 Home » The Race for What's Left: The Global Scramble for the World's Last Resources. By Michael T.
Innovation Watch » The Race for What's Left: The Global Scramble for the World's Last Resources. By Michael T. Klare. Metropolitan Books. » Innovation Watch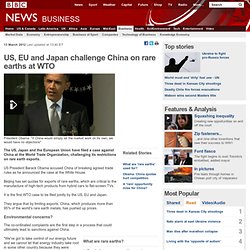 13 March 2012Last updated at 13:40 ET President Obama: "If China would simply let the market work on its own, we would have no objections''
US set to challenge China rare earth export restriction