Natural Resources and Waste Management to June 2012
European Commission - Science for Environment Policy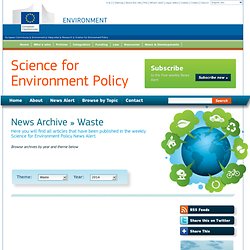 Remaking and revaluing ships sent for demolition A recent study has examined how ships no longer economical to run are broken apart, reassembled and made into goods of new value, such as furniture, in Bangladesh. There are strong concerns about working conditions for those who work in this industry and ship breaking yards have recently been closed as they are considered hazardous. However, this study draws a valuable lesson from ship breaking in that 'things are but temporary configurations of material', which can, potentially, be endlessly reassembled, under safe conditions.
It sounds like an incredibly smelly--and disgusting--proposition, but some researchers think that a mix of cheese whey (a cheese-making byproduct) and liquid cow manure may come together to make a high-quality biogas. Cheese whey isn't a problem for most dairy farms, but for the 100 or so in the U.S. that produce massive amounts of cheese and millions of pounds of whey each year, it starts to add up. The stuff isn't usable in anaerobic digesters (which are commonly used to turn farm waste into biogas) because it acidifies quickly, and while many farmers put it on their fields for fertilizer, there is still often leftover whey.
Making Energy From Cheese Waste And Cow Poop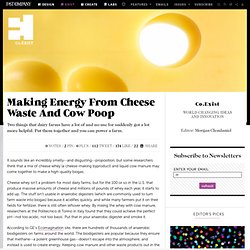 n-print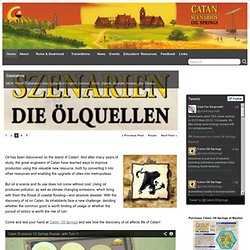 Oil has been discovered on the island of Catan! And after many years of study, the great engineers of Catan have learned ways to improve production using this valuable new resource, both by converting it into other resources and enabling the upgrade of cities into metropolises. But oil is scarce and its use does not come without cost. Using oil produces pollution, as well as climate changing emissions, which bring with them the threat of coastal flooding—and absolute disaster. With the discovery of oil on Catan, its inhabitants face a new challenge: deciding whether the common good is worth limiting oil usage or whether the pursuit of victory is worth the risk of ruin.
Catan: Oil Springs
Solve water problems or forget growth, India told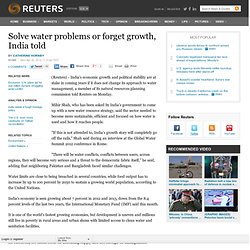 By Catherine Hornby ROME Mon Apr 30, 2012 11:31am EDT ROME (Reuters) - India's economic growth and political stability are at stake in coming years if it does not change its approach to water management, a member of its natural resources planning commission told Reuters on Monday. Mihir Shah, who has been asked by India's government to come up with a new water resource strategy, said the sector needed to become more sustainable, efficient and focused on how water is used and how it reaches people.
Use it while you have it: Water scarcity is an issue on the horizon - The Parthenon - Marshall University
We might not be aware of how much water we use every day. That's according to Charles Fishman, investigative journalist and contributing editor at Fast Company. Fishman interviewed dozens of water experts around the world for his book, The Big Thirst. He told EarthSky: Especially as people rise to the middle class, and in developed nations, there's lots of hidden water use.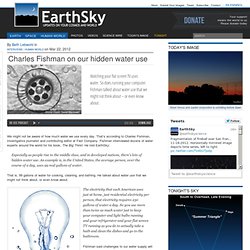 Charles Fishman on our hidden water use | Water
Eight radical solutions for the water shortage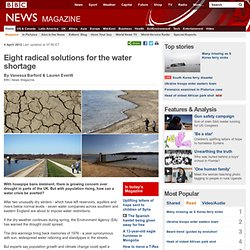 4 April 2012Last updated at 07:50 ET By Vanessa Barford & Lauren Everitt BBC News Magazine With hosepipe bans imminent, there is growing concern over drought in parts of the UK. But with population rising, how can a water crisis be averted? After two unusually dry winters - which have left reservoirs, aquifers and rivers below normal levels - seven water companies across southern and eastern England are about to impose water restrictions. If the dry weather continues during spring, the Environment Agency (EA) has warned the drought could spread. The dire warnings bring back memories of 1976 - a year synonymous with sun, widespread water rationing and standpipes in the streets.
Personal N Footprint Calculator | N-Print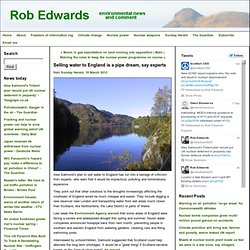 Selling water to England is a pipe dream, say experts - Rob Edwards
from Sunday Herald, 18 March 2012 Alex Salmond's plan to sell water to England has run into a barrage of criticism from experts, who warn that it would be impractical, polluting and horrendously expensive. They point out that other solutions to the droughts increasingly afflicting the southeast of England would be much cheaper and easier.
Illegal logging makes billions for gangs, report says
20 March 2012Last updated at 21:11 ET By Richard Black Environment correspondent Illegal logging has been blamed for a number of flooding incidents, notably in the Philippines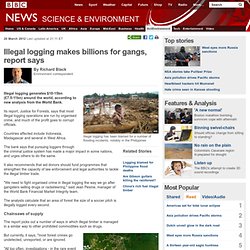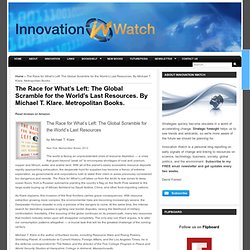 Home » The Race for What's Left: The Global Scramble for the World's Last Resources. By Michael T. Klare. Metropolitan Books. Read reviews on Amazon The Race for What's Left: The Global Scramble for the World's Last Resources
Innovation Watch » The Race for What's Left: The Global Scramble for the World's Last Resources. By Michael T. Klare. Metropolitan Books. » Innovation Watch
US set to challenge China rare earth export restriction