DIY Soap & Household Products
Salt: Secrets Of Soap Additives Pt 5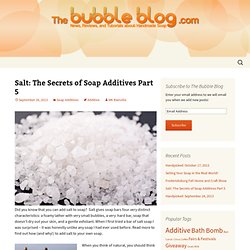 Did you know that you can add salt to soap?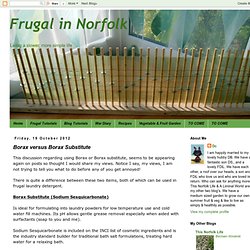 Borax vs. Borax Substitute
This discussion regarding using Borax or Borax substitute, seems to be appearing again on posts so thought I would share my views. Notice I say, my views, I am not trying to tell you what to do before any of you get annoyed! There is quite a difference between these two items, both of which can be used in frugal laundry detergent.
I have a confession to make: I hate bar soap. It gets dirty, is annoying to handle, and takes too long to use up. Despite this, people like to give me bar soap as a gift, which I feel guilty not using. So I've been buying liquid hand soap at $3 a bottle and putting the bar soap in a box with the intention of finding a use for it.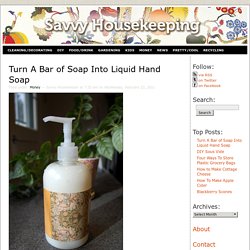 I have been so excited about this post I could hardly wait for today to come!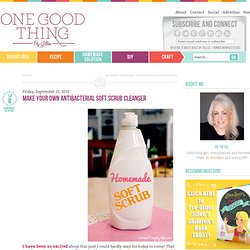 Make Your Own Antibacterial Soft Scrub Cleanser
Homemade Cleaning & Beauty Recipes
Homemade Cleaners
Homemade Disinfecting Wipes
DIY Home, Cleaning & Beauty Recipes
Non-Food Recipes: Vintage Recipes
Remember I told you in my previous post that the next product in my store will be an "outside the box" one? Well, you've been warned;-))) I came up with the idea of Toilet Bombs a few months ago. At first I thought it would be embarrassing to make a post about them but I fell so much in love with these toilet bombs that I just HAD to share the idea with you - I'm seriously addicted!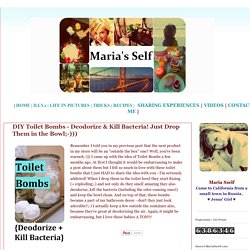 There was a time (many years ago now) when I defined effective cleaning by how the air smelled. It's not really clean unless I can smell the chemicals! Thankfully, that is no longer the standard by which I measure the cleaning prowess of the solutions I'm using. In fact, I now do everything in my power to avoid those toxic chemicals I believe are harmful to my health and the health of the environment. Why?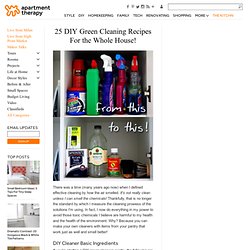 20 Amazing Uses for Baking Soda You'll be amazed at the myriad of remedies you can whip up if you have a box of baking soda handy. Among them: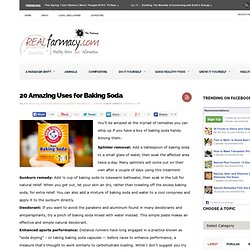 20 Amazing Uses For Baking Soda
11+ Uses For Vinegar You Need To Know About
Bentonite Clay Tips & Tricks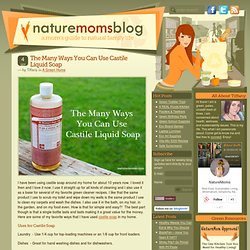 The Many Uses Of Castile Liquid Soap
I have been using castile soap around my home for about 10 years now.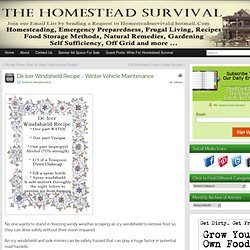 De Icer Windshield Recipe - Winter Vehicle Maintenance
Print this Post
Cheap & Easy DIY Windshield Washer Fluid
DIY All-Purpose Household Cleaner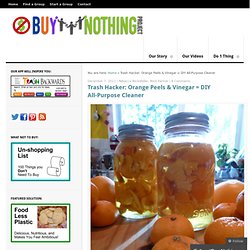 Orange Peels & Vinegar = DIY All-Purpose Cleaner | Buy Nothing Project
4 DIY Natural Drain Cleaners
5 Cheap & Effective DIY Cleaners
*Gasp! LookatthatWeim!* Ahem. Ok, I'm rational now.
Tackling spring-cleaning this month? Us too. But there's no sense in doing it if you're going to create a big mess for the planet (and your body) in the process.
The below Homemade Laundry Detergent and Homemade Fabric Softener recipes can save you a lot of money and your health too. They are also more eco-friendly laundry alternatives. Many expensive store bought laundry detergents and fabric softeners are some of the most toxic household products in the average home. Expensive heavy duty chemical laundry cleaners and fabric softener have been implicated as being possible causes of breast cancer.
Extensive List Of Easy DIY Cleaning Products
Fantastic Cleaning DIY – Homemade Goo Gone Recipe
50 Things To Do With Vinegar (Cooking, Cleaning, Laundry, Pet Tips)
Homemade Wood Cleaner & Polish...
Non-toxic Home Cleaning & Care: Natural, Green, Eco-Friendly Solutions | Eartheasy.com
DIY Deodorizing Carpet Powder
Easy Homemade Pine-Sol { Recipe }
2X4: Four Effortless Bathroom-Stink Solutions
Natural Carpet Cleaner Recipe
Cut Laundry Costs In Half : DIY Laundry Detergent Recipe
DIY Laundry Soap Detergent: Images & Recipes
LivingWithBugs: Least-Toxic, Eco-Friendly DIY Pest Control
s Guide to Healthy Cleaning