DIY Soap & Household Products
Salt: Secrets Of Soap Additives Pt 5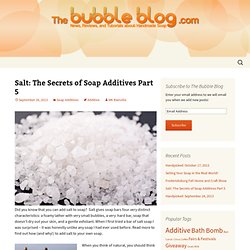 Did you know that you can add salt to soap? Salt gives soap bars four very distinct characteristics: a foamy lather with very small bubbles, a very hard bar, soap that doesn't dry out your skin, and a gentle exfoliant. When I first tried a bar of salt soap I was surprised – it was honestly unlike any soap I had ever used before. Read more to find out how (and why!)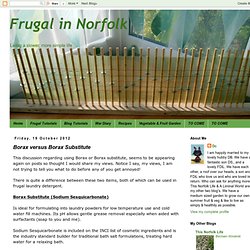 Borax vs. Borax Substitute
This discussion regarding using Borax or Borax substitute, seems to be appearing again on posts so thought I would share my views. Notice I say, my views, I am not trying to tell you what to do before any of you get annoyed! There is quite a difference between these two items, both of which can be used in frugal laundry detergent.
I have a confession to make: I hate bar soap. It gets dirty, is annoying to handle, and takes too long to use up. Despite this, people like to give me bar soap as a gift, which I feel guilty not using. So I've been buying liquid hand soap at $3 a bottle and putting the bar soap in a box with the intention of finding a use for it.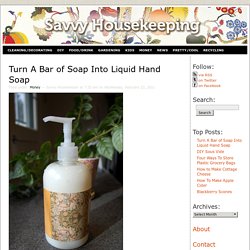 I have been so excited about this post I could hardly wait for today to come! That is either a sign that it's a really great idea…or that I really need to get a life! lol. Either way…I think you are going to LOVE this one!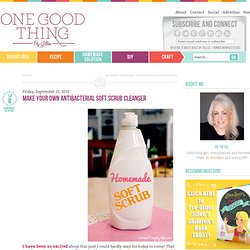 Make Your Own Antibacterial Soft Scrub Cleanser
Homemade Cleaning & Beauty Recipes
Homemade Cleaners
Homemade Disinfecting Wipes
DIY Home, Cleaning & Beauty Recipes
Non-Food Recipes: Vintage Recipes
Remember I told you in my previous post that the next product in my store will be an "outside the box" one? Well, you've been warned;-))) I came up with the idea of Toilet Bombs a few months ago. At first I thought it would be embarrassing to make a post about them but I fell so much in love with these toilet bombs that I just HAD to share the idea with you - I'm seriously addicted!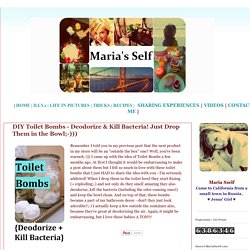 20 Amazing Uses for Baking Soda You'll be amazed at the myriad of remedies you can whip up if you have a box of baking soda handy. Among them: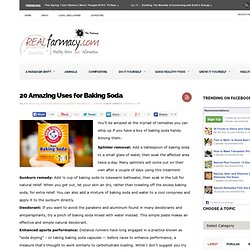 20 Amazing Uses For Baking Soda
11+ Uses For Vinegar You Need To Know About
Bentonite Clay Tips & Tricks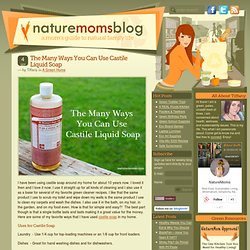 The Many Uses Of Castile Liquid Soap
I have been using castile soap around my home for about 10 years now. I loved it then and I love it now. I use it straight up for all kinds of cleaning and I also use it as a base for several of my favorite green cleaner recipes. I like that the same product I use to scrub my toilet and wipe down my walls is the same product I use to clean my carpets and wash the dishes. I also use it in the bath, on my hair, in the garden, and on my food even.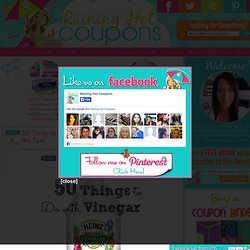 50 Things To Do With Vinegar (Cooking, Cleaning, Laundry, Pet Tips)
You may not have known this but there are actually a TON of different things you can do with Vinegar from cooking and cleaning to first aid and gardening! Since vinegar is so inexpensive, this is a great way to save money! *Get more FRUGAL Articles, tips and tricks from Raining Hot Coupons here* Pin it below: REPIN it here Follow me on Pinterest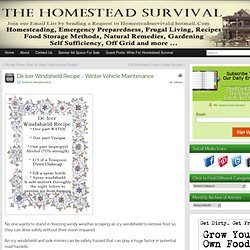 De Icer Windshield Recipe - Winter Vehicle Maintenance
Print this Post No one wants to stand in freezing windy weather scraping an icy windshield to remove frost so they can drive safely without their vision impaired. An icy windshield and side mirrors can be safety hazard that can play a huge factor in potential road hazards. Too many people use a quick method of pouring hot water directly their windshield …. for multiple reasons this can spell disaster.
Cheap & Easy DIY Windshield Washer Fluid
DIY All-Purpose Household Cleaner or What To Do With All Those Holiday Season Orange Peels by Rebecca Rockefeller Do you spin your dreidel for satsumas?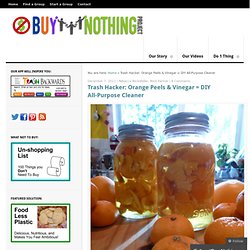 Orange Peels & Vinegar = DIY All-Purpose Cleaner | Buy Nothing Project
By Cris Carl, Hometalk Having a clogged sink begs the old chestnut about an ounce of prevention being worth a pound of cure. There are a lot of things that should never go down a drain, especially if you have a septic system. To avoid clogs to begin with, you have to avoid allowing food particles, grease, and hair from going down the drain. It's helpful to have a small piece of wire mesh over your drains to catch food or hair particles. Just be sure to clean the mesh regularly or it will start to smell.
4 DIY Natural Drain Cleaners
5 Cheap & Effective DIY Cleaners
*Gasp! LookatthatWeim!* Ahem. Ok, I'm rational now.
Tackling spring-cleaning this month? Us too. But there's no sense in doing it if you're going to create a big mess for the planet (and your body) in the process. Cleaning up your act isn't as straightforward as running to the pharmacy and picking out a bottle covered in claims of eco-friendliness and biodegradability, however. When it comes to home cleaning products a lot of eco claims are unverified and—worse—unverifiable, with rare exceptions like Seventh Generation.
Fantastic Cleaning DIY – Homemade Goo Gone Recipe
Non-toxic Home Cleaning & Care: Natural, Green, Eco-Friendly Solutions | Eartheasy.com
Homemade Wood Cleaner & Polish...
DIY Deodorizing Carpet Powder
Easy Homemade Pine-Sol { Recipe }
2X4: Four Effortless Bathroom-Stink Solutions
Natural Carpet Cleaner Recipe
DIY Laundry Soap & Products
LivingWithBugs: Least-Toxic, Eco-Friendly DIY Pest Control
s Guide to Healthy Cleaning