Homemade
Halloween Costume Ideas. Large T-Shirt to Fitted Tee Tutorial | a.steed's.life. I have these two t-shirts that I love.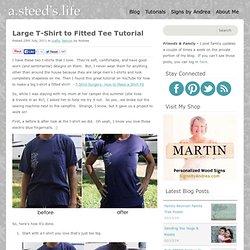 They're soft, comfortable, and have good worn (and sentimental) designs on them. But, I never wear them for anything other than around the house because they are large men's t-shirts and look completely shapeless on me. Then I found this great tutorial on YouTube for how to make a big t-shirt a fitted shirt! - T-Shirt Surgery: How to Make a Shirt Fit. Out of Order: DIY Tutorials. Tutorials for Recycling T-Shirts. So way way back, in June, I wrote this Studio Organization post, about starting the process of organizing my studio by cleaning out the closet full of junk.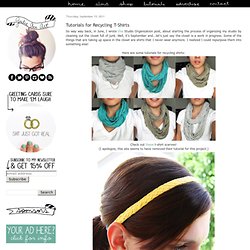 Well, it's September and...let's just say the closet is a work in progress. Some of the things that are taking up space in the closet are shirts that I never wear anymore. I realized I could repurpose them into something else! T-shirt to sexy top - StumbleUpon. Measure the circumference of your chest.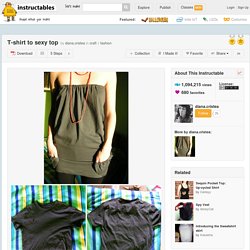 Cut a piece of elastic that matches your measurements. Turn the shirt inside out and cut a small opening on the bottom hem. Urban Renewal by Mari Santos. We're usually kinda "meh" about most T-shirt surgeries because we're just can't get into the hack'em, slash'em sartorial school of thought.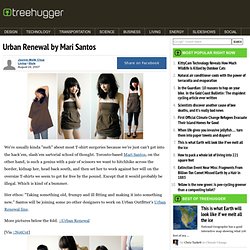 Toronto-based Mari Santos, on the other hand, is such a genius with a pair of scissors we want to hitchhike across the border, kidnap her, head back south, and then set her to work against her will on the oversize T-shirts we seem to get for free by the pound. Except that it would probably be illegal. Which is kind of a bummer. Her ethos: "Taking something old, frumpy and ill fitting and making it into something new. " Santos will be joining some 20 other designers to work on Urban Outfitter's Urban Renewal line. DIY Wrap Bracelet. You should all know by now that we are all about stacking bracelets on our wrists.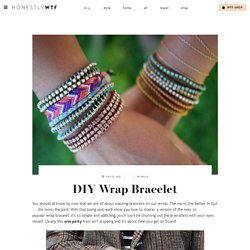 The more, the better. In fact . . . the most, the best! New products: unique and limited edition. V and Co how to: jersey knit bracelet. I don't know what it is about this time of year that makes me just want to have my bare feet in the sand, be watching the sun setting into the ocean, and breathing in the warm salty air of the beach...as i get older, more and more i find myself missing that place i used to go to almost every.single.day. as a teen.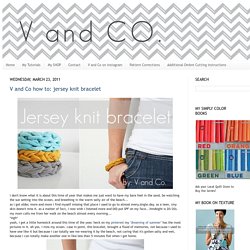 (my skin doesn't miss it. as a matter of fact, i now wish i listened more and DID put SPF on my face...hindsight is 20/20). my mom calls me from her walk on the beach almost every morning... *sigh*yeah, i get a little homesick around this time of the year. heck on my pinterest my "dreaming of summer" has the most pictures in it. ah yes. i miss my ocean. case in point. this bracelet, brought a flood of memories, not because i used to have one like it but because i can totally see me wearing it by the beach, not caring that it's gotten salty and wet, because i can totally make another one in like less than 5 minutes flat when i get home.
DIY of the Month: Braided T-shirt Bracelet. How To: Give your old t-shirts a second life.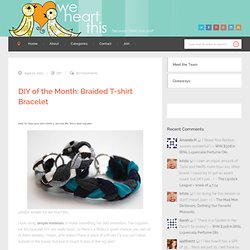 Sorry dust rag pile! Photos: kirsten for we heart this I love using simple materials to make something fun and innovative. The supplies for this bracelet DIY are really basic, so there's a REALLY good chance you own all of them already. I mean, who doesn't have a stack of soft old T's you can't wear outside of the house, but love to much to toss in the rag pile?
---