Kitchen
The Art of Doing Stuff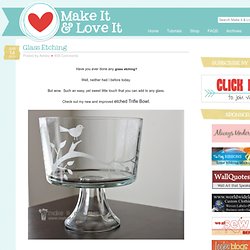 If interested, I answered a few interview questions with Simply Modern Mom here . And a few more questions with The Creative Connection here . (At the end of the interview with Creative Connection, there is a mention of a 2 pattern giveaway from my shop. But hurry, it closes at noon today (MST)…….eeek, sorry for such short notice.) Have you ever done any glass etching? Well, neither had I before today.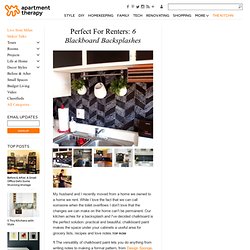 My husband and I recently moved from a home we owned to a home we rent. While I love the fact that we can call someone when the toilet overflows I don't love that the changes we can make on the home can't be permanent. Our kitchen aches for a backsplash and I've decided chalkboard is the perfect solution: practical and beautiful, chalkboard paint makes the space under your cabinets a useful area for grocery lists, recipes and love notes. 1 The versatility of chalkboard paint lets you do anything from writing notes to making a formal pattern, from Design Sponge . 2 I love the way the chalkboard complements the dark lower cabinetry in this kitchen, from Cool Springer . 3 This kitchen embraces the funny messiness that chalkboard paint is bound to bring, from Design Sponge . 4 Not ready for chalkboard paint everywhere? Try it only over your stove, from Kitchen Clarity . 5 If only my handwriting were this lovely, I'd paint my entire house in chalkboard paint, from Paint It .
Perfect For Renters: 6 Blackboard Backsplashes | Apartment Therapy Re-Nest
DIY and Crafties / DIY Kitchen Chandelier
Getting Crafty / Soap Deli News
DIY ~ Paper Mâché Tea Cups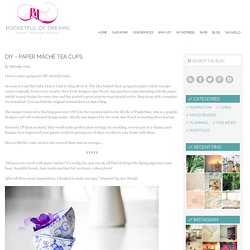 I have a super-gorgeous DIY tutorial today. As soon as I saw this baby I knew I had to blog about it. The idea behind these gorgeous paper mâché teacups comes originally from a very creative New York designer Ann Wood.
Tutorial} Chalkboard Menu
D ana's chalk lettering is out of this world. She has such amazing typography skills and has worked for clients such as; Google Inc., Rugby Ralph Lauren, West Elm, Adidas, The Ace Hotel, Reader's Digest/EveryDay with Rachael Ray, Harper Collins UK and much more. Take a look at this feature, you won't be dissapointed. Want to see more!?! Then check out Dana Tanamachis' site.