Kitchen
The Art of Doing Stuff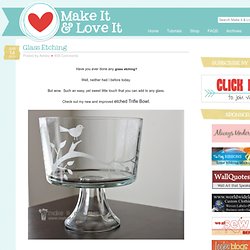 Have you ever done any glass etching? Well, neither had I before today. But wow. Such an easy, yet sweet little touch that you can add to any glass. Check out my new and improved etched Trifle Bowl. The perfect bowl for desserts of all kinds…..and even a great place for fresh fruit on the counter.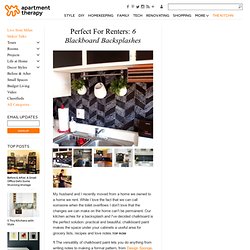 My husband and I recently moved from a home we owned to a home we rent. While I love the fact that we can call someone when the toilet overflows I don't love that the changes we can make on the home can't be permanent. Our kitchen aches for a backsplash and I've decided chalkboard is the perfect solution: practical and beautiful, chalkboard paint makes the space under your cabinets a useful area for grocery lists, recipes and love notes.TOP ROW 1 The versatility of chalkboard paint lets you do anything from writing notes to making a formal pattern, from Design Sponge.2 I love the way the chalkboard complements the dark lower cabinetry in this kitchen, from Cool Springer.3 This kitchen embraces the funny messiness that chalkboard paint is bound to bring, from Design Sponge.4 Not ready for chalkboard paint everywhere? Try it only over your stove, from Kitchen Clarity.5 If only my handwriting were this lovely, I'd paint my entire house in chalkboard paint, from Paint It.
Perfect For Renters: 6 Blackboard Backsplashes | Apartment Therapy Re-Nest
DIY and Crafties / DIY Kitchen Chandelier
DIY ~ Paper Mâché Tea Cups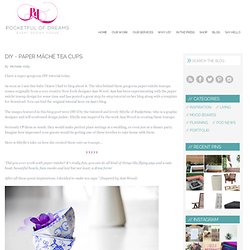 I have a super-gorgeous DIY tutorial today. As soon as I saw this baby I knew I had to blog about it. The idea behind these gorgeous paper mâché teacups comes originally from a very creative New York designer Ann Wood. Ann has been experimenting with the paper mâché teacup design for some time and has posted a great step-by-step tutorial on her blog along with a template for download.