Kitchen
The Art of Doing Stuff. Make It and Love It: Glass Etching. Have you ever done any glass etching?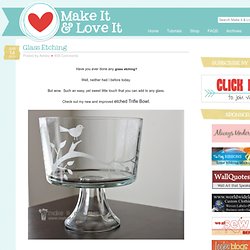 Well, neither had I before today. But wow. Such an easy, yet sweet little touch that you can add to any glass. Check out my new and improved etched Trifle Bowl. The perfect bowl for desserts of all kinds…..and even a great place for fresh fruit on the counter. Perfect For Renters: 6 Blackboard Backsplashes | Apartment Therapy Re-Nest. DIY and Crafties / DIY Kitchen Chandelier. DIY ~ Paper Mâché Tea Cups. I have a super-gorgeous DIY tutorial today.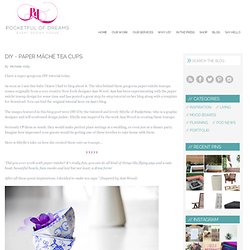 As soon as I saw this baby I knew I had to blog about it. The idea behind these gorgeous paper mâché teacups comes originally from a very creative New York designer Ann Wood. Ann has been experimenting with the paper mâché teacup design for some time and has posted a great step-by-step tutorial on her blog along with a template for download. Tutorial} Chalkboard Menu. Custom Chalk Lettering by Dana Tanamachi – Inspiration Hut.
---