ModernLanguage
Free Quizzes: Foreign Languages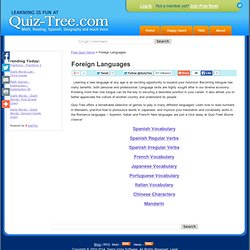 Learning a new language at any age is an exciting opportunity to expand your horizons! Becoming bilingual has many benefits, both personal and professional. Language skills are highly sought after in our diverse economy. Knowing more than one tongue can be the key to securing a desirable position in your career. It also allows you to better appreciate the culture of another country and understand its people. Quiz-Tree offers a remarkable selection of games to play in many different languages!
Celebrates Chinese New Year 2009
The Modern Language Club » Blog Archive » The Year of the Ox: Got Milk?
Chinese New Year Chinese New Year began on 10 February 2013. This marked the start of the current Year of the Snake, 4711 on the Chinese Calendar. The date of the next Chinese New Year will be 31 January 2014 when it will be the Year of the Horse. Chinese New Year is also known as the Spring Festival.
Chinese New Year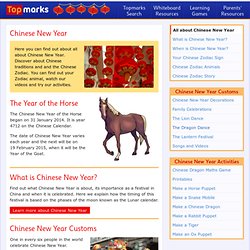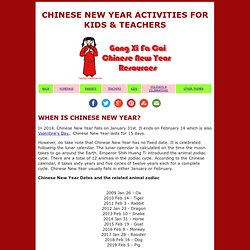 In 2010, Chinese New Year falls on February 14. February 14 is also Valentine's Day. Chinese New Year lasts for fifteen days. However, do take note that Chinese New Year has no fixed date.
Chinese New Year activities for kids and teachers - kiddyhouse.com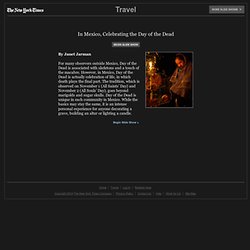 By Janet Jarman For many observers outside Mexico, Day of the Dead is associated with skeletons and a touch of the macabre. However, in Mexico, Day of the Dead is actually celebration of life, in which death plays the final part.
In Mexico, Celebrating the Day of the Dead - The New York Times > Travel > Slide Show
Day Of The Dead in Mexico Articles, Pictures and Recipes
Day of the Dead in Mexico or Dia de los Muertos is celebrated throughout Mexico. Her face is unforgettable and she goes by many names: La Catrina (Fancy Lady), La Flaca (Skinny), La Huesuda (Bony), La Pelona (Baldy). A fixture in Mexican society, she's not some trendy fashion model, but La Muerte — Death. read more What is Dia de los Muertos or the Day of the Dead? Día de los Muertos is a time to honor and celebrate deceased loved ones. The celebration occurs on November 2 in connection with All Soul's Day.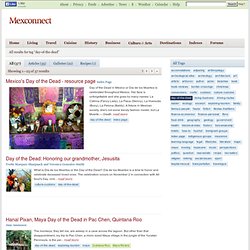 In Pictures | In pictures: Day of the Dead festival
In many parts of Latin America, as well as the Philippines, people have been marking the Day of the Dead festival in honour of deceased relatives. In the Philippines, millions of Catholics congregate with family members at the gravesides of dead loved ones to celebrate their memory. Here, a boy is silhouetted as he cleans a cross marking the grave of a loved one in a Manila cemetery. In Mexico, the Day of the Dead combines native Aztec and Roman Catholic practices and beliefs. Mexicans hold their Day of the Dead on the Catholic festivals of All Saints and All Souls Days on 1 and 2 November.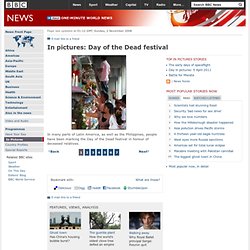 Day of the Dead Lesson Plans & Games for Kids
For Kids Don't be afraid of El Dia de los Muretos - the Day of the Dead. This is a happy holiday! This ancient holiday began as a day of thanks for the harvest.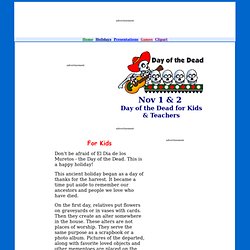 SMithsonian Latino Center Day of the Dead: Dia de la Muertos
Springfield Elementary School | Jefferson, Sue - Spanish
Educational games Childtopia
Both gingerbread houses and the Nutcracker came from German stories. Before the Nutcracker became a Tchaikovsky ballet, he was the hero of an 1816 story by Berlin's Ernst Theodor Amadeus (E.T.A.)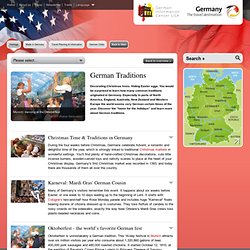 Mardi Gras's German Cousin
Traditional Christmas Greeting: "Froehiliche Weihnachten" Location: Western Europe Tree Type: Traditional Decorations: Germany was the first country to use glass ornaments as decorations. These ornaments are usually made by local families and sold in winter markets. These markets are held at the beginning of the advent season. These markets features hundreds of booths that sell Christmas decorations, candy and gingerbread. Traditions: Germany's Christmas season begins with Advent about four weeks before Christmas Eve.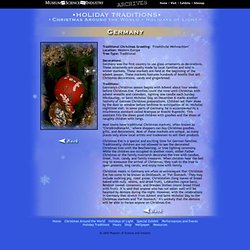 Holiday Traditions | Germany