Holidays
Thanksgiving and Pilgrims A Day of Thanks - Theme page. All About Thanksgiving - There's so much here, you don't want to miss this page....Pilgrims, Thanksgiving, Mayflower, pumpkins, Native Americans, recipes, and you name it!!!! America's Home Page - Plymouth, Massachusetts Annie's Thanksgiving Page - American Thanksgiving Day is celebrated on November 27th, 2003.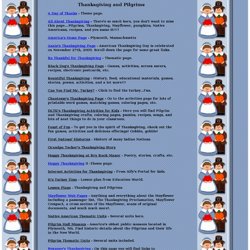 Thanksgiving and Pilgrims
When you're done carving, press the red button. You can see your pumpkin on an ecard, or online puzzle. Don't forget to give your pumpkin a name down below.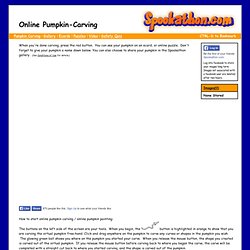 Online Pumpkin Carving at Spookathon.com
Thanksgiving for Kids & Teachers -
Clifford Sorting Game
Welcome to ChildFun ...where play and learning go hand in hand.
The Pilgrims' First Thanksgiving(and other Thanksgiving stories) The Pilgrim's First Thanksgiving by Ann McGovernOn The Mayflower by Kate WatersPilgrim Children Had Many Chores by Gina Lems TardifDid You Know? by Sandi HillThanksgiving Is For Giving Thanks by Margaret Sutherland
The Pilgrims' First Thanksgiving