Holiday Adventures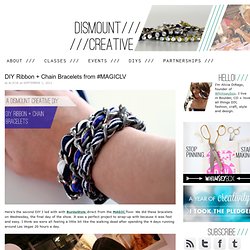 Here's the second DIY I led with with BurdaStyle direct from the MAGIC floor. We did these bracelets on Wednesday, the final day of the show. It was a perfect project to wrap-up with because it was fast and easy. I think we were all feeling a little bit like the walking dead after spending the 4 days running around Las Vegas 20 hours a day. Photo courtesy BurdaStyle The supplies are simple: chain + ribbon.
<div id="javascript-nag" class="notice"><p> Take full advantage of our site features by enabling JavaScript. <a href="http://www.etsy.com/ca/help/article/372">Learn more</a>. </p></div> Help Etsy Cart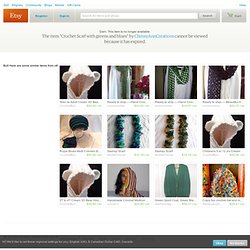 Crochet Scarf with greens and blues by ChrissyAnnCreations on Etsy
Rainbow Gay Pride Shimmer Winter Tree Christmas par NewPrideDesigns
<div id="javascript-nag" class="notice"><p> Take full advantage of our site features by enabling JavaScript. <a href="http://www.etsy.com/ca/help/article/372">Learn more</a>. </p></div>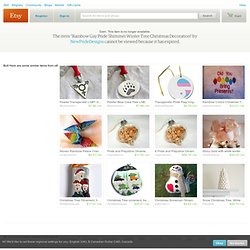 (((:::::Burgundy & Green:::::))) par Sevinç Yalınkılıç sur Etsy
<div id="javascript-nag" class="notice"><p> Take full advantage of our site features by enabling JavaScript. <a href="http://www.etsy.com/ca/help/article/372">Learn more</a>. </p></div> Help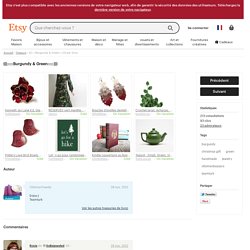 Fall/Winter Gifts / 2 Tea cup cozies blue lagoon with button by ChrissyAnnCreations, $15.99
Fall/winter projects / Boys Baby Blanket Granny Square by ChrissyAnnCreations on Etsy, $65.00
<div id="javascript-nag" class="notice"><p> Take full advantage of our site features by enabling JavaScript. <a href="http://www.etsy.com/ca/help/article/372">Learn more</a>. </p></div> Help
Christmas Facial Scrubby Set / Kitchen par ChrissyAnnCreations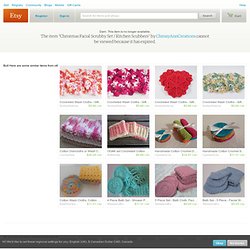 Rainbow Champagne Glass Votive Holder Electric by NewPrideDesigns
<div id="javascript-nag" class="notice"><p> Take full advantage of our site features by enabling JavaScript. <a href="http://www.etsy.com/ca/help/article/372">Learn more</a>. </p></div>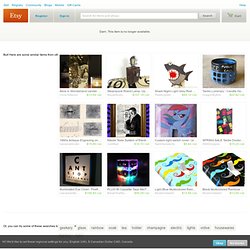 Fall/Winter Gifts / Rainbow Stretch Bracelet by NewPrideDesigns on Etsy, $9.99
Holidays / Christmas facial scrubby set by ChrissyAnnCreations on Etsy, $7.99
Witch Crafts Halloween Projects
Holidays / How to turn styrofoam balls into glittered christmas ornaments. (in Spanish) Good pics so you don't have to understand Spanish to learn this.
Fall/Winter Gifts / Iphone Smartphone Cozy Holder Pink Red by ChrissyAnnCreations, $8.99
Holidays / Christmas Coffee Cup Cozy 20 oz by ChrissyAnnCreations on Etsy, $9.99
Crochet Patterns / Lagoon Tea cup cozies blue with button by ChrissyAnnCreations, $7.99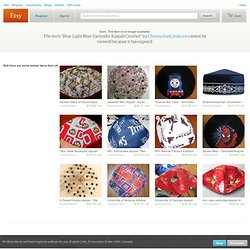 Blue Light Blue Yarmulke Kippah Crochet by ChrissyAnnCreations
<div id="javascript-nag" class="notice"><p> Take full advantage of our site features by enabling JavaScript. <a href="http://www.etsy.com/ca/help/article/372">Learn more</a>. </p></div> Help
Holiday Table Settings - Heidi Klum on AOL
"6 Last-Minute Halloween Costume Ideas" by CH Staff - CollegeHumor...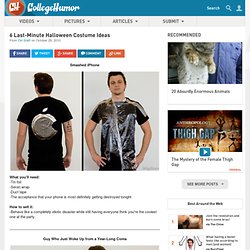 Smashed iPhone What you'll need: -Tin foil -Seran wrap -Duct tape -The acceptance that your phone is most definitely getting destroyed tonight How to sell it: -Behave like a completely idiotic disaster while still having everyone think you're the coolest one at the party. Guy Who Just Woke Up from a Year-Long Coma
Holidays in New York City -- Fairs and Markets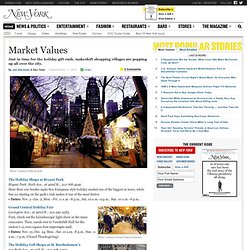 The Holiday Shops at Bryant ParkBryant Park, Sixth Ave., at 42nd St.; 212-768-4242 More than 100 booths make this European-style holiday market one of the biggest in town, while free ice skating on the park's rink makes it one of the most festive. • Dates: Nov. 5–Jan. 2; Mon.–Fri. 11 a.m.–8 p.m., Sat. 10 a.m.–9 p.m., Sun. 10 a.m.–6 p.m. Grand Central Holiday FairLexington Ave., at 42nd St.; 212-340-2583 First, check out the kaleidoscopic light show in the main concourse.
Haunted House Supplies.com
At FrightCatalog.com, we live, breathe, and fantasize about Halloween costumes. While everyone else is worrying about social circles, politics, or career fields, we're stressing about how we can revolutionize the zombie image. ("Let's put yellow pustules on the arms and run stitches up the thighs!") Company meetings are accompanied by undead accessories. Disgusting, horrifying, scary, terrifying, abominable, frightful, and ghoulish are the compliments we want to hear. This is why we are one of the largest Halloween suppliers.
Fright Catalog
Halloween Hallway