HIV/AIDS
De Olho Nas Patentes
Home
Social Aspects of HIV/AIDS Research Alliance-SAHARA
The Global Coalition on Women and AIDS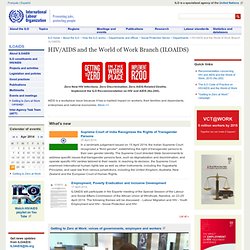 Programme on HIV-AIDS and the World of Work - ILO
Recommendation concerning HIV and AIDS and the World of Work, 2010 (No. 200) 17 June 2010
The Body:
HIV Law Project | HIV/AIDS Free Legal Assistance
Canadian HIV/AIDS Legal Network
HIV-AIDS LAWS OF THE WORLD - CHAN ROBLES VIRTUAL LAW LIBRARY
IIEP HIV / AIDS Clearinghouse: National AIDS Commissions
We are planning to carry out routine maintenance and upgrade work on our infrastructure on Saturday 11 January 2014, between the hours of 0800 and 1700 GMT (0300 and 1200 EST; 1600 and 0100 Jan 12 SGT). Read more.
BMC International Health and Human Rights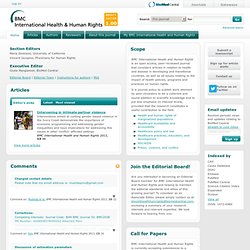 European Public Health Law Network (EPHLN) - Home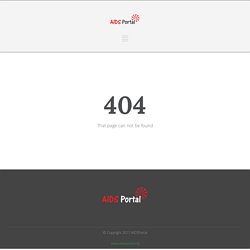 6th Africa Conference on Sexual Health and Rights Eliminating Women and Girls Sexual and Reproductive Health Vulnerabilities in Africa. 3 to 7 February 2014, Yaoundé, Cameroon. The conference will start with a two-day capacity building workshop on sexual and reproductive health and rights for young people.
global knowledge network
Public Health Law Association
Boston University School of Public Health - Health Law, Bioethics & Human Rights
Global Health Council
Health Policy News
The Petrie-Flom Center for Health Law Policy, Biotechnology, and Bioethics at Harvard Law School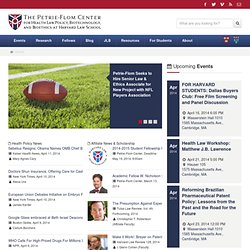 Nejat Center
ICASO || International Council of AIDS Service Organizations
The O'Neill Institute for National and Global Health Law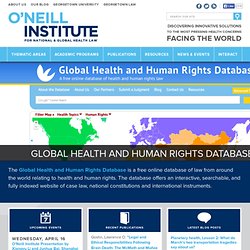 Gostin, Lawrence O. "Who Owns Human Genes?