HIV/AIDS
De Olho Nas Patentes. Home. Social Aspects of HIV/AIDS Research Alliance-SAHARA. The Global Coalition on Women and AIDS. Programme on HIV-AIDS and the World of Work - ILO. The Body: HIV Law Project | HIV/AIDS Free Legal Assistance. Canadian HIV/AIDS Legal Network. HIV-AIDS LAWS OF THE WORLD - CHAN ROBLES VIRTUAL LAW LIBRARY. IIEP HIV / AIDS Clearinghouse: National AIDS Commissions. BMC International Health and Human Rights. Articles There has been an error retrieving the data.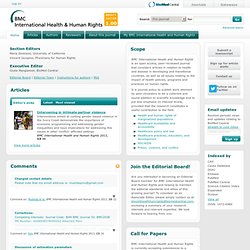 Please try again. Advertisement <dl class="google-ad noscript"><dt class="hide"><a href=" href=" src=" European Public Health Law Network (EPHLN) - Home. Global knowledge network. 4th South Africa TB Conference 10-13 June 2014, Durban, South Africa The 4th SA TB Conference occurs while South Africa is in the midst of battling the worst TB-HIV epidemic in the world.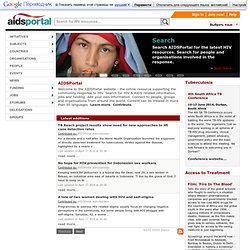 The organisers "call on everyone working in all spheres of TB-HIV drug discovery, clinical management, patient advocacy, government policy and the basic sciences to attend this meeting. We look forward to welcoming you in Durban! " Conference website... Public Health Law Association. Boston University School of Public Health - Health Law, Bioethics & Human Rights.
Global Health Council. The Petrie-Flom Center for Health Law Policy, Biotechnology, and Bioethics at Harvard Law School. Health Policy News Sebelius Resigns; Obama Names OMB Chief Burwell To Head HHS Kaiser Health News, April 11, 2014 Mary Agnes Cary Doctors Shun Insurance, Offering Care for Cash New York Times, April 10, 2014 Alexa Ura.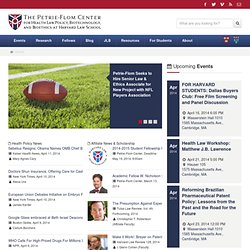 Nejat Center. ICASO || International Council of AIDS Service Organizations. The O'Neill Institute for National and Global Health Law. Gostin, Lawrence O.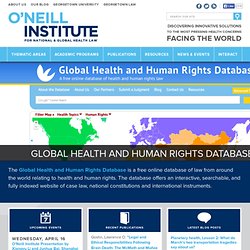 "Legal and Ethical Responsibilities Following Brain Death: The McMath and Muñoz Cases. " JAMA 311, no. 9 (2014). Alemanno, Alberto, and Franco Stassi. "Taxation and Economic Incentives on Health-Related Commodities: Alcohol, Tobacco and Food. " Regulating Lifestyle – Europe, Alcohol, Tobacco and Unhealthy Diets (2014).
---