History
Viking
Warfare. Greek. H.M.S. Victory. History of Chinese art. Chinese art is visual art that, whether ancient or modern, originated in or is practiced in China or by Chinese artists.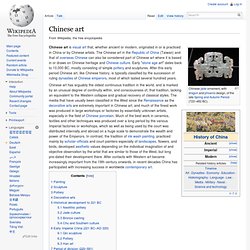 The Chinese art in the Republic of China (Taiwan) and that of overseas Chinese can also be considered part of Chinese art where it is based in or draws on Chinese heritage and Chinese culture. Early "stone age art" dates back to 10,000 BC, mostly consisting of simple pottery and sculptures. After this early period Chinese art, like Chinese history, is typically classified by the succession of ruling dynasties of Chinese emperors, most of which lasted several hundred years. Chinese art has arguably the oldest continuous tradition in the world, and is marked by an unusual degree of continuity within, and consciousness of, that tradition, lacking an equivalent to the Western collapse and gradual recovery of classical styles. Louis XVI of France. The ensuing debt and financial crisis contributed to the unpopularity of the Ancien Régime which culminated at the Estates-General of 1789.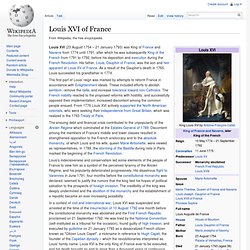 Discontent among the members of France's middle and lower classes resulted in strengthened opposition to the French aristocracy and to the absolute monarchy, of which Louis and his wife, queen Marie Antoinette, were viewed as representatives. In 1789, the storming of the Bastille during riots in Paris marked the beginning of the French Revolution. Louis's indecisiveness and conservatism led some elements of the people of France to view him as a symbol of the perceived tyranny of the Ancien Régime, and his popularity deteriorated progressively.
His disastrous flight to Varennes in June 1791, four months before the constitutional monarchy was declared, seemed to justify the rumors that the king tied his hopes of political salvation to the prospects of foreign invasion. Art of Ancient Egypt. Ancient Egyptian art is the painting, sculpture, architecture and other arts produced by the civilization of Ancient Egypt in the lower Nile Valley from about 1000 BCE to 100 AD.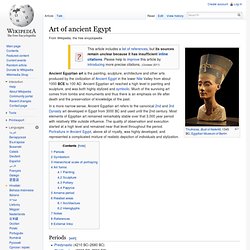 Ancient Egyptian art reached a high level in painting and sculpture, and was both highly stylized and symbolic. Much of the surviving art comes from tombs and monuments and thus there is an emphasis on life after death and the preservation of knowledge of the past. Inventors. ART. The visual arts represent one of the basic means of human communication.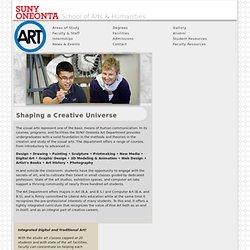 In its courses, programs, and facilities the SUNY Oneonta Art Department provides undergraduates with a solid foundation in the methods and theories in the creation and study of the visual arts. The department offers a range of courses, from introductory to advanced in: European Prehistoric Art - Past Signs and Present Memories. Cardinal Wolsey's Today in History. The History of the Internet in a Nutshell. If you're reading this article, it's likely that you spend a fair amount of time online.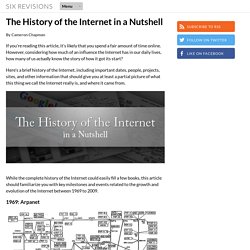 However, considering how much of an influence the Internet has in our daily lives, how many of us actually know the story of how it got its start? Here's a brief history of the Internet, including important dates, people, projects, sites, and other information that should give you at least a partial picture of what this thing we call the Internet really is, and where it came from. While the complete history of the Internet could easily fill a few books, this article should familiarize you with key milestones and events related to the growth and evolution of the Internet between 1969 to 2009. Boudicca. Boudicca "She was huge of frame, terrifying of aspect, and with a harsh voice.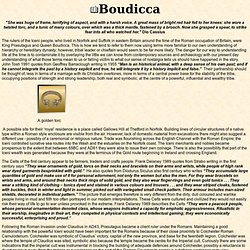 A great mass of bright red hair fell to her knees: she wore a twisted torc, and a tunic of many colours, over which was a thick mantle, fastened by a brooch. Now she grasped a spear, to strike fear into all who watched her. " Dio Cassius. Countess Godiva. Countess Godiva Lady Godiva by John Collier A legend is a valuable asset to any location, over the years attracting many pilgrims, visitors and tourists to the area associated with it; one has only to think of legendary figures like Robin Hood or King Arthur.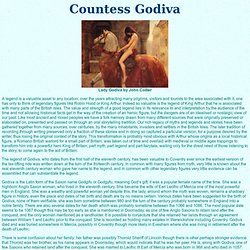 Indeed so valuable is the legend of King Arthur that he is associated with many parts of the British Isles. The value and strength of a good legend lies in its relevance to and interpretation by the audience of the time and not allowing historical facts get in the way of the creation of an heroic figure, but the dangers are of an idealised or nostalgic view of our past. Like most ancient and mixed peoples we have a folk memory drawn from many different sources that were originally preserved or elaborated on, presented and passed on through an oral storytelling tradition. The History Network. Archives: Valuable resources on IBM's history. Gallo Roman. This article covers the culture of Romanized areas of Gaul.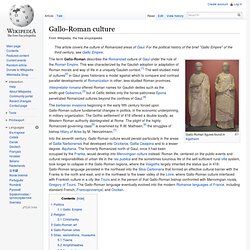 For the political history of the brief "Gallic Empire" of the third century, see Gallic Empire. Interpretatio romana offered Roman names for Gaulish deities such as the smith-god Gobannus,[3] but of Celtic deities only the horse-patroness Epona penetrated Romanized cultures beyond the confines of Gaul.[4] Archaeology - AllAboutArchaeology.org.
---