US Foreign Policy - reading....
America and the imperialism of ignorance. Defining the National Interest: Conflict and Change in American Foreign Policy, Trubowitz. Dark crusade: Christian Zionism and US foreign policy - Clifford Attick Kiracofe. The Political Economy Of Third World Intervention: Mines, Money, And U.S. Policy In The Congo Crisis. Starting from the observation that the Eisenhower administration supported Katanga's secession from the Congo, whereas the Kennedy administration opposed it, this carefully researched and argued study makes the case for a "business conflict" model of foreign policymaking.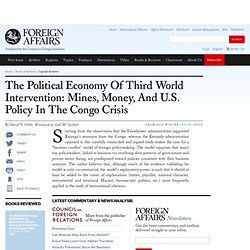 The model supposes that many top policymakers, linked to business via revolving-door patterns of government and private sector hiring, are predisposed toward policies consistent with their business interests. The author believes that, although much of the evidence validating his model is only circumstantial, the model's explanatory power is such that it should at least be added to the roster of explanations (statist, pluralist, national character, instrumental and structural Marxist, bureaucratic politics, etc.) most frequently applied in the study of international relations.
Reviews. PublicAffairs Books: FAITH MISPLACED. From Arab Nationalism to OPEC. The tragedy of great power politics - John J. Mearsheimer. "A superb book. . . .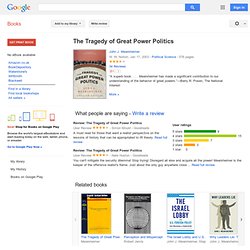 Mearsheimer has made a significant contribution to our understanding of the behavior of great powers." —Barry R. Posen, The National Interest The update of this classic treatise on the behavior of great powers takes a penetrating look at the question likely to dominate international relations in the twenty-first century: Can China rise peacefully? To John J.
---