US Foreign Policy - reading....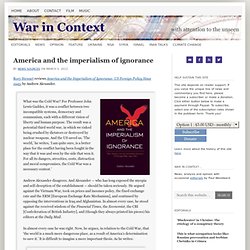 America and the imperialism of ignorance
What was the Cold War? For Professor John Lewis Gaddes, it was a conflict between two incompatible systems, democracy and communism, each with a different vision of liberty and human purpose. The result was a potential third world war, in which we risked being crushed by dictators or destroyed by nuclear weapons. And the US saved us.
Defining the National Interest: Conflict and Change in American Foreign Policy, Trubowitz
Dark crusade: Christian Zionism and US foreign policy - Clifford Attick Kiracofe
The Political Economy Of Third World Intervention: Mines, Money, And U.S. Policy In The Congo Crisis
Journals Online - Reviews
PublicAffairs Books: FAITH MISPLACED
In this riveting account of U.S.-Arab relations, award-winning author Ussama Makdisi explores why Arabs once had a favorable view of America and why they no longer do. Firmly rejecting the spurious notion of a civilizational clash between Islam and the West, Makdisi instead demonstrates how an initial zealous American missionary crusade was transformed across the nineteenth-century into a leading American educational presence in the Arab world, and how the advent of the idea of Wilsonian self-determination, amidst wide-scale Arab emigration to the United States, further bolstered a positive, foundational Arab idea of America. From Arab Nationalism to OPEC
"A superb book....Mearsheimer has made a significant contribution to our understanding of the behavior of great powers."—The National Interest, Barry R. Posen A decade after the cold war ended, policy makers and academics foresaw a new era of peace and prosperity, an era in which democracy and open trade would herald the "end of history." The terrorist attacks of September 11, 2001, sadly shattered these idyllic illusions, and John Mearsheimer's masterful new book explains why these harmonious visions remain utopian. To Mearsheimer, great power politics are tragic because the anarchy of the international system requires states to seek dominance at one another's expense, dooming even peaceful nations to a relentless power struggle.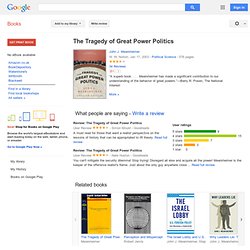 The tragedy of great power politics - John J. Mearsheimer