US elections 2012
Gar Alperovitz: Systemic Crisis, Politics as Usual
Gar Alperovitz is the Lionel R. Bauman Professor of Political Economy at the University of Maryland and is a former Fellow of Kings College, Cambridge University; Harvard's Institute of Politics; the Institute for Policy Studies; and a Guest Scholar at the Brookings Institution. Gar Alperovitz presents at a Seattle Town Hall on Oct 3, 2012 immediately after a public screening of the presidential debate between Romney and Obama.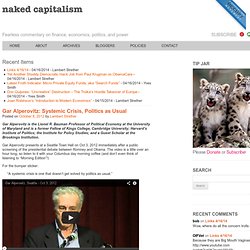 Structural fault lines in the political system
Does the 2012 Presidential Election Matter?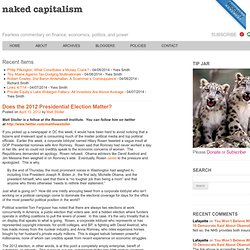 Matt Stoller is a fellow at the Roosevelt Institute.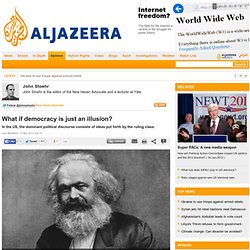 What if democracy is just an illusion?
New Haven, CT - Karl Marx never visited the United States, but he nevertheless understood the country, because he understood capitalism.
The spectacle of democracy in the US
Tucson, Arizona - "This is my last election. After my election I have more flexibility."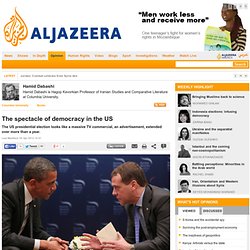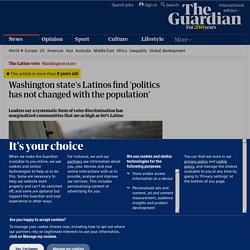 In the apple- and grape-laden Yakima valley in southern Washington state , Latinos drawn here by fruit-picking jobs have become the fastest growing sector of the population over the last decade . Politically, however, the Hispanic families who make up the majority of this archipelago of 10 towns stretching 40 miles southeast from county seat in Yakima have virtually no voice.
Washington state's Latinos find 'politics has not changed with the population' | World news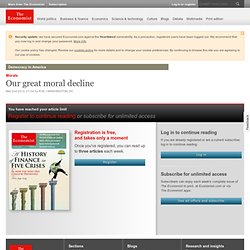 Morals: Our great moral decline
ASKED to explain his support for Rick Santorum in Michigan's primary, voter Sandy Munro said , "Now what we need is a strong political leader to do something to get us out of the moral slump that we're in." Mr Santorum would agree, having noted that "Satan has his sights on the United States of America." As would Mitt Romney, who has attacked the decay caused by Barack Obama's "secular agenda".
Comment: Super PACs: Worse to Come
You're nothing in Presidential politics this year without a Super PAC . As most people know by now, Super PAC s are fund-raising vehicles that support a candidate but are nominally independent of that candidate's official campaign.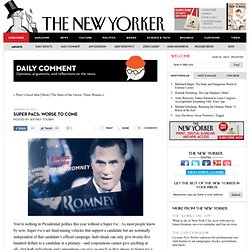 What Oligarchy Means: Small Groups of Multi-Millionaires Funding Almost All SuperPACs
Forget the five people you meet in heaven, here are the five people running the US election system these days.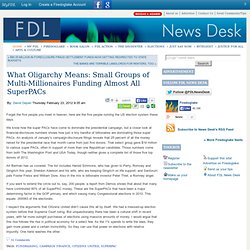 America has a serious air pollution problem.
Ari Berman: The politics of the super rich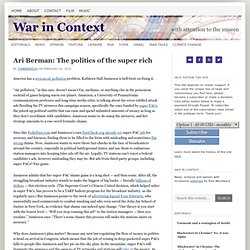 2012: The year of the big donor - Kenneth P. Vogel
Have you heard of William Dore, Foster Friess, Sheldon Adelson, Harold Simmons, Peter Thiel, or Bruce Kovner?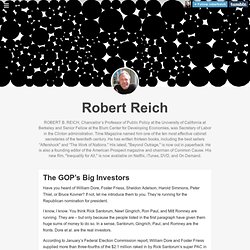 The GOP's Big Investors)
US elections 2012 - curators
Watching what's happening to our democracy is like watching the cruise ship Costa Concordia founder and sink slowly into the sea off the coast of Italy, as the passengers, shorn of life vests, scramble for safety as best they can, while the captain trips and falls conveniently into a waiting life boat.
America's billionaire-run democracy - 2012 Elections
Sugar Daddies
Real News: Israel and the American Elections | Occupy AIPAC!
Islamophobia For Office
Iowa: The Meaningless Sideshow Begins | Matt Taibbi | Rolling Stone
Matt Stoller: A Real Third Party? An Anti-Big Bank Republican? Yup.
Like many of you, I had mostly given up on electoral politics.