Rick Santorum
Santorum: Global Warming Is 'Political Science' Rick Santorum and prenatal testing: I would have saved my son from his suffering. Photo courtesy of Emily Rapp.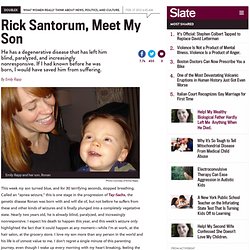 This week my son turned blue, and for 30 terrifying seconds, stopped breathing. Called an "apnea seizure," this is one stage in the progression of Tay-Sachs, the genetic disease Ronan was born with and will die of, but not before he suffers from these and other kinds of seizures and is finally plunged into a completely vegetative state.
Nearly two years old, he is already blind, paralyzed, and increasingly nonresponsive. Santorum Hypes Iran 'Threat' GOP presidential hopeful Rick Santorum warned North Dakota on Wednesday that it was in the cross-hairs of an Iranian attack.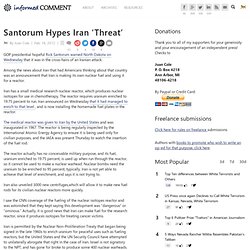 Among the news about Iran that had Americans thinking about that country was an announcement that Iran is making its own nuclear fuel and using it for a reactor. Iran has a small medical research nuclear reactor, which produces nuclear isotopes for use in chemotherapy. The reactor requires uranium enriched to 19.75 percent to run. Iran announced on Wednesday that it had managed to enrich to that level , and is now installing the homemade fuel plates in the reactor.
The medical reactor was given to Iran by the United States and was inaugurated in 1967. Santorum on the Defensive Over Gender Remarks. 3:19 a.m. | Updated The full version of this post is available here.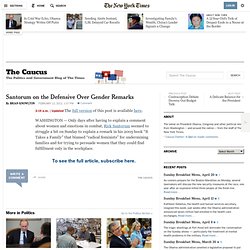 WASHINGTON — Only days after having to explain a comment about women and emotions in combat, Rick Santorum seemed to struggle a bit on Sunday to explain a remark in his 2005 book "It Takes a Family" that blamed "radical feminists" for undermining families and for trying to persuade women that they could find fulfillment only in the workplace. Asked on the ABC News program "This Week" about the book's contentions, Mr. Santorum noted that his wife, Karen, had written that section — though only his name is on the cover and he does not list her in the acknowledgments as among those "who assisted me in the writing of this book." Rick Santorum — Iran Man.
From Prop. 8 to birth control, Santorum leads the culture war. Proposition 8!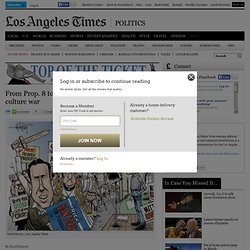 Catholics and birth control! Susan G. Komen and Planned Parenthood! Could Rick Santorum have asked for a better confluence of controversies? The man and the moment seem to have collided and the man is Santorum, not Mitt Romney.
---