Kenya
Challenges for Kenya's next president - Opinion. Kenya has its fair share of challenges, but also an endowment of opportunities.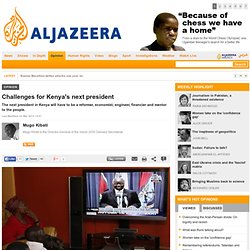 The most important advantage is the Kenyan people. Unlike many of its peers, Kenya has not relied on oil or mining to develop. It remains one of the most diversified economies in Africa [PDF], with a well-educated, enterprising population, a capitalist tradition, and a GDP that straddles agriculture, tourism, communications, infrastructure, services and increasingly natural resources. The country's development blueprint, Vision 2030, seeks to consolidate and exploit these advantages to make Kenya a solidly middle-income country as soon as possible.
Wabenzi: In the land of poverty and opulence - Opinion. At the back of Nairobi's City Hall is an old black Vanden Plas Princess limousine - a symbol of status during the 1960s and 70s.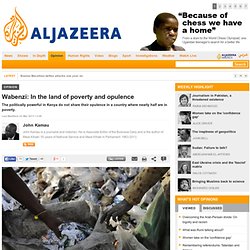 The Mayor of Nairobi purchased it shortly after Kenya's independence from Britain in 1963. In fact, most aldermen at the time thought it was a Rolls Royce, and perpetuated this misperception to those who observed it sibilantly cruising along the streets of Nairobi. As a village boy, I admired the car when I saw it in mid 80s. So controversial was this purchase in the 1960s that the matter ended up in Parliament on whether the country could afford such opulence. Annals of Settler Colonialism: British Atrocities in Post-War Kenya.
The anti-colonial movement in Kenya of the 1950s was mythologized by the British as a shadowy 'Mau-Mau,' an irrational outbreak of aimless hatred.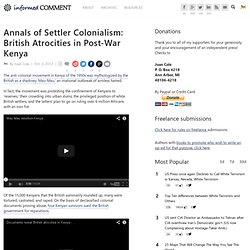 In fact, the movement was protesting the confinement of Kenyans to 'reserves,' their crowding into urban slums, the privileged position of white British settlers, and the latters' plan to go on ruling over 6 million Africans with an iron fist. Of the 15,000 Kenyans that the British summarily rounded up, many were tortured, castrated, and raped. On the basis of declassified colonial documents proving abuse, four Kenyan survivors sued the British government for reparations. Kenya's Kibera Slum. The International Reporting Project took us to the Kibera slum today, everyone here says it's the largest slum in the world (though Wikipedia says it's third), and we heard presentations from youth groups, Doctors Without Borders, and others.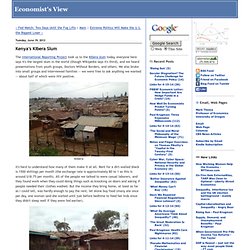 We also broke into small groups and interviewed families -- we were free to ask anything we wanted -- about half of which were HIV positive. Kibera It's hard to understand how many of them make it at all. Rent for a dirt-walled shack is 1500 shillings per month (the exchange rate is approximately 80 to 1 so this is around $18.75 per month). All of the people we talked to were casual laborers, and they found work when they could doing things such as knocking on doors and asking if people needed their clothes washed.
Kenya - reading...
Kenya - curators.. ISS - Events - ISS and HSF Seminar Report: Kenya`s Foreign Policy and Geostrategic interests. Venue: , ISS Nairobi, Conference Room, Braeside Gardens, Lavington Gitanga, Off Muthangari Road , Nairobi, Kenya Seminar Report: Kenya`s Foreign Policy and Geostrategic interests: Reconsidering the Somalia Intervention and Kenya`s Role in Regional Geopolitics.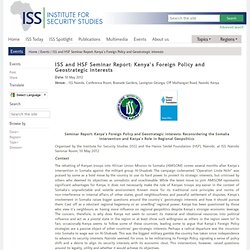 Organised by the Institute for Security Studies (ISS) and the Hanns Seidel Foundation (HSF), Nairobi, at ISS Nairobi Seminar Room, 10 May 2012 Context The rehatting of Kenyan troops into African Union Mission to Somalia (AMISOM) comes several months after Kenya`s intervention in Somalia against the militant group Al-Shaabab. Killing Kenyans: One Strike at a Time « Gukira. Kenyan health professionals—nurses, medical technicians, pharmacists—are on strike.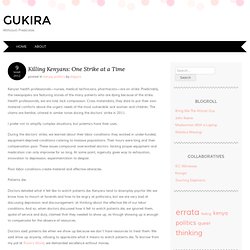 Predictably, the newspapers are featuring stories of the many patients who are dying because of the strike. Health professionals, we are told, lack compassion. Mzalendo :: Eye On Kenya's Parliament — Eye On Kenya's Parliament. Kenya Goes Dark « Sahel Blog. For months, Kenyans have been watching the value of their shilling fall (hitting an all-time low on June 7 before recovering slightly) as costs of living rise (inflation passed 14% in June, and could hit 22% later this year).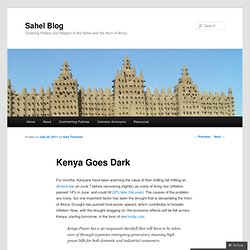 The causes of the problem are many, but one important factor has been the drought that is devastating the Horn of Africa. Drought has pushed food prices upward, which contributes to broader inflation. It's not just Kenya. Squaring up to the seamier side of empire is long overdue | David Anderson. History teaches us that empire can bring out the worst in people.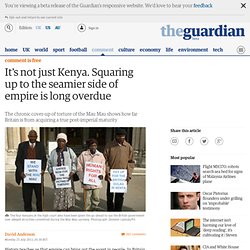 In Britain we applaud the "civilising mission" of our imperial past, but are less happy to acknowledge the violence and brutality that so often girded our imperial endeavour. It is time we were more honest. As a nation Brits nurture memories of empire that are deceptively cosy, swathed in a warm, sepia-tinted glow of paternalistic benevolence. The British empire, so the story goes, brought progress to a primitive and savage world.
---