SITIOS WEB
Online History and Genealogy Library
echo Exploring and Collecting History Online
ECHO (Exploring and Collecting History Online) is a directory to 5,000+ websites concerning the history of science, technology, and industry. You can search it, browse it according to category, or even look at the tag cloud we've generated. Every website contains a brief description by macopa Feb 3
Since 1994 under the founding direction of Roy Rosenzweig, the Center for History and New Media (CHNM) at George Mason University has used digital media and computer technology to democratize history—to incorporate multiple voices, reach diverse audiences, and encourage popular participation in presenting and preserving the past. The center itself is a democratic, collaborative space where over fifty scholars, technologists, and researchers work together to advance the state of the art.

CHNM uses digital media and technology to preserve and present history online, transform scholarship across the humanities, and advance historical education and understanding. Each year CHNM's many project websites receive over 20 million visitors, and over a million people rely on its digital tools to teach, learn, and conduct research.

CHNM's work has been recognized with major awards and grants from the American Historical Association, the National Humanities Center, the National Endowment for the by macopa Feb 3
Libros de historia: Edad Antigua y Media Descargar
Institute of Historical Research | The national centre for history
Curiosidades de las Ciencias, la Historia y del Hombre
Homepage
Institute and Museum of the History of Science - Florence, Italy
HISTORY
La historia ha ubicado a Mesoamérica como la región del origen del árbol de cacao sin embargo estudios realizados por botánicos y genetistas lo ubican en el Alto Amazonas , cerca de los límites entre Perú, Ecuador, Colombia y Venezuela. FJ Pound un agrónomo del Departamento de Agricultura de Trinidad encontró la clave para resolver el enigma, un enfermedad común en el árbol de cacao llamada escoba de bruja (witches' broom) es facilmente sobrellevada por las plantas del Alto Amazonas gracias a su alto nivel de diversidad sin embargo las plantas de Mesoamérica muestran pobreza genética y no resisten esta enfermedad. Un árbol infectado con moniliasis del cacao (frosty pod rot) izquierda y escoba de bruja (witches' broom) derecha Ver la fuente para una información detallada.
¿De dónde proviene el árbol de cacao? Mesoamérica o Alto Amazonas | Mundo Historia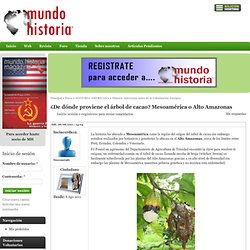 History & Archaeology | From Smithsonian Magazine
educahistoria.com
Es una herramienta de difusión del español a través de contenidos relativos al Arte y a la Historia universales creada por la Consejería de Educación de la Junta de Castilla y León. by macopa Sep 2
Biográfica.info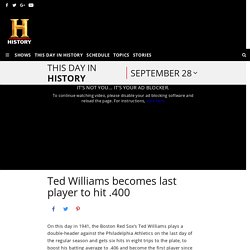 On March 31, 1889, the Eiffel Tower is dedicated in Paris in a ceremony presided over by Gustave Eiffel, the tower's designer, and attended by French Prime Minister Pierre Tirard, a handful of other dignitaries, and 200 construction workers. In 1889, to honor of the centenary of the French Revolution , the French government planned an international exposition and announced a design competition for a monument to be built on the Champ-de-Mars in central Paris. Out of more than 100 designs submitted, the Centennial Committee chose Eiffel's plan of an open-lattice wrought-iron tower that would reach almost 1,000 feet above Paris and be the world's tallest man-made structure. Eiffel, a noted bridge builder, was a master of metal construction and designed the framework of the Statue of Liberty that had recently been erected in New York Harbor.
History en Español